Cosmo DiNardo, 20, confessed he murdered or participated in the murder of four men missing in Pennsylvania since last week, DiNardo's lawyer said on Thursday, July 13. Another man, Sean Kratz, 20, of Northeast Philadelphia, was arrested in connection with the case on Friday, a source told ABC6.
Source tells @6abc a young man from NE Philly now in custody in connex with missing Bucks men.

— sarahbloomquist (@sarahbloomquist) July 14, 2017
DiNardo was initially arrested on Wednesday for trying to sell a car belonging to one of the missing men. He now faces four counts of criminal homicide, four counts of conspiracy to commit criminal homicide, four counts of abuse of a corpse, and three counts of robbery.
Kratz faces three counts each of criminal homicide, conspiracy to commit criminal homicide, abuse of a corpse, and robbery.
The four that went missing are Dean Finocchiaro, 19, of Middletown Township; Thomas Meo, 21, of Plumstead Township; Mark Sturgis, 22, of Pennsburg; and Jimi Patrick, 19, of Newtown Township.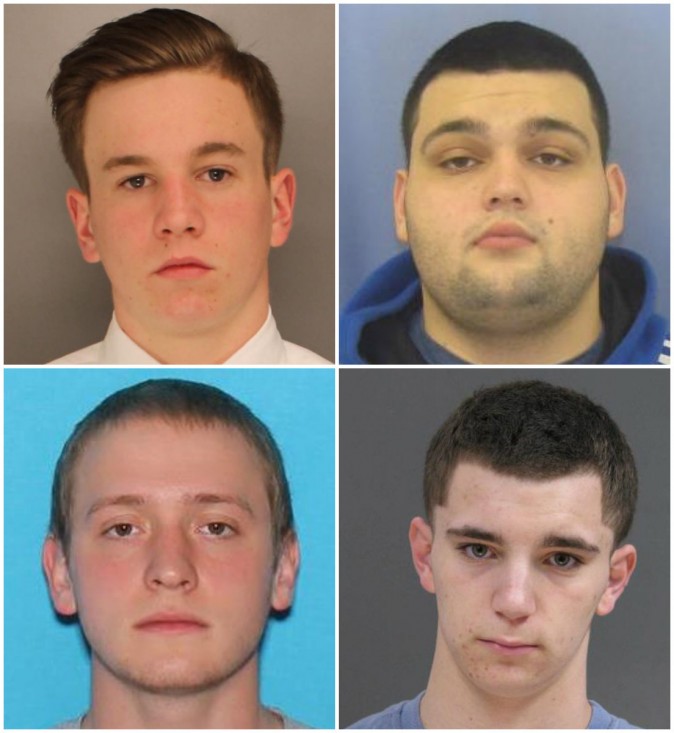 Patrick has been missing since July 5; the others since July 7.
On Thursday, Finocchiaro's body was identified among remains in a common grave near the farm of DiNardo's parents in Solebury Township. DiNardo told investigators where the remaining bodies are.
DiNardo was a drug dealer and suffered schizophrenia. He said he killed the four young men after he felt cheated or threatened during three marijuana transactions. He then burned their bodies at his parents' farm, a person with firsthand knowledge of his confession told AP.
"I'm sorry," a shackled DiNardo said as he left the courthouse, according to ABC7.
On Sunday, July 9, police found a car belonging to the missing Thomas Meo on a property owned by the DiNardos. The car's title was inside the vehicle, unsigned by Meo, along with his insulin kit.
Meo had diabetes and "never went anywhere without" his insulin kit as he couldn't survive without it, said Bucks County District Attorney Matthew Weintraub during a late Wednesday night press conference, according to Thursday, July 13, release.
Police then focused the search on the land around properties owned by Antonio and Sandra DiNardo, as their son Cosmo, 20, has been identified as a "person of interest" in the case and arrested for trying to sell the car for $500.
On Wednesday, cadaver dogs led investigators to the 12-foot deep grave where they found the remains of Finocchiaro and others.
Authorities promised DiNardo will escape death penalty in exchange for his cooperation with locating the remaining bodies, ABC13 reported.