Two homeless men broke into an apartment in California and fixed a meal in addition to taking showers, police officers said.
Elijah Smart, 29, and Markis White, 19, were still inside the house when apartment resident Robby Spillman came back from Christmas shopping.
Spillman said the men entered through his patio door.
"I saw two homeless men in my home cooking themselves dinner," Spillman told NBC 4. "They smelled like they hadn't showered in weeks. Their clothes were very dirty and ripped."
The men reportedly told Spillman that they thought he would be out for longer and said they'd like to hang out for a while at the apartment.
Spillman told the men he was going to take his dog for a walk and called 911 when he got outside.
He said they left a big mess in the kitchen, and the situation has prompted him to search for a new home as his girlfriend is expecting a baby in two weeks. "I can't raise my family here," he said.
Homeless Crisis in California
There are about 134,000 people without homes in California on any given night, according to the Department of Housing and Urban Development (pdf), good for a quarter of the entire American homeless population. For states, New York was second with 89,503 and Florida was third with 32,190.
The homeless population in the state jumped 13.7 percent between 2016 and 2017, according to the San Jose Mercury News.
Some experts said the skyrocketing homeless population is due to wages that aren't increasing quickly, combined with high housing and rental costs.
"A state with higher housing costs, higher rental costs, and lower household income has a higher homelessness rate," William Yu, an economics professor at UCLA, told KPBS. For instance, over half of the state's renters pay 30 percent or more of their income toward housing.
Yu said his research shows that median household income, housing supply growth, and population density are also factors that help experts predict homelessness rates in states.
According to the Mercury News, the state is more than a million affordable rental units short.
"That probably describes more than any other reason why we have a homelessness crisis in California," said Margot Kushel, director of the University of California San Francisco Center for Vulnerable Populations.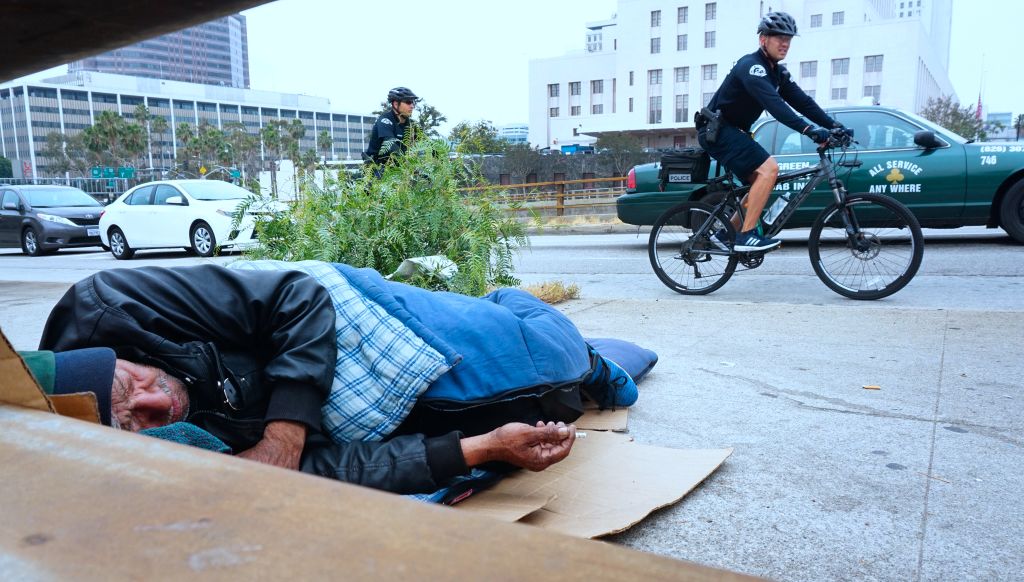 California Officer on Adopting Homeless Woman's Baby
A police officer in California said about a year after he adopted the baby girl of a homeless drug addict that life is going well.
Jesse Whitten, a police officer in Santa Rosa, befriended the woman before the adoption.
"She was very honest about her situation, how she was struggling with drug addiction and what was going on in her life," he told People magazine.
He said he and his wife didn't know how serious the woman was when she handed them an ultrasound and asked if they'd take the baby when it was born. At the hospital, it became clear she was serious.
Whitten said that Harlow, the baby, is healthy and happy at 11 months old.
"There's enough love to go around," he said. "We can't imagine our lives without her."
From NTD News