Two people died in a small plane crash in California on Tuesday, Feb. 6, around 7 a.m. Two dogs were injured, but survived the crash.
Two high school students describe seeing a small plane crash near #Santee. Per Santee Fire two people are dead. Two dogs on the plane both survived. @GabyR_news is on the scene. Live update at 8:26am on @NBC7. pic.twitter.com/Y38BWYCfh9

— Greg Bledsoe (@bledsoenbc) February 6, 2018
The Cessna 182 Skylane plane crashed after take off only about 1,000 feet off the end of the runway at Gillespie Field airport in Santee, a city on the northeast outskirts of San Diego, reported Karen Kucher of San Diego Union-Tribune on Twitter.
UPDATE: The plane crashed about 1,000 feet off the end of the runway at Gillespie Field after takeoff, a Heartland Fire & Rescue dispatcher said. Two people onboard were killed and two dogs were injured. There was no fire. https://t.co/R8Vcn8FoDn

— Karen Kucher (@karenkucher) February 6, 2018
The dogs were taken to a local vet.
The plane apparently experienced a technical issue after taking off, Santee Fire Chief Richard Smith told the Union-Tribune.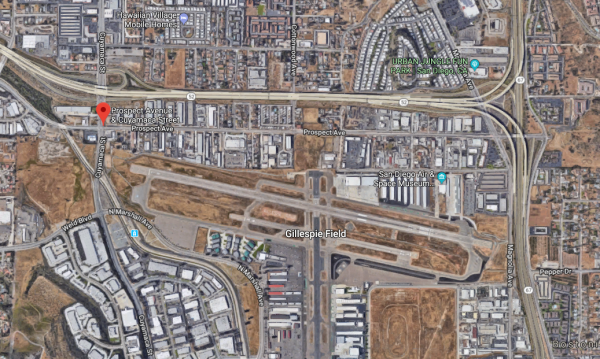 The pilot "circled around and was trying to make it back to the airport, came up short and landed in the yard," Smith said.
There was no fire, but the plane was badly damaged and spilled fuel. A hazardous materials cleanup crew was dispatched.
Two people were killed in #Santee plane crash near Gillespie Field. Two dogs were on board. Both alive. Unclear what caused crash @10News pic.twitter.com/wXzUcM2zmK

— Mimi Elkalla (@10NewsMimi) February 6, 2018
Two teenagers were on their way to high school when they saw the plane coming down. They were afraid it would hit them and so they pulled over. After the crash they called 911 and tried to get to the wreckage, Mimi Elkalla of 10 News reported.
"The front of the plane is completely destroyed and it was all indented and there was gas leaking everywhere. It was just covered in gas and there was just a bunch of blood. And there was no way that you could have gotten to anybody inside the plane," said one of the teens.
The plane's registered under John and Cherril Longhurst of Darby, Montana, according to the FAA.
Recommended Video:
Man Saves Bunny From Flames in California