Two Democrat senators have launched a last-minute bid to sink the potential renomination of Federal Reserve Chair Jerome Powell for another term due to the Trump-appointed policymaker's reluctance to use the central bank's tools to fight climate change.
Sens. Sheldon Whitehouse (D-R.I.) and Jeff Merkley (D-Ore.) urged President Joe Biden not to reappoint Powell, saying in a joint Nov. 19 statement that the Fed chief "refuses to recognize climate change as an urgent and systemic economic threat" while criticizing his past statements indicating reluctance for central bank officials to serve as "climate policymakers."
"During his tenure, Chair Powell first ignored climate change and then resisted calls for the Fed to use its tools to fight it, arguing that climate change 'is really an issue that is assigned to lots of other government agencies, not so much the Fed.' At a hearing earlier this year, he said: 'we are not and we don't seek to be climate policymakers,'" the two senators wrote.
On Twitter, Merkley added, "We need a Fed Chair who recognizes the urgent need for bold climate action. That person is not Jerome Powell."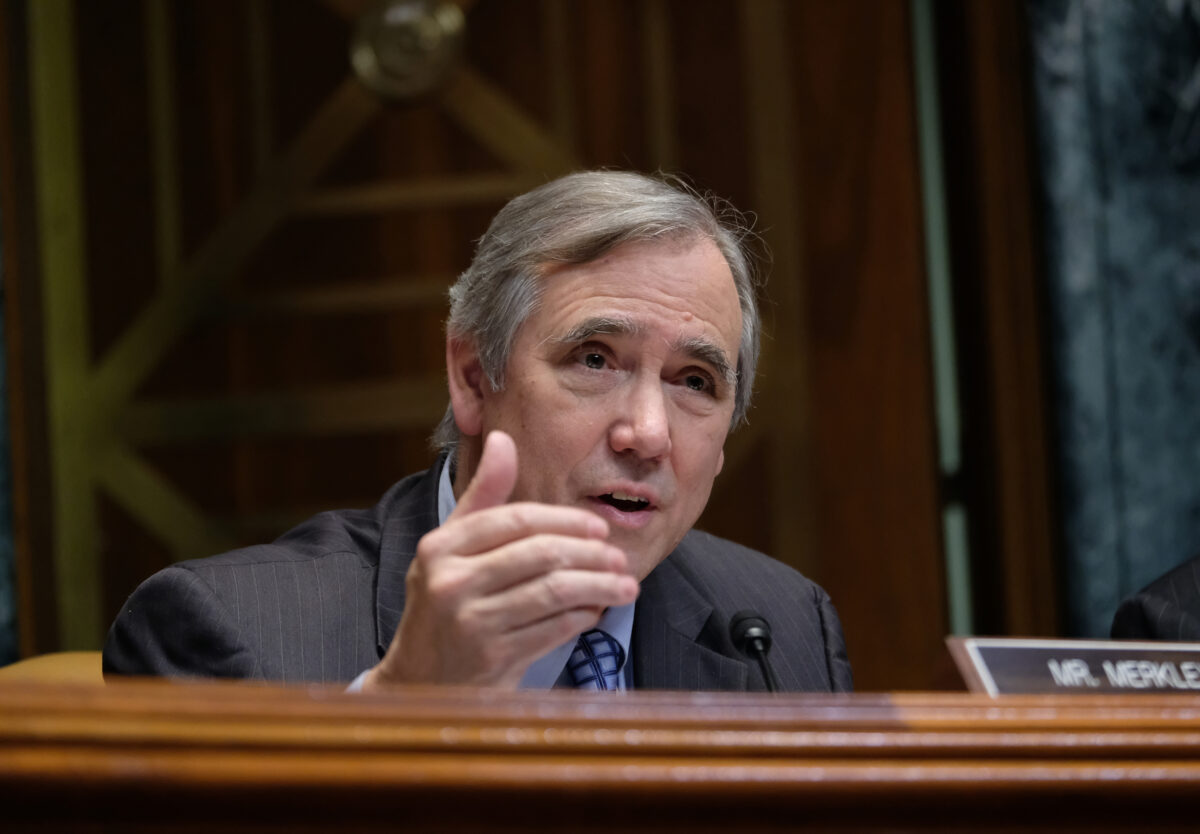 It comes as President Joe Biden last week met with the two leading candidates, Powell and Lael Brainard, the only Democrat on the Fed's seven-member board, ahead of his decision to appoint one of them to a four-year term at the helm of the central bank, starting next February.
Brainard, a Harvard-trained Ph.D. economist, is widely seen as being more dovish on monetary policy and as having stronger hand on bank regulation. She has also suggested a more active role for the Fed in terms of climate change, telling a research conference in October that the Fed was developing climate-related scenarios for use in bank stress tests and endorsing the use of the Fed's supervisory guidance to financial institutions to help them mitigate climate risk.
Powell, who was appointed Fed chair by then-President Donald Trump, said in June that climate change does pose "profound challenges for the global economy and certainly the financial system" but rejected the idea that the Fed should take on a prominent role fighting the problem beyond assessing its potential impacts and associated risks.
"Climate change is not something we directly consider in setting monetary policy," Powell said at a June panel discussion on how the financial sector might address climate risks.
"Central banks can play an important role in building an analysis … to quantify the risks. … But we are not and we don't seek to be climate policymakers as such," a role that should be left to elected officials, Powell said at the time.
Climate policy "is not a question for the Federal Reserve," Powell added.
But Merkley and Whitehouse disagree, arguing that climate "demands action now" and that institutions that are unprepared for the impacts of climate change "stand to lose billions, threatening their balance sheets and the stability of our financial system."
"Price stability, the safety and soundness of our financial system, and millions of jobs and businesses—all of which are squarely in the Fed's mandate—are at stake," the duo wrote.
Still, under Powell's tenure, the Fed has joined the Network for Greening the Financial System, an international group exploring ways to build climate risk into bank management, supervision, and regulation. It has also started conducting more research on the implications of climate change for the economy and, to that end, established two internal bodies—the Supervision Climate Committee and the Financial Stability Climate Committee—in order to better understand and address climate-related risks for financial institutions and the broader financial system.
Biden is expected to announce his decision on the next Fed chair before Thanksgiving.