Police have charged 2 people in relation to the kidnapping and murder of a 24-year-old Las Vegas student and model Esmeralda Gonzalez. Investigators are awaiting DNA test results to confirm that the human remains found encased in cement on the Nevada-California border on Oct. 8 are those of the missing woman.
Police believe Gonzalez was strangled and injected with a poisonous substance before her body was disposed of near Interstate 15.
The alleged perpetrator, Christopher Prestipino, appeared before Las Vegas Justice Court on Oct. 16, having already been charged with the counts of murder, conspiracy to commit murder, and kidnapping. Judge Jeannie Hua denied his bond.
The girlfriend of the accused, Lisa Mort, was released but placed under house arrest, and stands accused of assisting, and harboring or hiding a felony offender. Prestipino and Mort lived a short distance from Gonzalez' home in Las Vegas.
Although Mort denied any knowledge of Gonzalez, court documents state that the couple's jail calls were recorded in which they discussed their plans to escape, and Prestipino advising his partner not to discuss the matter with anyone and to delete all data on her cell-phone.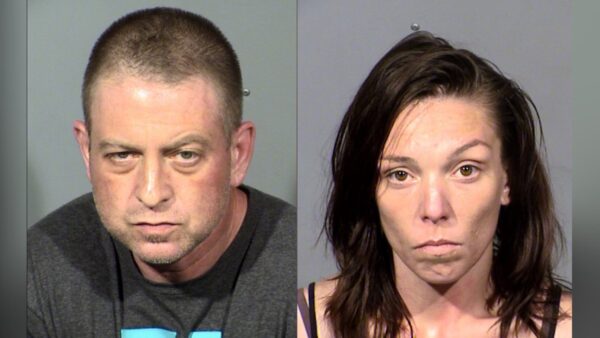 Grisly Find
The victim's body was found on Oct. 8. Anonymous information provided on July 18 eventually led investigators to the missing body and turned the missing-person case into a murder investigation.
Several members of the public came forward with information tying Prestipino to Gonzalez' disappearance.
Witnesses said that Gonzalez, who suffered from episodes of schizophrenia and bipolar disorder, was seen walking around their neighborhood in her underwear in the early morning of May 31. Residential surveillance footage from the area recorded her walking toward Market Height Street—toward Prestipino's house.
According to the Daily Mail website, once Gonzalez was inside Prestipino's home, Prosecutors said she was 'left tied up to a bedpost for an extended period of time.' When Prestipino untied Gonzalez she punched Prestipino, and threatened to call police and report he had drugged her. Shortly after is when Prestipino strangled Gonzalez.
Court documents allege that in early June, Prestipino had asked a third party to assist him in loading a heavy wooden box filled with cement onto a U-Haul-type moving truck.
Vulnerable Person
The National Missing and Unidentified Persons System (NamUS) stated that Gonzalez went missing "under suspicious circumstances."
Her brother, Juan Gonzalez, had appealed to the public for assistance in locating his sister.
Friends, please share and help bring my sister, Esmeralda Gonzalez, home. If you have any information regarding her whereabouts, please contact the Las Vegas Metropolitan Police Department at (702) 828-3111 or the Missing Persons Detail during business hours at (702) 828-2907. pic.twitter.com/otfVgAFVIL

— Juan Gonzalez (@nvjuang) June 14, 2019