The U.S. Secret Service says two people were arrested during a Fourth of July flag-burning incident on Pennsylvania Avenue in front of the White House.
The arrests were made about one hour before President Donald Trump paid tribute to the U.S. military during a speech at the Lincoln Memorial, according to a statement by the Secret Service on Twitter.
Secret Service statement on the flag burning incident on Pennsylvania Ave. during the #July4th activities in Washington D.C. pic.twitter.com/w72wLdYMRB

— U.S. Secret Service (@SecretService) July 4, 2019
The Secret Service said that one person was arrested for felony assault on a police officer and malicious burning, and the other was arrested for hindering a police investigation and resisting arrest.
Communists burn a flag in front of the White House, toss it on U.S. Secret Service Police, who recoils in pain. Another USSS member comes in with a fire extinguisher and puts it out. pic.twitter.com/jqLd4DQC0I

— Marcus J. DiPaola (@marcusdipaola) July 4, 2019
Two uniformed Secret Service officers suffered minor injuries while attempting to make the arrests. They were transported to a hospital for treatment of minor injuries. One of those who were arrested was also transported to the hospital.
The Secret Service says the burning occurred beyond the limits of a permit issued by the National Park Service.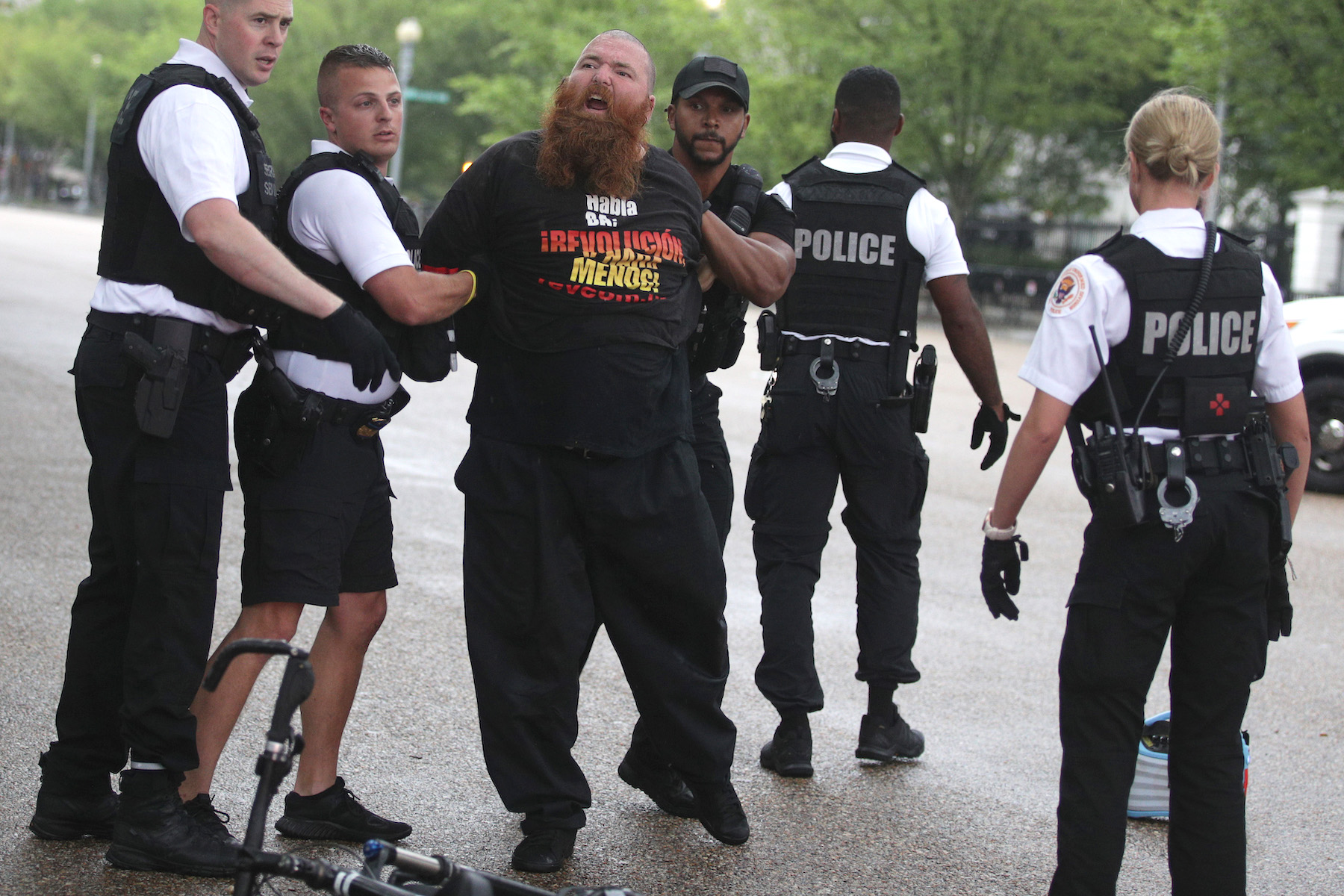 According to CNN, leftist protesters outside the White House had set fire to the flag. The incident eventually culminated in the two arrests.
The protest, which turned into a violent clash, took place just blocks from crowds who had gathered to watch Trump's July Fourth speech and fireworks displays on the National Mall.
Led by radical activist Joey Johnson, a group from the Revolutionary Communist Party, USA, linked arms and set an American flag on fire outside as they chanted, "America was never great."
The Secret Service intervened quickly to extinguish the fire.
https://t.co/JnoVNIpu9p @joey4revolution &.@Carl_Dix just burned Flag in front of White House right before chanting:

"Imagine A World Without America.
Fight For A World Without America!"#TrumpParade#JULY4BURNFLAG #TrumpPenceMustGo#CloseTheCamps pic.twitter.com/o6v8h1EOt4

— NYC Revolution Club (@NYCRevClub) July 4, 2019
"Burn, baby, burn," the protesters chanted.
In a news release before the incident, Johnson said he was leading the protest because "I'm going to be speaking to the people of the world letting them know that there are people inside the borders of this country who stand with the people of the world."
HD footage still importing, but in the meantime I'm posting the video from my phone.

After the initial violence and fire, the cops pushed everyone back. Communists stayed, and lit second flag.

Further conflict and two arrests including @joey4revolution. pic.twitter.com/PnEXIMQQuq

— Ford Fischer (@FordFischer) July 4, 2019
Multiple protesters, Johnson among them, were escorted from the scene in handcuffs by the Secret Service. A news release after the event from the Revolutionary Communist Party, USA, said Johnson was among those arrested.
Johnson had earlier said in a video posted online that he planned to burn the flag "in a way and in a place that will be quite legal but which will unmistakenly challenge and expose your whole fascist regime and agenda."
Tomorrow we are gonna burn the American Flag, in YOUR honor you fascist JACKAL!

Joey Johnson's July 4th "Imagine a World Without America" Flag Burning Protest

WHEN: 5pm, July 4

WHERE: Within sight of 1600 Pennsylvania Avenue

Press release: https://t.co/GAALP6b9ZE pic.twitter.com/ibkRIWrBCX

— Gregory'Joey'Johnson (@joey4revolution) July 4, 2019
Johnson is also known for his Supreme Court victory in 1989 that struck down state laws in Texas banning the burning of the American flag.
It is not illegal to burn a U.S. flag. However, Trump said on June 15 that he supports an amendment that would ban the burning of American flags.
All in for Senator Steve Daines as he proposes an Amendment for a strong BAN on burning our American Flag. A no brainer!

— Donald J. Trump (@realDonaldTrump) June 15, 2019
"All in for Senator Steve Daines as he proposes an Amendment for a strong BAN on burning our American Flag. A no brainer!" Trump wrote on Twitter on June 15.
Daines (R-Mont.) recently proposed a constitutional amendment that would prohibit burning the flag, as the nation celebrated Flag Day.
"Our United States flag is a timeless symbol of liberty that tells the story of America, the story of our enduring pursuit of freedom," Daines said in a press release on June 14. "Remembering the sacrifices of all who carried its colors into battle, our nation should always render the flag the honor and dignity it is due."
Daines, who shared Trump's missive in support of his move, had recently introduced an amendment for three consecutive years and said that his latest effort is a "reintroduction" of the same amendment.
Today, #FlagDay, I introduced a Constitutional amendment w/ @SenKevinCramer to ban the desecration of the American Flag.

The American Flag is a symbol of freedom – and it should always be protected. ????????

— Steve Daines (@SteveDaines) June 14, 2019
The Associated Press, CNN Wire, and Zachary Stieber contributed to this report
From NTD News