UPDATE: As of around 3 p.m. on Oct. 29, Morgan's Twitter account has been reinstated. He had been locked out for about 20 hours. 
WASHINGTON—Acting Customs and Border Protection Commissioner Mark Morgan was suspended from Twitter on Oct. 28 after posting about the border wall.
Morgan posted a video of the progress of the wall along the U.S.–Mexico border along with the message: "@CBP and @USACEHQ continue to build new wall every day. Every mile helps us stop gang members, murderers, sexual predators, and drugs from entering our country. It's a fact, walls work."
Twitter responded by removing the tweet from public view and sent an email to Morgan saying his account was suspended for "hateful conduct."
Twitter's email stated, "You may not promote violence against, threaten, or harass other people on the basis of race, ethnicity, national origin, sexual orientation, gender, gender identity, religious affiliation, age, disability, or serious disease."
Twitter didn't immediately respond to a request for clarification on the "hateful conduct" and how long Morgan's suspension is expected to last.
Morgan told The Epoch Times his suspension is "unbelievable."
"Twitter is out of control in their clear bias against this administration and their blatant censorship of anything that may go against the policies of those who sit in cubicles in Silicon Valley," he followed up in a statement.


Morgan has been posting on Twitter about the expansion of the border wall system since before he took up his position in July 2019.
Morgan, along with Acting Homeland Security Secretary Chad Wolf, was on the border in Texas on Oct. 29 to tout the almost 400 miles of new border fence system that has been constructed during President Donald Trump's tenure.
Wolf said that in the Rio Grande Valley sector in Texas, the new border system has reduced narcotics smuggling in the area by 26 percent.
In Yuma, Arizona, he said illegal entries in the areas with a border wall system decreased by 87 percent in fiscal year 2020 compared to fiscal 2019.
"Where the wall goes up, the number of illegal crossings—and crime—goes down," Wolf said.
Morgan said border agents arrested almost 9,000 criminals trying to illegally enter the United States in fiscal 2020.
"And it ran the gamut from assault, battery, burglary, homicide, illegal drug possession, illegal entry, illegal weapon possession, sexual offenses, the list goes on and on," he said.
Morgan also took some time to address his Twitter lockout.
"My tweet was intended to emphasize that border security is national security," he said. "Ironically, as they're having a hearing on Capitol Hill on this very issue, Twitter employees were actively censoring another administration official. This should outrage every American citizen, because they didn't lock me out, they locked you out. They imposed their own ideology, their own belief system, to justify keeping the truth from the American people."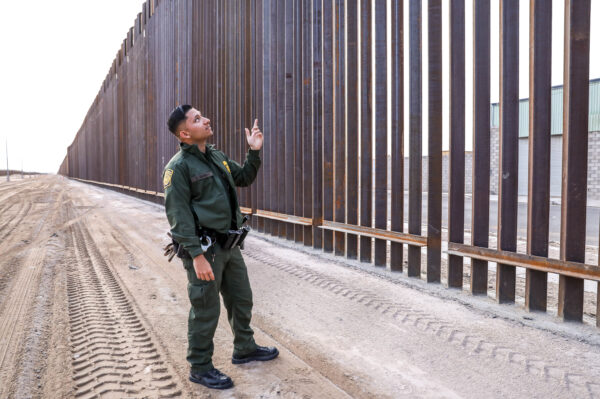 Morgan's suspension came on the same day that Twitter CEO Jack Dorsey was pressed by senators during a hearing about big tech's moderation practices and Section 230 of the Communications Decency Act, which provides immunity to big tech companies by not treating them as publishers.
Conservatives have long accused Big Tech of censoring political speech, particularly from those on the right. Democrats and Big Tech have repeatedly denied that such suppression exists.
Sen. Roger Wicker (R-Miss.), chairman of the Committee on Commerce, Science, and Transportation, criticized Dorsey for throttling the recent New York Post exposé on Hunter Biden, but not those on the president's illegally leaked tax returns, or the now-discredited Steele dossier.
"This apparent double standard would be appalling under normal circumstances," Wicker said. "But the fact that selective censorship is occurring in the midst of the 2020 election cycle dramatically amplifies the power wielded by Facebook and Twitter."
While on the border, Morgan said it's ironic for Twitter to allow the Iranian Ayatollah to tweet about destroying Israel, "but me tweeting out about how effective the wall is, and how it absolutely helps us apprehend criminals that try to illegally enter this country, somehow that is hate speech. That's absurd."
Dorsey said during the Oct. 28 hearing that the Ayatollah's tweets were considered "saber-rattling" and didn't violate the company's guidelines.
Americans have expressed concern over censorship on social media platforms. Roughly three-quarters of U.S. adults say it is "very likely" or "somewhat likely" that social media sites "intentionally censor political viewpoints that they find objectionable," according to an August survey by the Pew Research Center.
The White House didn't immediately respond to a request for comment.
Epoch Times reporter Bowen Xiao contributed to this article.