Twitter placed a warning on a post from President Donald Trump, the latest in a series of actions taken against the Republican just months before the presidential election.
Trump's favored social media platform has increasingly injected itself into U.S. politics by policing posts from the president and other conservatives while taking no action against his presumptive challenger, former Vice President Joe Biden, or Democrat lawmakers.
Trump late Thursday shared a video clip from the memesmith Carpe Donktum showing a black baby running from a white baby.
The initial part of the video was made to look as if was broadcast on CNN, with a chyron saying: "Breaking News: Terrified Toddler Runs From Racist Baby."
The full video was shown right after, making clear the babies ran toward each other and hugged before one started running and the other followed.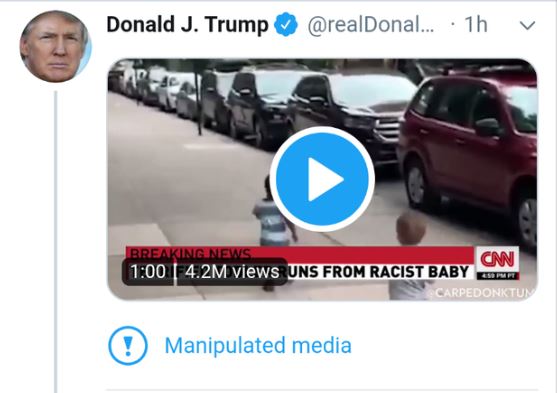 The video had been watched over 14 million times as of Friday morning.
Twitter added a "Manipulated media" label, including an exclamation mark inside a circle.
The platform also created an area featuring reports on the video. "Video being shared of CNN report on toddlers is doctored, journalists confirm," it stated.
Underneath a section stating: "What you need to know," users were told that CNN reported on the video in September 2019.
"On Thursday, the president shared a version of the video which many journalists confirmed was edited and doctored with a fake CNN chyron," Twitter said.
The video showed two toddlers, Maxwell and Finnegan, who are best friends in New York City.
A Twitter spokesperson said in a statement to news outlets: "This Tweet has been labeled per our synthetic and manipulated media policy to give people more context."
The spokesperson shared a link to a section of Twitter's rules that it said were violated.
Brad Parscale, Trump's campaign manager, said in response: "Twitter, your days are numbered."
He posted a tweet directing people to a post he made on Parler, a competitor to Twitter.
In a statement, CNN Communications said: "CNN did cover this story – exactly as it happened. Just as we reported your positions on race (and poll numbers)."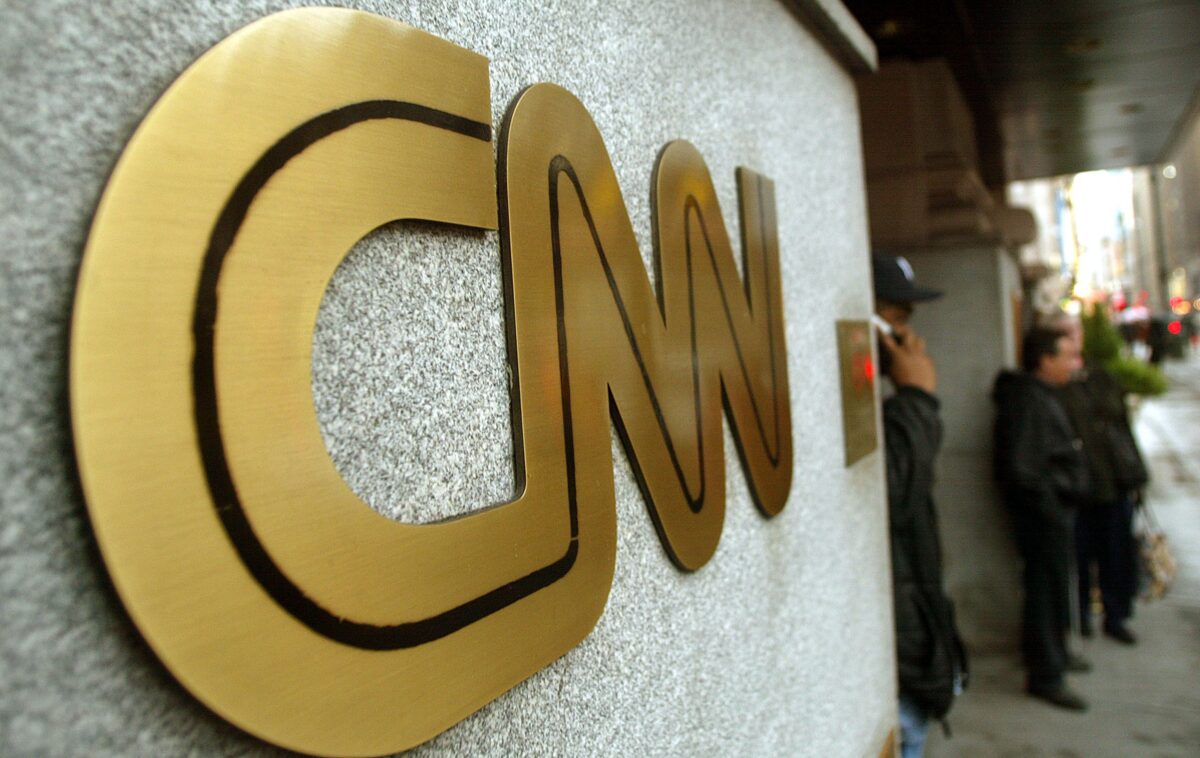 "We'll continue working with facts rather than tweeting fake videos that exploit innocent children. We invite you to do the same. Be better," the network stated.
Some users noted that CNN settled with Nicholas Sandmann, a high school student, after claiming Sandmann and his classmates harassed a Native American with scant evidence.
Actions taken in recent months by Twitter and Facebook prompted Trump last month to sign an executive order directing the Department of Justice to come up with proposals to better regulate tech giants, which are shielded from liability under a section of the Communications Decency Act.
The department this week unveiled a series of recommendations for reforming the section.
"Courts have interpreted the scope of Section 230 immunity very broadly, diverging from its original purpose" and this "has reduced the incentives of online platforms to address illicit activity on their services and, at the same time, left them free to moderate lawful content without transparency or accountability," the department said.
"The time has therefore come to realign the scope of Section 230 with the realities of the modern internet so that it continues to foster innovation and free speech but also provides stronger incentives for online platforms to address illicit material on their services."