Twelve Thousand Petitioners Call for Democracy
October 13, 2007 12:00 am Last Updated: October 13, 2007 12:00 am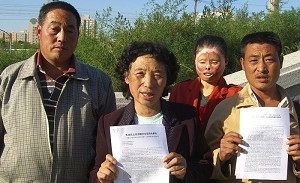 On October 8, over 12,000 petitioners from 30 provinces over China submitted a six part proposal to the 17th Congress of the Chinese Communist Party (CCP) to eliminate civil grievances including protections granted by the constitution and redress for unjust sentencing.
This letter was submitted to Chinese President Hu Jintao, Premier Wen Jiabao, and all members of the Congress. It was sent by petitioners Liu Jie, Wang Guilan, Cheng Yingcai, and Liu Xueli by express mail.
The letter spoke of the various political movements and catastrophes in Mainland China in the last half century that the country has been forced to endure. Countless people were wrongfully killed. Many families have been torn apart. People of conscience were thrown into jail. Innocent families were persecuted. So many wrongful government decisions resulted in such tremendous injustice that there are tens of thousands of petitioners demanding redress.
Liu Jie, a petitioner from Heilongjiang, said that they began collecting signatures from August 1. This is their largest-scale signature collection campaign to date. The main issues are; to ensure the protection of the freedoms of speech, publication, conference, and incorporation which are granted by the constitution of China; to establish a constitutional institution; do away with labor camps; to be certain on the legality of pursuing criminals; to release all citizens under arrest who have been put on labor camps, mental institutions or illegal prisons for appealing to the communist government and finally to consider the mistakes made in and redress unjust sentencing.
The open letter said that Hu Jintao had been in office for about five years, but the situation in China was still severe. The public sector frequently violates Chinese citizen's rights. In some aspects things are getting worse. Although the CCP recently published a new set of regulations for petitioners, the petitioners are being stopped or abducted on their way to the appeal offices. Some people even die during this process.
Liu said that the situation has deteriorated in recent days. The petitioners have been stopped in the streets and were sent to "re-education centers" or detention centers. The local government used extreme force to arrest people and sent them to labor camps without legal process.
"Every time there is an important conference, security controls are tightened in Beijing and oppression against petitioners skyrockets. The government spends a huge amount of money and manpower and treats these petitioners as enemies, instead of using these resources to solve the problem. Currently many would-be petitioners are under house arrest, being watched by three or four people, sometimes even more at a time."
The proposal also included a survey taken by 3,328 who visited Beijing to appeal and concluded that 1,244 were illegally beaten, 1,006 were arrested, 165 were sent to a forced labor camp, and 104 were sent to mental hospitals.
Ms. Wang Guilan, a petitioner from Hubei Province, said that ordinary citizens have no channel to appeal their cases when they are wronged. Government officials tend to protect one another. They arrest people at will and follow no law. She was sent to 15 months in a labor camp for going to Beijing to appeal in 2005.
In Beijing, the "Petitioners' Village," an area concentrated with temporary housing for petitioners with grievances against the government, was torn down in an effort to create a "peaceful and harmonious society"—- the mantra of Chinese authorities since Hu came into power. There are fewer petitioners left and they have been told to leave Beijing by the weekend. Police are present at every intersection.
According to latest news, Mrs Liu Jie was arrested by police on October 11 while she was walking on the street, currently, no one knows her whereabout.