TV Station Staff Suspended for Failing to Censor Politically Sensitive Information
June 25, 2009 8:13 am Last Updated: October 1, 2015 9:41 pm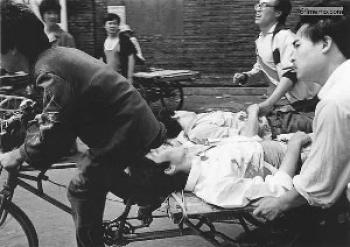 Five staff members from Guangzhou Cable TV (GCTV) have been suspended for a "political mistake." They apparently failed on several occasions to censor scenes related to the Tiananmen Square Massacre and the Falun Gong spiritual practice.

Programs from Hong Kong relayed to Guangdong Province normally have between 5-15 seconds delay for monitoring purposes. When Hong Kong TV broadcasts sensitive political information, local stations need to censor it immediately and replace it with other footage.
A Radio Free Asia report on Asia TV (ATV), broadcast a trailer announcing a "Special Series: The 20th Anniversary of the Tiananmen Square Massacre" at 7:00 p.m. on May 22, which included the iconic scene of the student blocking the tank. The GCTV failed to censor the scenes at once, and an estimated one million TV viewers in Guangzhou City viewed it. On June 4, when ATV broadcast a special program on religion, including content relating to Falun Gong, GCTV again failed to censor it in time.
In addition, according to the China Information Center for Human Rights and Democracy, when GCTV relayed the news at 6:30 on June 5, it failed to censor the scenes of Hong Kong people commemorating the Tiananmen Square Massacre on the night of June 4. After an investigation by the Guangzhou Municipal Party Committee Propaganda Department, 2 editors and 3 assistant editors of the GCTV were suspended from their duties, while more employees, including executives of the TV station, may also be reprimanded.
GCTV belongs to Guangzhou TV. One of their previous hiccoughs was when former Chinese premier Zhu Rongji, delivered a governmental work report to the National People's Congress in March 2001. The subtitles introduced him as a "former Falun Gong practitioner." All editors and the TV executives involved were punished.
In previous years, many provincial TV station programs covering 10 provinces in China had clips inserted of Jiang Zemin's crimes related to the persecution of Falun Gong, including the countless lawsuits filed against Jiang. Audiences in China said that the program also revealed Jiang's cover up of the SARS epidemic. The regime's mouthpiece Xinhua, criticized the inserted broadcast but dared not disclose the nature of the content to the mainland Chinese.