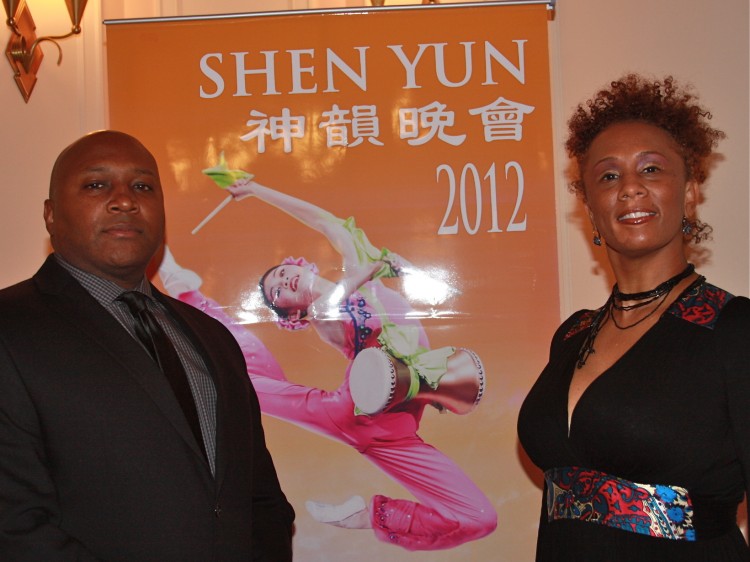 CHICAGO—"Spectacular, stupendous, amazing, magnificent, miraculous!"
These were the words of Maia La Ville, after watching Shen Yun Performing Arts at the Civic Opera House on Sunday afternoon, April 22.
"Shen Yun carries a very in-depth message to the audience—its not just the glitz of the performance—and that to me is much more meaningful than anything and they are so worth the price of the ticket," she said.
Ms. La Ville, a freelance entertainment television host, attended the show with friend Mike Holeman, who works for the city of Rockford in law enforcement.
"I enjoyed myself so much. It was just seeing the culture and seeing the work that went into it, that was very, very, very nice!" Mr. Holeman said.
The New-York-based Shen Yun is the world's foremost classical Chinese dance and music company. Shen Yun seeks to revive and restore China's 5,000 years of traditional Chinese culture, including the spirit and values of the culture.
Mr. Holeman said he didn't realize that Shen Yun could not be shown in China.
"I'm shocked, you know halfway through the show that dawned on me, my friend explained that to me and I was shocked, I'm still shocked," he said.
Classical Chinese dance involves training in physical bearing, artistic expression, unique postures and a variety of technical moves.
The physical skill of the dancers impressed Ms. La Ville.
"The whole ensemble of the Shen Yun cast is just mind boggling, how they are able to go in such incredible rhythm and motion, the movement on the stage, they make it look so mellow, so subtle so light, so graceful, even the men—the young men that do the acrobats—they do it without any type of negative energy, its just a talent that they exude, that doesn't seem intrusive or makes you feel scared or anything," Ms. La Ville said.
"You smile through the entire show and the meanings that characterize what each dance is about, the little stories that the narrators, the hosts, explain to the audience, very important, particularity for American audiences because we're so into glitz and glamor and we're so into performance that a lot of times we might miss the very subtle but in-depth message behind these performances.
"I think, any time a dance company from any part of the world can perform, entertain, inspire, and educate all at once, then it is also opening and allowing the minds of Americans to open and become more inclusive of others and our differences, because truly I believe we all have a commonality, no matter what our background, no matter what our ethnicity, no matter what our spirituality … to be healthy, to live peacefully, to have freedom of expression and eat well and for our children to do even better than their parents and grandparents."
Ms. La Ville had a message for the people of China.
"I want the Chinese people to know even though sometimes their communication, their freedom of expression is limited, that the hearts of Americans, African American, European Americans, Mexican Americans, that people can really, truly feel their cry of freedom and the beauty and richness of their culture."
Reporting by Catherine Hennesy and Rebecca Hunnisett.
Upcoming performances in the United States include Columbus, Ohio, on April 26-27.
For more information visit ShenYunPerformingArts.org