The television market is undergoing a secular change. TV ratings have declined, and consumers are cutting the cord more than ever.
The drop-off is evident simply by looking at the most popular shows on television today compared to in the year 2000. The most watched shows last year, "NCIS" and "Big Bang Theory," garnered Nielsen ratings of 6.7 each. That figure is dwarfed by the average viewership of "ER," the top show in 2000, which had ratings of 16.9.
But don't tell that to advertisers.
The TV networks just wrapped up on May 19 their annual upfront week, when they present their fall prime-time shows to advertising industry executives. Projected TV advertising for 2017 remains strong. EMarketer estimates TV ad spending will total $72.7 billion this year, a solid showing despite advertisers allocating more of their budgets than ever to digital.
TV Versus Digital
In 2016, digital advertising surpassed TV advertising for the first time in history. This year, the gap is expected to widen by around $10 billion, according to eMarketer estimates.
Despite the ratings drop for TV shows, networks haven't seen a large drop-off in advertising dollars. Ad buyers still covet the traditional 30-second spots on networks such as ABC, CBS, NBC, and Fox. 
Advertisers see TV as a reliable way to reach audiences who will view ads in their entirety with sound, which is a rarity in digital advertising. Despite lower viewership for prime-time shows, event-driven single telecasts still draw millions of viewers. Several popular single telecast events that were lucrative to advertisers occurred in 2016—the Super Bowl, the 2016 Summer Olympics in Rio, and the U.S. presidential election. Even with a smaller audience, TV ads are the best way to build and reinforce a brand.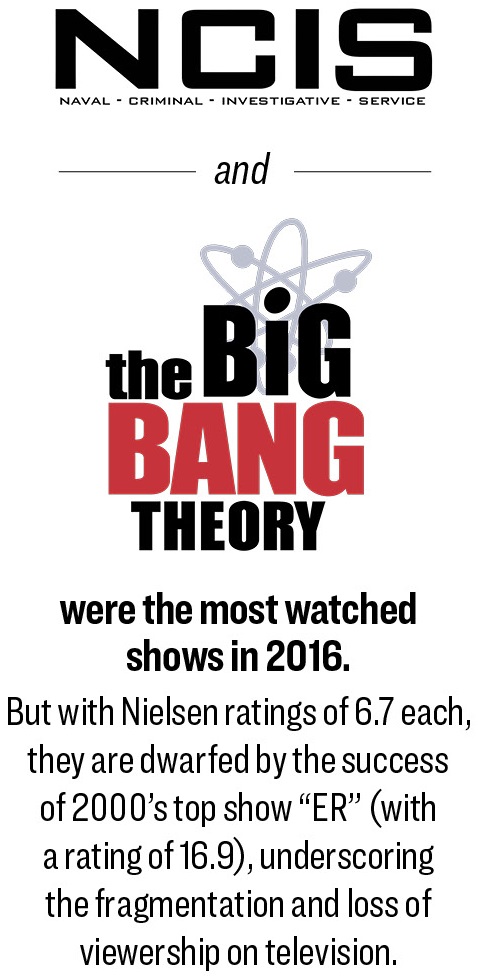 During last week's upfront event in New York, TV network executives did not pull any punches in panning their digital counterparts. Patricia Berton, ESPN's senior vice president of sales and marketing, told Business Insider that for advertisers, "there is nothing unpredictable about investing with ESPN."
The comment was in reference to several recent controversies surrounding digital advertising platforms. Facebook admitted that its advertising analytics and engagement data were miscalculated in a few instances, with the latest issue discovered and corrected last week. Earlier this year, several ad clients of Google's parent company, Alphabet Inc., suspended their YouTube campaigns after ads were displayed alongside extremist video content. For digital platforms, dependability and control still lag behind TV advertising.
But television's dominance will continue to be challenged by newer formats. Mobile is expected to be the main driver of digital advertising growth in 2017, accounting for over 70 percent of all digital ads, according to eMarketer. Total mobile ad spending, especially on video, could surpass television by 2019.
In a survey of ad buyer executives released May 17, investment bank UBS found that "looking forward [about] 57 percent of advertisers will shift ad dollars towards digital from TV, 37 percent will maintain their current balance between digital and TV, and 6 percent will shift towards TV from digital."

Room for Improvement
Current TV advertising levels could be sustained, or even grow, if networks demonstrate greater advertising effectiveness compared to their digital competitors.
"It's something of an arms race between TV and digital to improve measurement," UBS noted in its research.
The UBS survey also found that advertisers are finding the OpenAP targeting platform to be a major differentiator for networks.
OpenAP is a new platform developed by Viacom, 21st Century Fox, and Time Warner that allows advertisers to use a standardized set of data to analyze and narrow down consumer segments. The platform is operated and tracked by the consultancy Accenture.
The platform, revealed to the public last month, could allow advertisers to buy across narrower target markets, such as expectant mothers, retirees, and teenage boys. It pools and shares data across networks to grant advertisers greater flexibility in defining and parsing viewership demographic data in a TV market dominated by multidevice and time-shifted viewing increasingly driven by mobile apps and DVRs.
OpenAP is one of the first joint efforts among TV networks—a cutthroat industry with little cross-collaboration—to improve the overall industry outlook for advertisers.
"You've asked us to come together," Donna Speciale, president of ad sales at Turner, told advertisers at the launch of OpenAP in April. 
Facing increasing advertising challenges, the TV industry will need even greater collaboration going forward to fend off the digital advertising wave.