DAYTONA BEACH, Fla—The penultimate session of the Tudor United Sports Car Championship's Roar Before the Rolex 24 has come to a close.
The weather was a sharp contrast to the prior days—warm and mostly sunny—creating track conditions the crews hadn't seen yet in the previous two days. While teams had been working hard to find traction on the cool track in prior sessions, Sunday morning saw cars sliding dramatically because they weren't set up for warm weather.
Fifty-eight cars took the track in during the ninety-minute session; team engineers wanted to see how the cars performed in the more normal (for Florida) weather, expecting to see more of the same for the Rolex 24 on Jan. 25–26.
The summery conditions provided useful data for the teams, and also good entertainment for the numerous fans which took advantage of the pleasant weather to come out to watch the racing.
Otherwise, the patterns of performance were unchanged from the earlier sessions. Four "Corvette" Daytona Prototypes topped the timesheets, with the #90 Spirit of Daytona Coyote-Corvette leading the way for the third time out of seven sessions.
The Extreme Speed Motorsports HPD ARX-03b was again the fastest of the P2 continent, nine-tenths off the pace.
Missing were the Ford Ecoboost-powered cars, the Shank and Ganassi Riley DPs. Apparently the new Roush-Yates-built turbo V6s had serious overheating problems—so serious they were considered fire hazards.
Mazda had both its P2 Lola-Mazda SkyActiv diesels out in the morning session but one expired two-thirds through.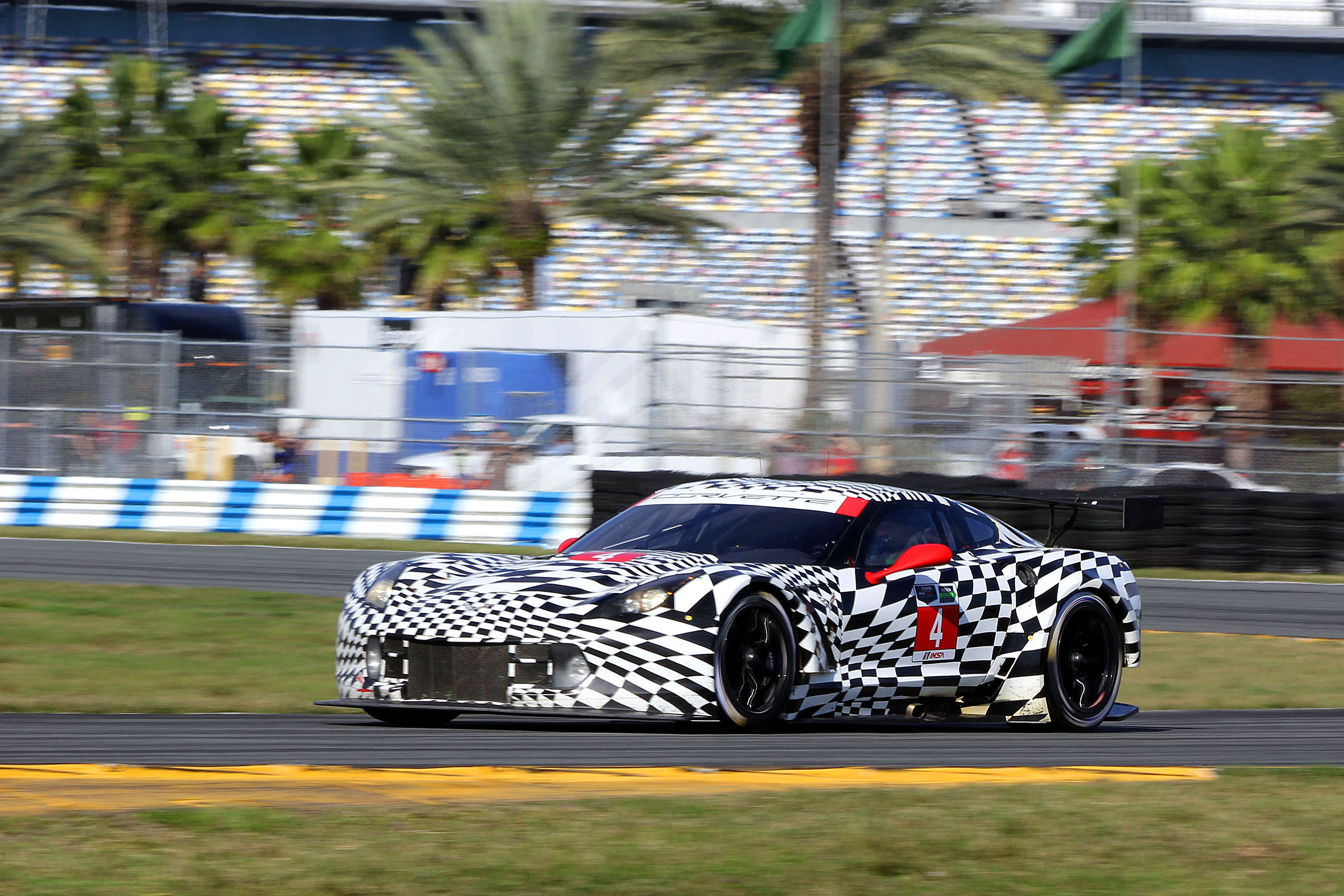 Corvette Sweeps GTLM
Once again the new Corvette Racing CR.7s proved to be the quickest GT-Le Mans cars, followed by the two SRT Vipers.
The #4 Corvette of Olly Gavin, Tom Milner, and Brian Liddell at 1:45.915 were .254 seconds quicker than their teammates Jan Magnussen, Antonio Garcia, and Ryan Briscoe in the #3 car, and nine-tenths quicker than the #91 Viper.
The #55 BMW RLL Z4 filled out the top five in GTLM with a lap of 1:47.221, 1.3 seconds behind the quickest Vette.
The 2014 TUSCC Roar Before the Rolex 24 wraps up with an afternoon session, then teams will retire to their shops to prepare for the TUSCC series opener, the Rolex 24 sat Daytona on Jan. 25.
Tickets for the Rolex 24 are available through the Daytona International Speedway website.