SEBRING, Fla.—The 2014 Tudor United SportsCar Championship Winter Test is underway at Florida's Sebring International Raceway. For the rest of today and all of Friday, the fastest sports cars in North America will be lapping the bumpy 3.74-mile, 17-turn racetrack, preparing for the Sebring 12 Hours in March.
Traditionally the Winter Test has been the first outing for the teams since the end of the previous season; team would bring whatever they had invented or devised over the off-season and see how it all worked on Sebring's punishing concrete.
This year, all that has changed due to the unification of the American Le Mans Series and the Rolex Sportscar Series into TUSC. The Sebring 12 Hour is no longer the season opener; teams did several days of testing at Daytona in early January and raced in the Rolex 24 at the end of that month. Most teams already have more miles on their cars now than they had had by May of any other year.
This year's test serves a very different purpose: rebalancing performance between the various cars in various classes, but most important, working out the balance between in the premier Prototype class, where the lighter, less powerful, but much more aerodynamic P2s compete with the more powerful but much heavier Daytona Prototypes.
The DPs are running all their added aero parts at Sebring—the dive planes and diffusers that were removed for Daytona have been re-installed. The DPs, a few hundred pounds heavier are now making almost as much downforce as the P2s, while still making about 150 more horsepower.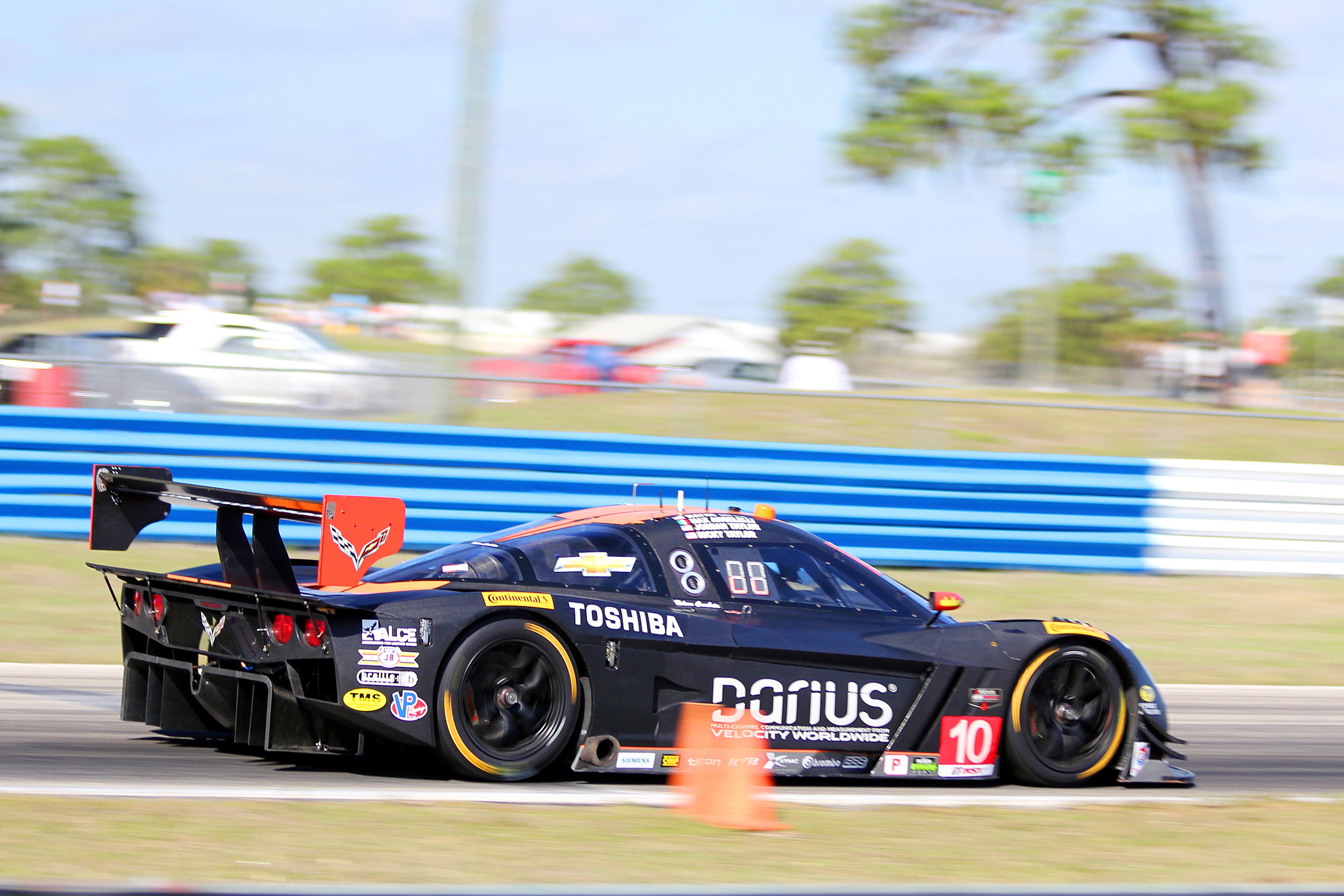 However it all adds up on paper, it seems to be working out fine on track—the four fastest cars include two P2s and two DPs, all running in about a second-and-a-half of each other. As teams tune their high-downforce setting these times might change but for now, the gap between the fastest car of each type is about the same as it was during the Rolex 24.
TUSC management has managed to balance the two radically different types of prototypes at two radically different tracks: Daytona, three-quarters of which is perfectly smooth banking, and Sebring, which is bumpy and twisty with turns ranging in speed from seventy to over 170 mph.
This should be a huge relief to ALMS fans who worried that the DPs might get coddled by the new series, and equally to Rolex fans which thought DPs wouldn't have a chance at any track but Daytona.
Judging from the first test session, the 2014 Twelve Hours of Sebring is going to be a hotly contested race, with any of 18 Prototype entries able to take the overall win.
The TUSC Sebring Winter test is open to the public and admission is only $10. For more information visit IMSA.com.
Top Cars in Class:
| | | | | | | |
| --- | --- | --- | --- | --- | --- | --- |
|   | In class | Class | Car | Team | Car | Best lap |
| 1 | 1 | P | 42 | OAK Racing | Nissan Morgan | 1:53.204 |
| 10 | 1 | PC | 25 | 8Star Motorsports | ORECA FLM09 | 1:55.940 |
| 13 | 1 | GTLM | 912 | Porsche North America | Porsche 911 RSR | 2:00.048 |
| 23 | 1 | GTD | 007 | TRG-AMR | Aston Martin V12 Vantage | 2:05.655 |