BEIRUT—The top generals from Turkey, the United States, and Russia met Tuesday to discuss tensions in northern Syria, where mutually suspicious forces allied with the three countries are fighting the ISIS terrorist group.
The surprise meeting between Turkey's Gen. Hulusi Akar, Marine Corps Gen. Joseph Dunford, the chairman of the U.S. Joint Chiefs of Staff, and Gen. Valery Gerasimov, the chief of the Russian General Staff, took place in the Turkish coastal city of Antalya.
The talks, announced by Turkey, come amid rising tensions in northern Syria, where Turkish troops and allied Syrian fighters, U.S.-backed Kurdish-led forces and Russian-allied Syrian troops are fighting their way toward the ISIS's de facto capital, Raqqa.
Turkey, a NATO ally, views the Kurdish group that dominates the Syria Democratic Forces (SDF) as terrorists and has threatened to drive them from the northern town of Manbij, which the alliance captured from ISIS last year with the aid of U.S. airstrikes. Turkey and Syria meanwhile support opposite sides in the Syrian civil war.
The United States has a few hundred special operations forces embedded with the SDF and wants the alliance to lead the march on Raqqa, where ISIS terrorists are believed to have planned international attacks.
The Pentagon said Monday that U.S. forces have also taken up positions on the outskirts of Manbij to try to keep a lid on tensions.
Turkish Prime Minister Binali Yildirim said the meeting would continue on Wednesday.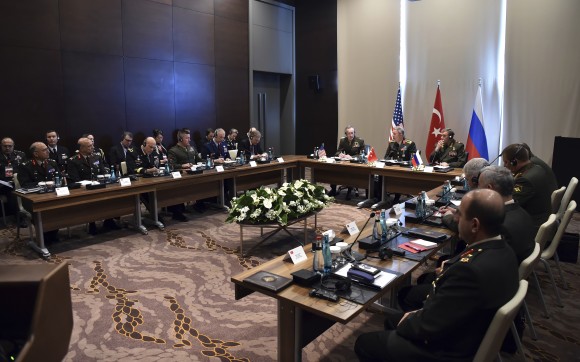 "There is a need for an effective coordination in the efforts to clear Syria of all terror groups because so many countries are involved there," he told reporters. "If we cannot establish coordination, the risk of a conflict that we would not desire can emerge. That's the real aim of the meeting."
On Monday, SDF fighters blocked the main road linking Raqqa with the eastern ISIS-held city of Deir el-Zour. The SDF is now stationed five miles north of Raqqa.
Elsewhere in northern Syria, government forces and their allies marched closer to a main water pumping station controlled by ISIS in Aleppo province, Syria's military and an activist group said.
The government-controlled Syrian Central Military Media said troops are now just miles from the station, which supplies the northern city of Aleppo, Syria's largest, with water.
The Britain-based Syrian Observatory for Human Rights also confirmed the advance near the town of Deir Hafer, the Jarrah air base and the Khafseh pumping station.
The advance is part of a dayslong government offensive against ISIS backed by Russian airstrikes. Taking the water station would ease Aleppo's water shortage.
In the center of the country, Syrian troops captured the Jazal oil field from ISIS after days of fighting, state TV said, quoting an unnamed military official. The TV said military experts are dismantling explosives left behind while firefighters are working on extinguishing one of the wells that was torched by the extremists.