Turkish Intellectuals: 'We are worried'
July 2, 2013 7:08 am Last Updated: July 3, 2013 4:15 pm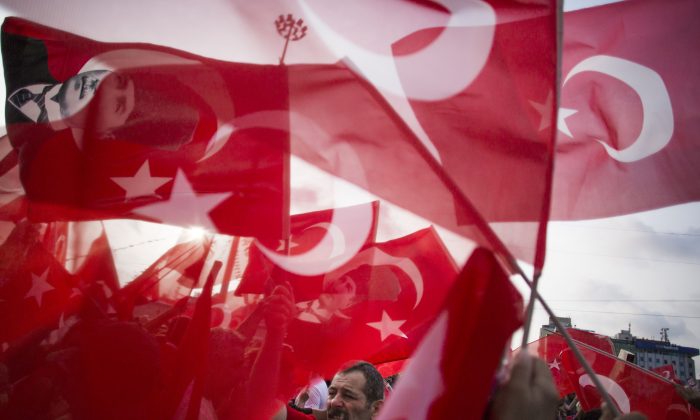 ISTANBUL—A month after large-scale protests erupted throughout the country, Turkish intellectuals are warning about the dangers of a growing polarization and tension in the country.
A hundred prominent Turkish people, including writers and artists, signed a petition published as a full-page advertisement in a number of mainstream local papers last Saturday.
Titled, "Kaygiliyiz," which means "We Are Worried," the petition makes a plea against what they say are the deep divisions forming in society.
Part of the text of the published petition reads: "There is an ongoing rage and hatred. Attempts to devalue, spot, discredit, blame, and suppress art and artists are in full swing."
The petition also said: "Careless remarks such as 'Servants become masters' are sowing the seeds of hatred in society. A 'you versus us' rhetoric is sharpening the polarization of society."
Famous Turkish people who signed the petition include Nobel Prize winner Orhan Pamuk, renowned author Yasar Kemal, musician Zulfu Livaneli, and film director Ferzan Ozpetek.
Article Continues after the discussion. Vote and comment
[tok id=d86ad501ab5f48db9afba08583a021e9 partner=1966]
Turkish Prime Minister Recep Tayyip Erdogan has blamed the protests on foreign spies and interest-rate lobbyists who are attempting to destabilize the country. According to Erdogan, the recent protests across Brazil are part of the same destabilizing plot.
In his comments over the past month, Erdogan has described the protesters—who are mostly young, from middle-class families, and education—as "looters." He has been accused of polarizing the nation by calling his voter base the "other 50 percent of society" versus the protesters.
"When in the world have servants become masters?" said Erdogan last week in response to the Gezi Park protesters who have demanded police chiefs and governors resign for excessive use of force.
Protests started at the end of May, initially as an environmental protest against the removal of trees by authorities in Istanbul's Taksim Gezi Park for the construction of a shopping mall. After police forcefully removed the protesters using large amounts of tear gas, protests against the excessive use of force by police as well as against the government quickly spread throughout the nation.
In response to the advertisement published June 29, columnist Hasmet Babaoglu wrote in the pro-government Sabah Daily, "They have declared that they are worried. I agree. I am also worried. But I know some of the names. They are phobic! They are Islam-phobic, separatist and nationalist. Many of them feel openly or implicitly hatred against a certain segment of society."
Government officials have also accused international media outlets for publishing misleading news. Some government officials have started Twitter campaigns. For instance, Ankara Mayor Melih Gokcek, who is member of the ruling AK Party, started a hashtag accusing BBC reporter Selin Girit of being a British spy.
Gokcek wrote, "Led by England, they are trying to collapse our economy via agents hired, both nationally and internationally. They are dreaming for Turkey to be the 'sick man of Europe' once again. Here is a concrete proof."
Protests throughout the country have continued despite police interventions. Thousands of protesters peacefully gathered at Taksim Square in Istanbul on Saturday, June 29.