Turkey has long been admired internationally for being a large Muslim democracy and having a vibrant economy. Under its founder, Mustafa Kemal Ataturk, modern Turks in 1923 obtained full independence against heavy odds, and the country later became a key NATO member. The rule of law, virtual universal literacy, and separation of religion and the state became keystones of modern Turkey.
Governing in the Ataturk tradition in their early years, Recep Tayyip Erdogan and his Justice and Development (AK) Party impressed many at home and abroad. Erdogan was elected mayor of Istanbul (1994–1998), prime minister (2003–2014), and president in 2014. His achievements include winding down for several years a bloody 30-year conflict with Turkey's 15-million-strong Kurdish minority, which had cost at least 40,000 lives, and accepting 700,000 refugees from Assad's Syria.
Related Coverage
Unfortunately, in recent years Erdogan has undermined Turkey's democratic institutions and the basic rights of its citizens. In late 2013, for example, when a corruption scandal broke involving himself and his cabinet, no one was charged; numerous judges, prosecutors, and police were quickly reassigned contrary to the democratic principle that no one is above the law. As of March last year, 22 journalists were in jail and more than 60 had been found guilty of defamation against him. Major electronic and print media have been seized by his government in a manner similar to what President Putin has done in Russia.
In the June 2015 national election, which focused on corruption, the Kurdish People's Democracy Party (HDP) won 12 percent of Turks' votes and cost the AK its parliamentary majority. Opposition parties attempted to form a coalition government, but failed, allowing Erdogan to call another election. On Nov. 1, 2015, he won a near majority, but still lacks enough seats to change the constitution to establish a presidency without effective checks or balances.
Next-door in Iraq, the ISIS conflict has killed almost 15,000 civilians and wounded 30,000 others during a 16-month period according to a U.N. report. More than 2.8 million Iraqis remain displaced within their country, including 1.3 million children. On March 17 of this year, Secretary of State John Kerry officially designated that Christians as well as Yazidis and Shia Muslims were suffering genocide at the hands of ISIS.

Erdogan's government appears to have assisted ISIS in various ways, including providing a logistical, economic, and political base in Turkey. An estimated 25,000 foreign combatants joined ISIS in Iraq and Syria through Turkey. During 2015, ISIS was enriched by $1 million to $4 million daily because most oil it obtained was smuggled through Turkey. The respected Guardian newspaper (U.K.) reported that ISIS computers seized by U.S. commandos in Syria contain irrefutable evidence of collusion with the Erdogan government.
By assisting ISIS to replace al-Qaeda as the Sunni jihadists in Syria, Erdogan escalated the ISIS conflict into a full-scale regional war between Sunnis and Shiites. When Erdogan finally agreed in principle to fight ISIS (or pretend to), NATO reluctantly went along with his wishes, agreeing that it would withhold much-needed support from the Kurds, who had fought ISIS effectively from the war's beginning.
Erdogan is now in the process of destroying virtually everything his party created.
Graham Fuller, author of numerous books on the Muslim world and a former CIA officer, wrote on his blog on July 20: "If Erdogan had retired from politics in 2011 with all the party's accomplishments he would certainly go down in history as the greatest prime minister in the history of democratic Turkey … Erdogan is now in the process of destroying virtually everything his party created in the first decade of governance. His sweeping purges and the pall of fear and uncertainty is destroying Turkey itself."
The full details of the attempted coup might never be fully known. There is general agreement that a group of mid-ranking Turkish soldiers attempted a coup on July 15, seizing control of the Parliament in Ankara and Istanbul's bridges, airports, and some police stations. The public and police quickly overpowered the attempt to overthrow Turkish democracy.
In the days following, 3,000 soldiers and 2,800 judges were arrested. The government announced it would close 600 private schools, after firing more than 20,000 public sector teachers, and intends to revoke the licenses of 21,000 private school teachers. It also detained an additional 9,000 military personnel, including more than 100 generals. More than 70,000 people are reported to have been arrested. Detainees are being refused food, rape is occurring in prisons, prisoners are kept bound and are denied access to their lawyers and families.
At a joint news conference in Washington, Secretary Kerry and Canada's Foreign Minister Stephane Dion addressed claims from Erdogan that Fethullah Gulen, 74, in self-imposed exile from Turkey in Pennsylvania since 1999, had masterminded the coup attempt, requesting hard evidence rather than allegations. Gulen favors holding an international inquiry to examine the causes of the attempted coup.
Tragically for Turkey and the world, indications are mounting that Erdogan is using the attempted coup d'état to terminate the democracy Turks defended with their lives in favor of a tyranny not very different from the model in Putin's Russia. As Amnesty International has recently indicated, the choices Turkey makes in the coming weeks will be an affirmation of the primacy of the rule of law and human rights or a return to the dark days of mass repression, torture, and arbitrary detention.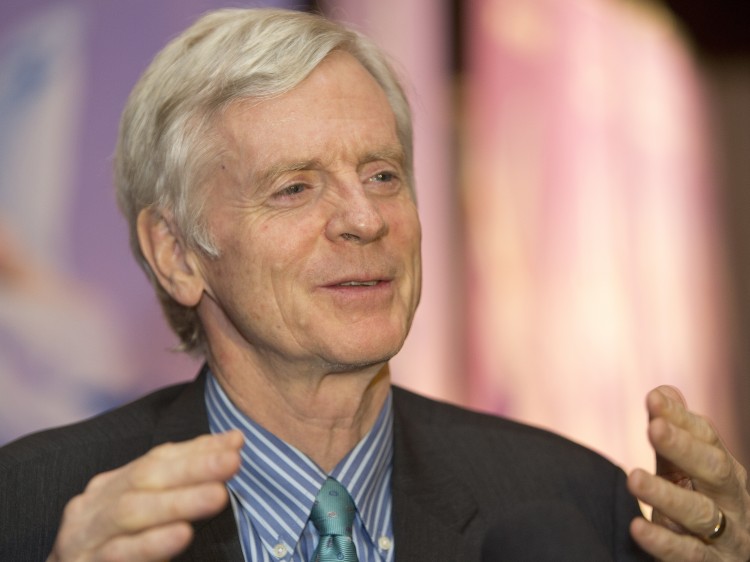 David Kilgour, a lawyer by profession, served in Canada's House of Commons for almost 27 years. In Jean Chretien's Cabinet, he was secretary of state (Africa and Latin America) and secretary of state (Asia-Pacific). He is the author of several books and co-author with David Matas of "Bloody Harvest: The Killing of Falun Gong for Their Organs."
Views expressed in this article are the opinions of the author and do not necessarily reflect the views of The Epoch Times.