Democratic presidential contender Rep. Tulsi Gabbard (D-Hawaii), who watchers said was one of the best performers at the recent debate, will take a two-week break from campaigning to report for active duty.
Gabbard was set to report for duty with the Hawaiian Army National Guard in Indonesia.
"I'm stepping off of the campaign trail for a couple of weeks and putting on my army uniform to go on a joint training exercise mission in Indonesia," Gabbard told CBS.
"I love our country. I love being able to serve our country in so many ways including as a soldier. And so while some people are telling me, like gosh this is a terrible time to leave the campaign, can't you find a way out of it? You know that's not what this is about."
"I'm not really thinking about how this will impact my campaign. I'm looking forward to being able to fulfill my service and my responsibility," she told CBS.
Rep. Tulsi Gabbard will be taking a two-week absence from her 2020 campaign to report for active duty, she tells CBSN https://t.co/KdPN8nu4lo pic.twitter.com/gXVmt2pU0G

— CBS News (@CBSNews) August 12, 2019
Gabbard deployed to Iraq in 2004 with the National Guard and to Kuwait in 2008. She was in Hawaii over the weekend and prepared to deploy on Wednesday, Aug. 14.
Gabbard, who has been attacked for meeting with Syrian dictator Bashar al-Assad, says that her military experience is a prime qualification for president and called the repeated attacks "a baseless smear."
"Assad is a brutal dictator in the vein of Saddam Hussein being a brutal dictator in the vein of Gadhafi being a brutal dictator. That doesn't mean that we should be sending more of my brothers and sisters in uniform to go and fight, acting as the world's police topping these brutal dictators," she said.
Gabbard, announcing her candidacy earlier this year, told supporters: "I love our country. It's why I decided to enlist after 9/11, why I serve in Congress, and why I'm offering to serve as your commander in chief—to protect you, our Constitution, our freedom."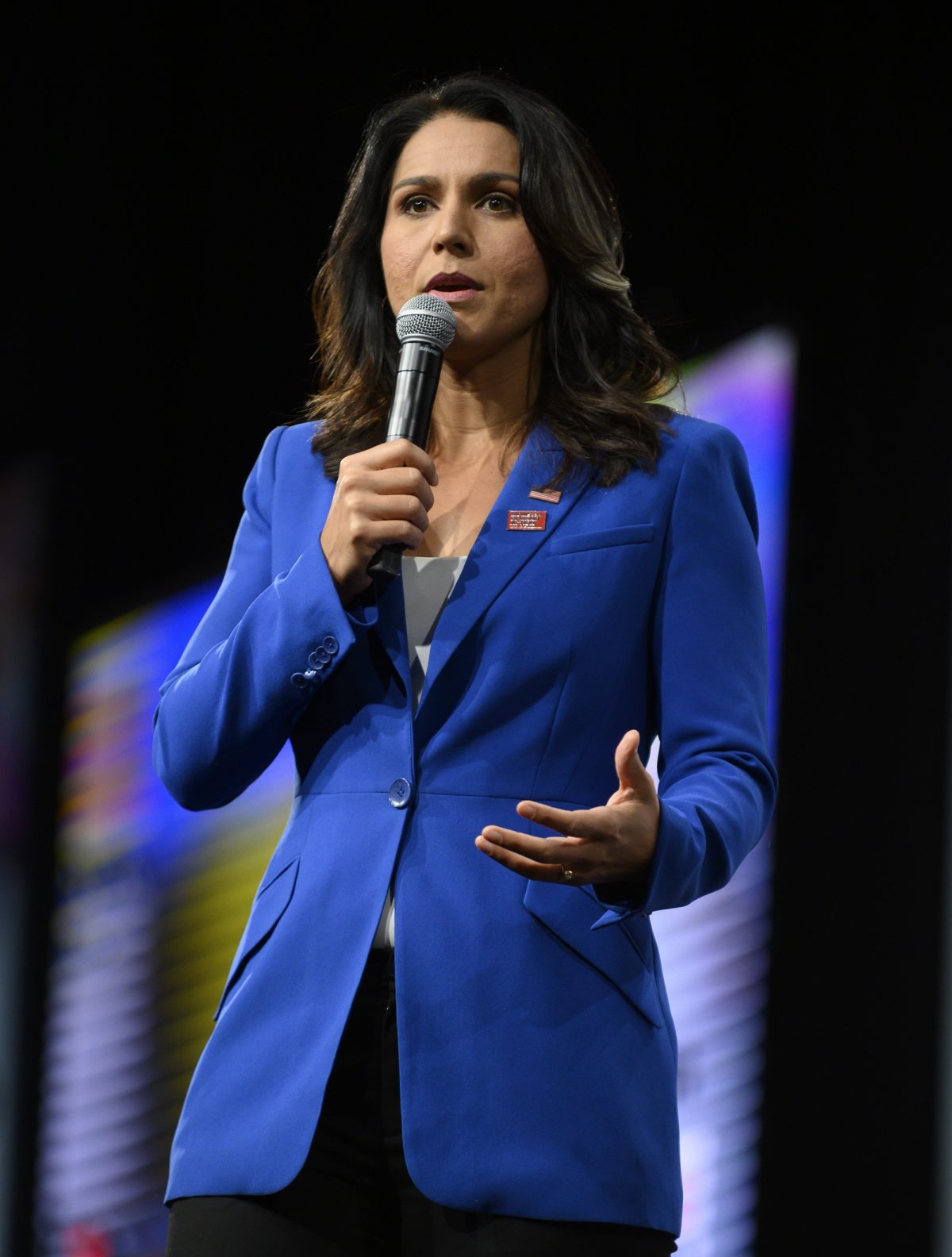 Gabbard Hasn't Qualified for Next Debates
Gabbard garnered praise for her performance at the July 31 debate, repeatedly attacking Sen. Kamala Harris (D-Calif.) for her record as a prosecutor. Polls showed support for Harris dive amid increased support for Gabbard.
But Gabbard has only two weeks to qualify for the next round of debates. Nine people have qualified so far, with businessman Andrew Yang meeting the criteria on Aug. 8.
The other eight are: former Vice President Joe Biden; South Bend, Indiana, Mayor Pete Buttigieg; former Rep. Beto O'Rourke (D-Texas); and Senators Cory Booker (D-N.J.), Kamala Harris (D-Calif.), Bernie Sanders (I-Vt.), Amy Klobuchar (D-Minn.), and Elizabeth Warren (D-Mass.).
The DNC announced earlier this year that candidates will need to receive 2 percent or more support in at least four national polls or polls in Iowa, New Hampshire, South Carolina, and/or Nevada, in addition to receiving donations from at least 130,000 unique donors.
Gabbard has met the donor criteria but has only had one poll that qualifies under the committee's criteria.
The polls must be released between June 28 and Aug. 28 and conducted by only certain pollsters. The polls cannot overlap in terms of being in the same state or region or by the same pollster.
Gabbard's campaign has been encouraging supporters to answer phone calls from unknown numbers, saying the caller could be a pollster, in addition to signing up to participate in online surveys.
"Remember, the more online polls you take, the higher chance you have of being selected to take a poll on the 2020 Democratic Presidential Primary. So whenever you're asked to take a poll, take it!" her campaign said in an email to supporters, reported The Hill. "We have thousands of supporters in every state—if only a handful of us are selected for a poll, it can make a difference."