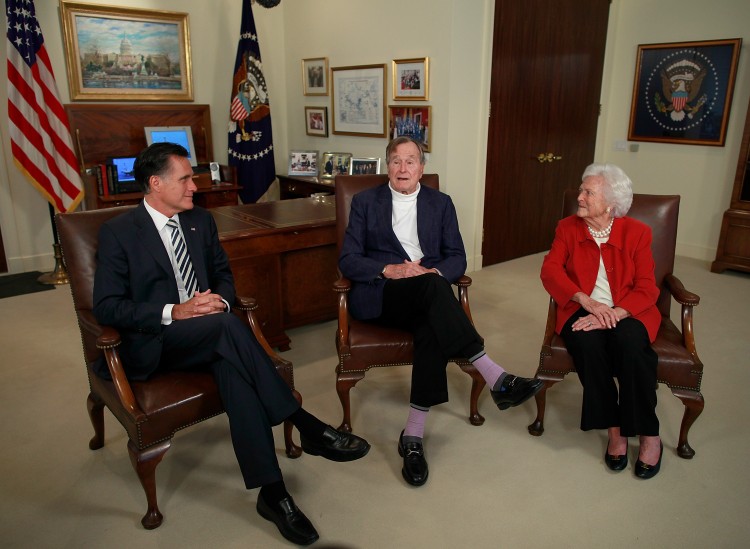 WASHINGTON—As voters head to critical primaries in Maryland, D.C., and Wisconsin on April 3, GOP leaders are agitating for Mitt Romney's rivals to call it a day and unite behind the former Massachusetts governor.
Romney leads his nearest rival, former Pennsylvania Sen. Rick Santorum, by seven points in Wisconsin and by eight points on national polls according to RealClearPolitics. He is expected to do well in Maryland and D.C. where Republican voters, largely urban and moderate, represent much of Romney's support base.
In winner-takes-all contests, the three primaries could deliver Romney a total of 95 delegates.
"[Tuesdays] primaries are important in that they will most likely cement Mitt Romney's position as the sole front-runner in the race for the GOP nomination," said Jennifer Marsico, political analyst with the American Enterprise Institute.
"The closest race tomorrow will probably be in Wisconsin, and Romney is leading there by high single digits over Rick Santorum," she said.
Romney has surged ahead in the delegate count, gaining twice the number of delegates Santorum has, and more than all three of his rivals have combined.
GOP Leaders Call for Unified Campaign
Romney has gained some critical endorsements recently, not only from former Florida Gov. Jeb Bush and Bush senior, former President George H.W. Bush, but also from Tea Party favorite, Florida Sen. Mark Rubio.
Significantly for the coming primary, prominent Republican Rep. Paul Ryan of Wisconsin also announced his endorsement Friday, calling for the Party to "coalesce" behind Romney.
In a sign Republican conservatives and evangelicals may be beginning to do just that, outspoken Tea Party Sen. Jim De Mint, while stopping short of endorsing Romney, told CNN he was "excited" at Romney's possible nomination.
Never one to mince his words, Senate Minority Leader Mitch McConnell came straight to the point saying that Romney was an "outstanding" candidate and it was time for the other candidates to bow out and make way for the challenge of beating Barack Obama.
"I think it's absolutely apparent that it's in the best interests of our party at this particular point to get behind the person who is obviously going to be our nominee and to begin to make the case against the president of the United States," McConnell told CNN Sunday, April 1.
Rivals Defiant
As the oxygen of media attention and funds is increasingly squeezed out by Romney's steady but tortuous trek to the presidential nomination, his rivals remain defiant.
Rick Santorum said his campaign was feeling good about Wisconsin, boldly predicting Monday in an interview with Fox News that he may "sneak in and have an upset."
In the face of lagging polls and increasing rejection of his nomination bid by the Republican leadership, Santorum appealed to voters, saying a drawn out campaign was important.
"The longer it goes the better it is for the party," Santorum told reporters in Wisconsin according to Reuters. "If I thought that prolonging this race was a detrimental thing for our chances to win in the fall, I may take a different course. … I would argue even if it ends up in a convention, that's a positive thing for the Republican Party, that's a positive thing for activating and energizing our folks heading into this fall election."
While Team Santorum may be more cautious in expecting a strong overall showing in Tuesday's primaries, they can be more upbeat about Santorum's home state Pennsylvania, April 24 and the southern state, North Carolina in May, where Santorum is presently leading in the polls.
Gingrich Fights Back
Newt Gingrich has remained immune to hints by Republican leaders step out of the GOP race.
Presently polling fourth behind libertarian Ron Paul in Wisconsin, Gingrich went on the attack at a campaign event in Frederick Md., Monday, saying Romney still did not have close to the 1,144 delegates required to gain the GOP nomination and vowing to continue his campaign to Tampa.
"I can tell you a couple of things. Despite six years of campaigning, $40 million of his own money, millions raised from Wall Street—largely from people who got our tax money from the bailout—Gov. Romney doesn't have it locked down. And we have no obligation to back off and concede anything until he does," he said on ABC News.
The former House Speaker referred to the Etch-A Sketch gaff by a Romney adviser saying, "You can't run a campaign with no principles and win the United States."
"You are not going to beat Barack Obama by being clever," Gingrich continued, assuring supporters, "Callista and I will both be going to Tampa."
Paul in Without Wins
The fourth candidate in the campaign for the GOP presidential nomination, Texas Rep. Ron Paul, has not won a single state and trails behind in the delegate count with 50 delegates to his nearest rival, Gingrich who has 135.
Campaigning on his uniquely libertarian platform, Paul continues to maintain his campaign, boosted by a devoted group of supporters.
It is almost impossible for Ron Paul to secure the GOP nomination, said Marsico, but she doubts that it is an issue for Paul or his supporters.
"Even though Paul will not be the next president, he and his supporters hope that his presence in the GOP race, and strong showings in some primaries, will give him a bigger platform for his ideas, and that this would result in more policy influence over the GOP platform," she said.