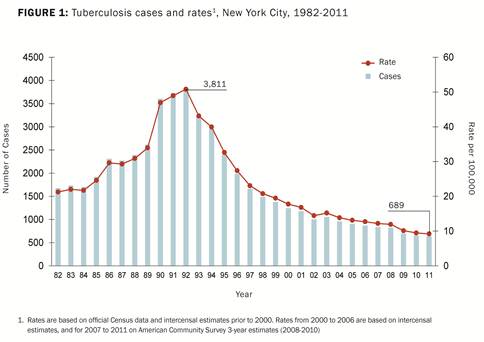 NEW YORK—Ahead of World Tuberculosis Day on Saturday, the city's Health Department announced on Thursday a decline from 711 tuberculosis (TB) cases in 2010 to 689 in 2011.
It's the lowest number of cases ever recorded in the city for one year. It's also 82 percent fewer than at the peak of the epidemic in 1992, when 3,811 cases were recorded.
"The continued decline in the number of TB cases owes a great deal to New York City's devoted, knowledgeable health care providers who report TB cases and manage TB patients," said Health Commissioner Dr. Thomas Farley in a statement.
Everyone who contracts tuberculosis will receive the same standard of care, regardless of immigration status, according to the statement.
However, the rate of 8.5 per 100,000 people who get TB is still more than double the national rate, with a relatively high number of cases in West Queens (21.4 per 100,000), Sunset Part (18.8), and Flushing-Clearview (15.4). Immigrants comprise four-fifths of the reported cases.
Nationwide, the number of people who contracted TB dropped from 84,304 in 1953 to 11,537 in 2009, according to the Centers for Disease Control and Prevention. Deaths dropped over the same period from 19,707 to 547. TB was once the No. 1 cause of death in the United States. It is still one of the world's deadliest diseases.
The disease spreads through the air and not by touch. Symptoms include a bad cough that lasts more than three weeks, chest pain, and chills. Two kinds of tests, a skin test and blood test, can determine whether a patient has TB. Of the two different types of TB, only one incurs infection. Medication is typically used for several months to treat a patient.