An officer from the Transportation Security Administration (TSA) fell to his death off a hotel balcony inside Florida's busiest airport on Feb. 2, creating chaos among passengers who were waiting in line at security checkpoints.
Authorities said the 40-year-old man jumped from the Hyatt Regency Hotel into the atrium area of Orlando International Airport at 9:30 a.m. He was found in a critical condition and later pronounced dead in hospital.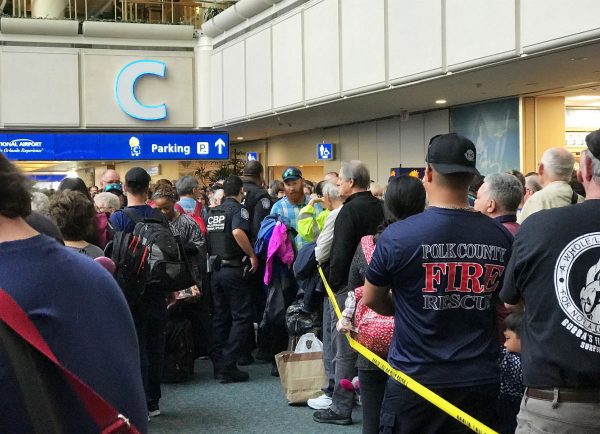 Police said the initial investigation suggests that the incident was an apparent suicide.
"Our hearts are with the @TSA family during this very difficult time," Orlando police said in a statement.
At 9:30 a.m., an individual jumped from the Hyatt Regency Hotel into the atrium area of the airport. A male in his 40s was found in critical condition and transported to the hospital where he was pronounced deceased. Preliminary information suggests an apparent suicide.

— Orlando Police (@OrlandoPolice) February 2, 2019
According to a statement from TSA, several panicked passengers rushed past the security checkpoints unscreened after the man fell. The confusion and temporary closure at the checkpoints were then causing flight delays.
"TSA will be rescreening passengers and will continue to work with the Orlando Police Department and the Greater Orlando Aviation Authority to return operations to normal," the statement said.
Statement regarding very sad incident today @MCO. pic.twitter.com/HTLKI7v28A

— Jenny Burke (@tsaspox) February 2, 2019
About two hours after the incident, Orlando International Airport tweeted that the security checkpoint wait time was less than 15 minutes.
The east checkpoint wait time is now <15 mins. As several flights have been cancelled, passengers are advised to contact their airline for flight status, esp Southwest passengers. Residual delays possible as airline partners work toward normal ops. Thanks again for your patience.

— Orlando International Airport (@MCO) February 2, 2019
The airport said they were working toward normal operations and reminded passengers going to the airport to allow extra time to get through security.
The east checkpoint & gates 70-129 affected by the incident have reopened. Experiencing delays at the checkpoint for passenger screening. Appreciate the patience of all as we work w/ TSA & airlines to get back to normal ops. Check w/ your airline for flight updates & arrive early

— Orlando International Airport (@MCO) February 2, 2019
The TSA offered its condolences to the man's family, according to their statement. The man has not yet been identified by the authorities.
According to flight tracking website FlightAware, there were over 90 flight cancellations and 180 delays at the airport, as of 4:40 p.m. on Feb. 2.