Trying to Help Will Land You in Jail
July 13, 2006 12:00 am Last Updated: July 13, 2006 12:00 am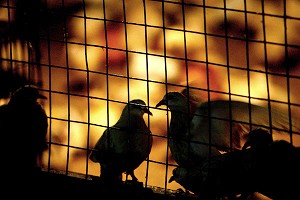 CHINA – Qiao Songju was the first person to report a bird flu outbreak to authorities in China. He was recently sentenced to three years and six months in prison and fined 30,000 yuan (approximately US$3,623) on charges of fraud and blackmail. On July 7, Qiao said in court, "The Gaoyou court judgment is unjust!" He also said that he would appeal to a higher court.
Qiao notified the Gaoyou City Agricultural Department in Jiangsu Province about the bird flu case last October. The Chinese Communist Party's Central TV selected him as the 2005 newsmaker of the year because he was the first person to report bird flu. However, he was detained by the Gaoyou police in November and formally arrested in early December. On March 29, 2006, he was charged with fraud and extortion.
According to Xinmin Evening News, Qiao's sister, who accompanied him to court, stated that what the witnesses said was all rumors and hearsay. They had no specific evidence. She said she would appeal to a higher court for her brother and she also planned to appeal to the central government in Beijing. She suspected that the sentence was unjust because of her brother's report on the bird flu outbreak last October.
Public Outrage
When Qiao was first detained on November 24, 2005, many people commented on the internet that local authorities were seeking revenge on Qiao because he reported the bird flu outbreak.
There have been more than one thousand comments posted on Net Yi, a popular internet BBS site. Some internet users said that the charge was completely fabricated. They criticized the Chinese communist authorities, saying their aim is "warning people not to report [politically sensitive information]. It is said, 'to execute one is a warning to one hundred.'
In China, people who expose unfavorable information to authorities or media are often mistreated. One example is that of military doctor Jiang Yanyong, who revealed Beijing's SARS outbreak in 2003 to Time Magazine. He was put under house arrest for eight months and still has travel restrictions.