The Bank of England's prediction that the UK is heading into recession has yet again brought the next government's fiscal policy into sharp focus during Thursday's Conservative leadership debate.
Liz Truss said a recession can be avoided by cutting taxes and attracting investment, while Rishi Sunak said his opponent's plan will "put fuel on the fire" of the runaway inflation.
The Bank of England, the UK's central bank, on Thursday raised the key interest rate to 1.75 percent, the biggest hike in 27 years, to tackle inflation, which is set to hit over 13 percent at the end of the year.
It also forecasted the longest recession since 2008, with the UK's economy projected to shrink for more than a year. A recession is usually defined as negative GDP (Gross domestic product) growth in two or more consecutive quarters.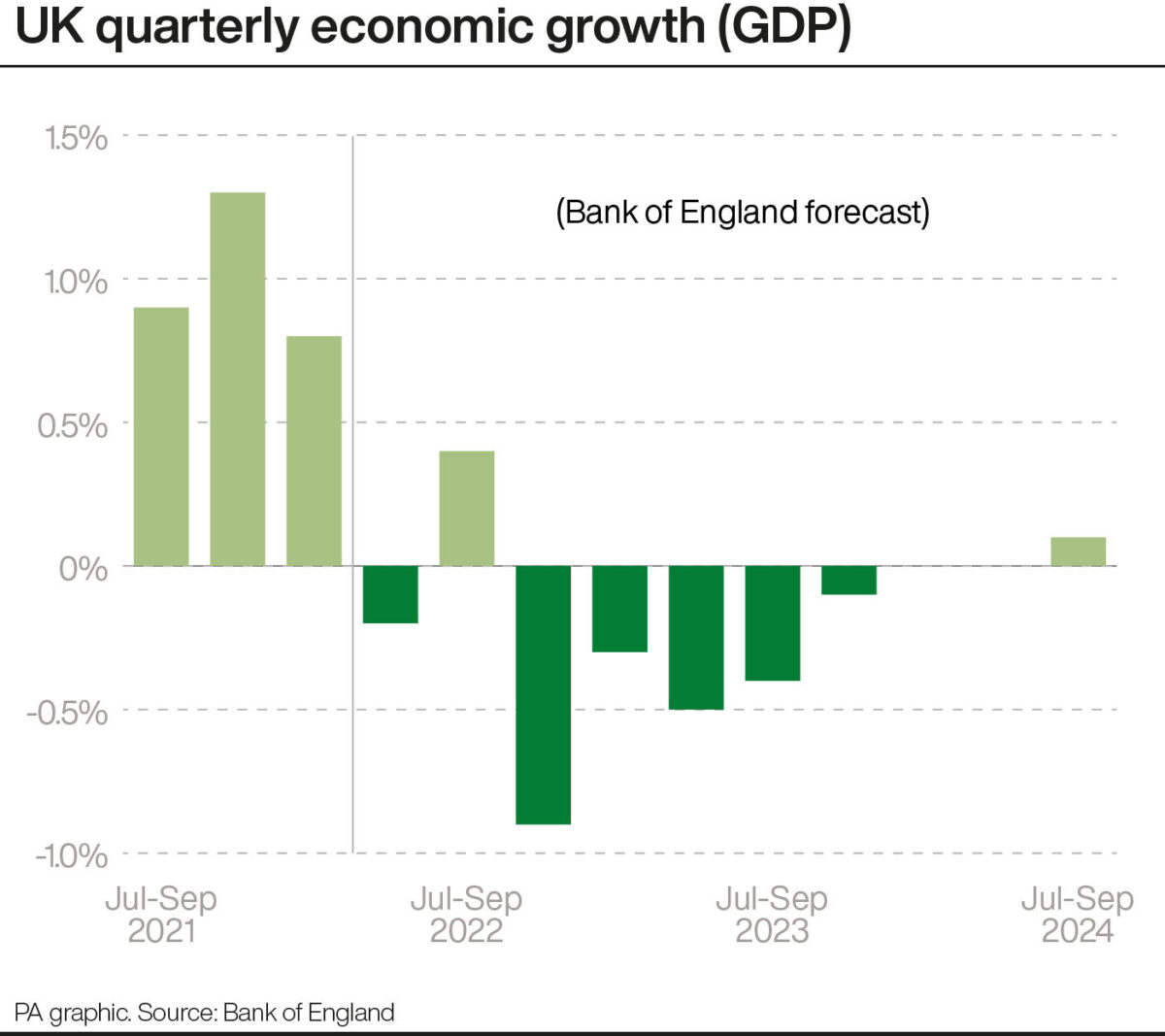 Asked how she plans to mitigate the impact of an "inevitable" recession, Truss argued while the Bank of England's forecast is "extremely worrying," it is "not inevitable."
Having previously said the current inflation is caused by "a huge supply-side shock" after the COVID-19 pandemic and Russia's invasion of Ukraine, Truss told the audience on Thursday that she will try to avoid a recession and prevent job losses by keeping corporate tax low to attract investment and cut red tape to kick start "infrastructure [and] structure projects."
"We keep taxes low, and we do all we can to grow the economy by taking advantage of our post-Brexit freedom, unleashing investment, changing things like the procurement rules, and doing things differently. But now is the time to be bold, because if we don't act now, we are headed for very, very difficult times."
Truss has criticised Sunak, who was the chancellor from February 2020 to July 2022, for raising the national insurance rate earlier this year and planning to raise the corporate tax later, policies she and her supporters say would make the UK uncompetitive, therefore throttle growth and risk stagflation.
She also promised to help households with soaring energy bills by immediately reversing the national insurance hike and putting a moratorium on the green energy levy.
But Sunak argued Truss's plan to cut taxes immediately "will make the situation worse" by putting"fuel on the fire of this inflation spiral."
The formal chancellor argued that the "root cause" of the projected recession is inflation, which he said should be the government's "number one priority" to grapple with.
Sunak defended his policy on national insurance, saying he had helped "people who most need our help" with the cost of living over the autumn and winter.
After raising the national insurance rate by 1.25 percent in April, the government also raised the national insurance threshold in July, meaning while overall revenue was increased, more lower-income households are exempt from paying the tax.
"That's what a Conservative government should do, support those who need our help most at a time of need," he said.
Sunak argued that while growing the economy and creating jobs is how to "get inflation down over time," it "all starts with not making the situation worse," which is why he's "so focused on gripping inflation first."
Sunak previously defended his plan to raise corporate tax, saying the raised rate will still be competitive and it will not hit "genuinely small- and medium-sized businesses" which he said are "70 percent of registered British companies."
Sunak has also said he will cut the taxes on business investment, arguing low corporation tax had "won absolutely zilch for investment in our economy."
Some 160,000 Conservative Party members are expected to get their ballots by next week and the result of the race will be announced on Sept. 5.
So far, Truss has consistently led in public polls among Conservative voters and had more support from former candidates and cabinet ministers.
However, following Thursday's debate, hosted by Sky News, Sunak appeared to have won over the majority of the audience members, who the broadcaster said are "undecided Tory voters."