President Donald Trump traveled to North and South Carolina on Sept. 19 to see the worst of the damage by Hurricane Florence in the worst-hit states.
"He also wanted a full overview from state and local officials in both states," White House press secretary Sarah Sanders told reporters on Air Force One. "He wanted to make sure he met with the people in those areas."
Traveling with him were the four U.S. senators from North and South Carolina, Office of Management and Budget Director and former South Carolina Rep. Mick Mulvaney, and Homeland Security Secretary Kirstjen Nielsen.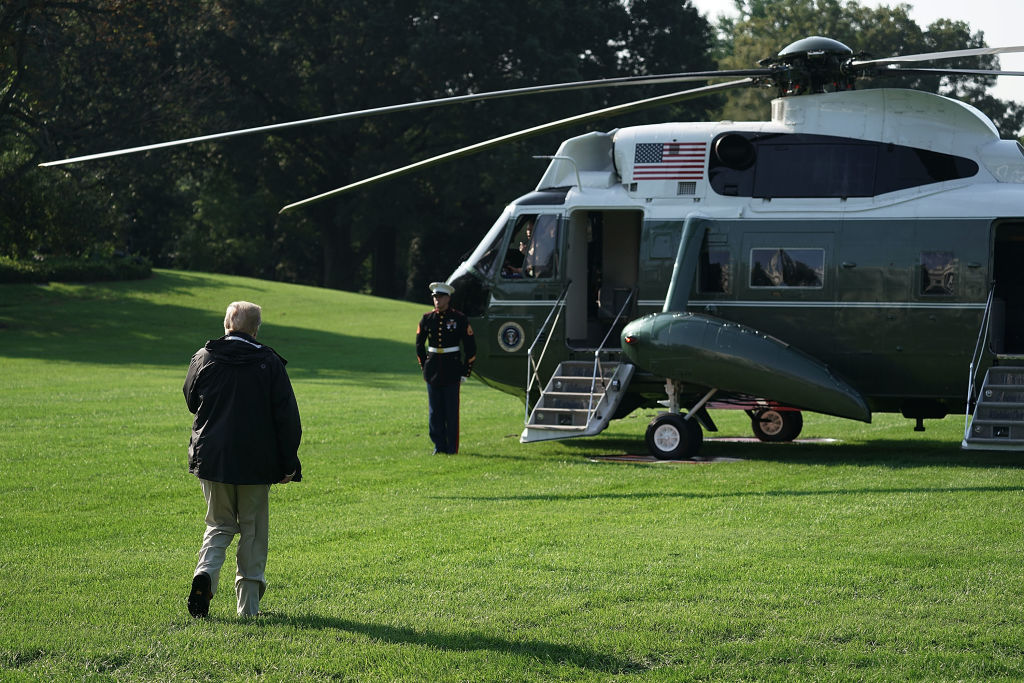 They stopped first at the Marine Corps Air Station in Cherry Point, North Carolina, where Trump received a briefing from state and local officials.
As of Sept. 19, 27 were reported dead in North Carolina, more than 10,000 people remained in shelters, and more than 200,000 customers were without power across the state, according to state officials.
Four days earlier, Trump had issued a disaster declaration for the state that freed up federal aid to supplement state and local resources.
"The money will be a lot, but it's going to come as fast as you need it," he said at the briefing. "We're going to take care of everybody."
While Florence has passed, the danger from it hasn't. North Carolina Gov. Roy Cooper warned that rivers in the state were continuing to rise and causing severe flooding. As of Sept. 18, there were 1,050 roads closed due to flooding and debris. He advised people to stay off the flooded roads, even ones with only a few inches of water on them, and to not drive at all if possible, because a road could be swept away "in a matter of minutes."
"Our state took a gut punch," he said at the briefing. "We have farmers who have lost significantly their crops. A lot of businesses are down. And, of course, people have lost their homes."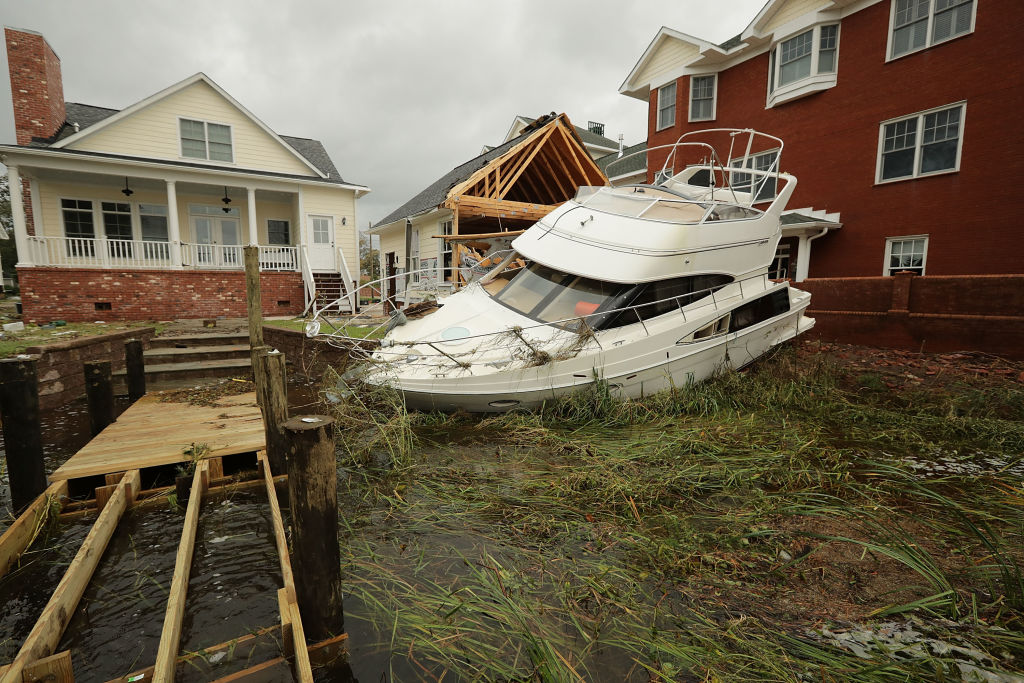 Looking to the future, he promised the state would rebuild the "smart and strong way," but asked for help cutting red tape to make that happen.
Small Business Administrator Linda McMahon told state and local leaders that the SBA was making low-interest loans available to business and homeowners, and urged people to start filling out applications on SBA.gov as soon as possible. The loans are available to residents in 31 North Carolina counties and three South Carolina counties, according to the website.
After the briefing, Trump stopped in New Bern, North Carolina, a city of about 30,000 that took a major punch from the hurricane. He joined Cooper in passing out food packages outside a local church, then toured a neighborhood that had been hit hard by the storm.
A man who had a beached yacht in his backyard told Trump that his insurance company wouldn't pay for the damage to his house, and Trump promised to get the name of the insurance company.
After talking to more residents in New Bern, Trump traveled almost 15o miles southwest to Conway, South Carolina, a city of almost 24,000 that has seen record flood levels that surpassed levels from Hurricane Matthew in 2016.
As of Sept. 18, eight deaths have been reported in the state.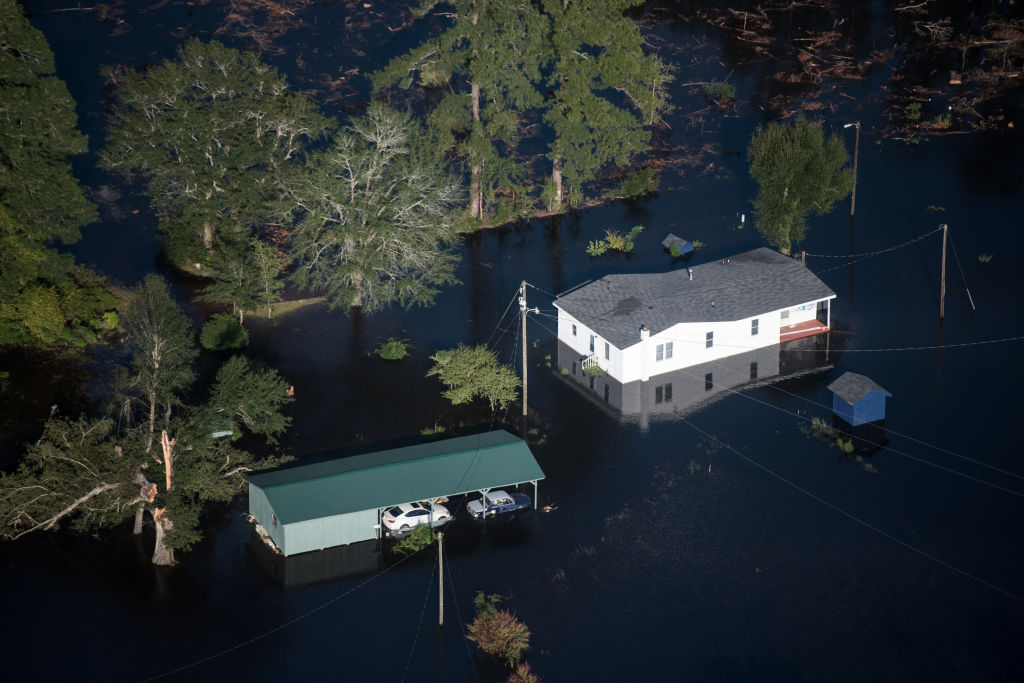 The National Weather Service issued a flood warning for the Waccamaw River in Conway, which was already at 13.5 feet above flood level on Sept. 19, and was expected to rise by 1.5 feet a day starting Sept. 20.
"And you haven't really been hit yet, by comparison to what's coming," Trump told officials at the Horry County Emergency Operations Center in Conway. "This is real emergency stuff at the highest level. … We will be there for South Carolina. We're going to be there for this disaster."
Two days before his visit, Trump signed a disaster declaration that unlocked federal aid to the state.
Trump was joined by U.S. Sens. Lindsey Graham (R-S.C.) and Tim Scott (R-S.C.), Rep. Tom Rice (R-S.C.), several state senators, and Gov. Henry McMaster.
McMaster joked that if someone were looking for water or rain, "you've come to the right place."
"Hurricane Florence came in and stayed … left record amounts of rain," he said. "So our problem has not been with the wind and the rain hitting us, but with the rain that is still here.
"And we have not only the record amounts that have dropped on South Carolina, particularly in this third of the state, but we have the water coming down from North Carolina, because we have three watersheds, three river sheds: the Waccamaw, the Pee Dee, and the Lynches River. Those watersheds all coming to where we are."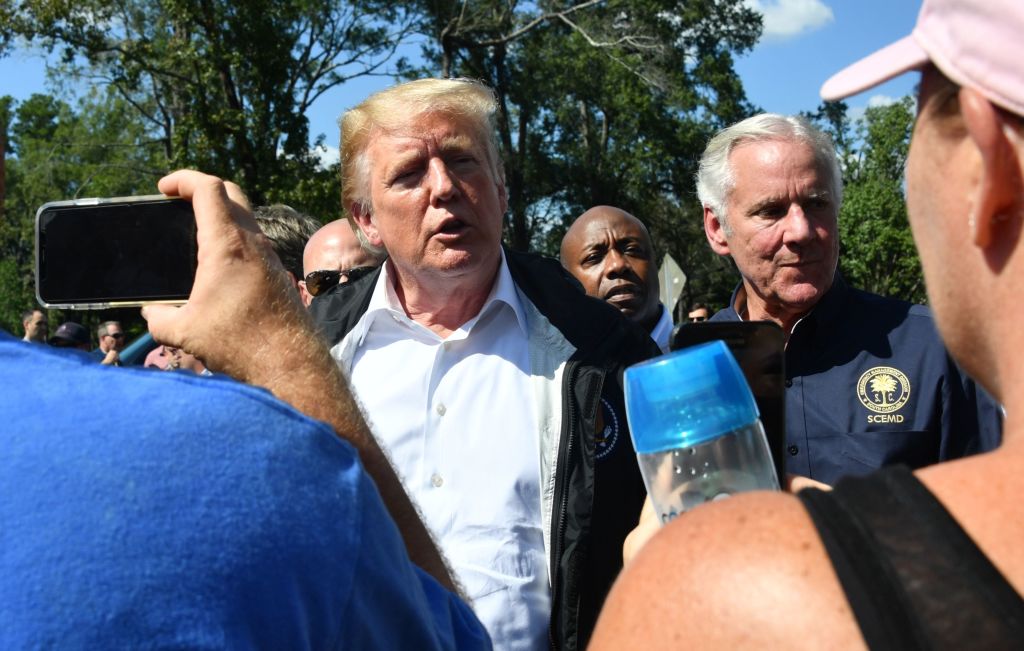 He said he was confident the state would "build our way out" of what he called possibly the "worst disaster" to hit in its history, with the cooperation of "Team South Carolina" and Trump.
"President Donald Trump—one in a million. South Carolina loves you," he told Trump. "The cooperation, and the assistance, and the encouragement, and the confidence [the volunteers have] given to our people, to the federal establishment, and what we call 'Team South Carolina,' is beyond compare."
Both states have received significant federal assistance. The United States Army Corps of Engineers sent 136 engineers to install generators, FEMA had 1,000 workers on the ground to provide shelter and food to evacuees, and the Coast Guard sent 3,000 people and 87 aircraft for rescue missions.
According to the White House, almost 20,000 federal employees were deployed to states affected by Hurricane Florence.