Former President Donald Trump's influence over GOP swing state voters was tested again on Aug. 9 in the Wisconsin gubernatorial primary.
The contest served as another clash of candidates endorsed by Trump and his former vice president, Mike Pence, as both men appear poised to seek the presidency in 2024.
Trump-backed businessman and retired U.S. Army Ranger Tim Michels defeated Pence-supported former Wisconsin Lieutenant Governor Rebecca Kleefisch in the primary race.
Michels received 47 percent of the vote, and Kleefisch had 43 percent, as of 11:46 p.m. with 76 percent of the vote counted, according to The Associated Press.

Days before the primary, an Emerson College poll showed Kleefisch with a two-point lead—36 percent to 34 percent—over Michels, which is within the margin of error.
A poll of undecided voters found that slightly more were leaning toward Kleefisch, who gained 41 percent, compared with 39 percent for Michels.
According to that survey, 39 percent of the respondents said Trump's endorsement impacts their decision, while 49 percent said it does not.
Trump's endorsement appeared to make a significant impact in the final result.
Kleefisch, a former TV news anchor who was also endorsed by former Wisconsin Republican Gov. Scott Walker and Sen. Ted Cruz (R-Texas), launched a generously funded campaign last September and raced to a commanding lead over her lesser-known opponents.
Michels entered the race in April and secured Trump's endorsement in June. The race became more competitive. Michels poured around $12 million of his own money into TV ads, portraying himself as a businessman and an outsider.
"I'd like to thank President Trump for his support, for this endorsement. It meant so much. It was a tremendous validation of our meteoric rise in this campaign. He knows that we need to have new leadership in Madison," said Michels in his victory speech on Aug. 9.
In the general election, Michels will face Democratic Gov. Tony Evers, who in 2018 defeated Walker by one percentage point and has frequently battled Wisconsin's conservative-leaning state legislature. He has vetoed more bills in a single session than any governor in the state's history.
"Congratulations to Tim Michels on his win against a wonderful and highly-competitive opponent, Rebecca Kleefisch," Trump wrote on Truth Social. "I know both sides will come together and defeat one of the worst Governors in the Country, Tony Evers."
GOP consultant Rick Wiley is a former senior official for the Republican National Committee, the Republican Governors Association, and the National Republican Senatorial Committee.
After Michels' victory, he told reporters that "President Trump drives Republican turnout. Period."
"This race was a toss-up going into Election Day and a Michels' victory demonstrates President Trump's ability to rally the base and push his candidate across the finish line," Wiley said. "Trump rallies have a huge impact on turnout, and we saw it in Wisconsin tonight."
With Michels ' triumph, Trump took a 2-to-1 advantage over Pence in head-to-head gubernatorial endorsements.
In May, Pence-backed Georgia Gov. Brian Kemp trounced Trump-supported challenger David Perdue.
In Arizona in July, Trump and Pence held dueling events on the same day promoting their endorsements. It was the first time they supported opposing candidates for an open seat in a statewide race.
Trump endorsed Kari Lake, a former news anchor who is outspoken about her view that the 2020 election was "stolen" from the former president.
Pence's stamp of approval went to Karrin Taylor Robson, a businesswoman and lawyer who was considered the choice for establishment Republicans.
Lake prevailed. She won 47.9 percent of the vote compared with Robson's 43.2 percent, according to the Associated Press.
Trump has also seen victories in his endorsements for House races.
In Washington, Trump-backed Joe Kent edged out Rep. Jaime Herrera Beutler, one of the 10 House Republicans who voted to impeach Trump.
Washington has an open primary, and the top two candidates advance to the general election, regardless of party affiliation. Democrat Marie Perez came in first, followed by Kent.
"Joe Kent just won an incredible race against all odds in Washington State. Importantly, he knocked out yet another impeacher, Jaime Herrera Beutler, who so stupidly played right into the hands of the Democrats," Trump said in a statement.
Two other House Republicans who voted to impeach Trump lost their primary. On Aug 2, John Gibbs upset Michigan Rep. Peter Meijer in western Michigan. In South Carolina, Rep. Tom Rice was routed by state Rep. Russell Fry in the 7th Congressional District.
Gibbs and Fry are backed by Trump.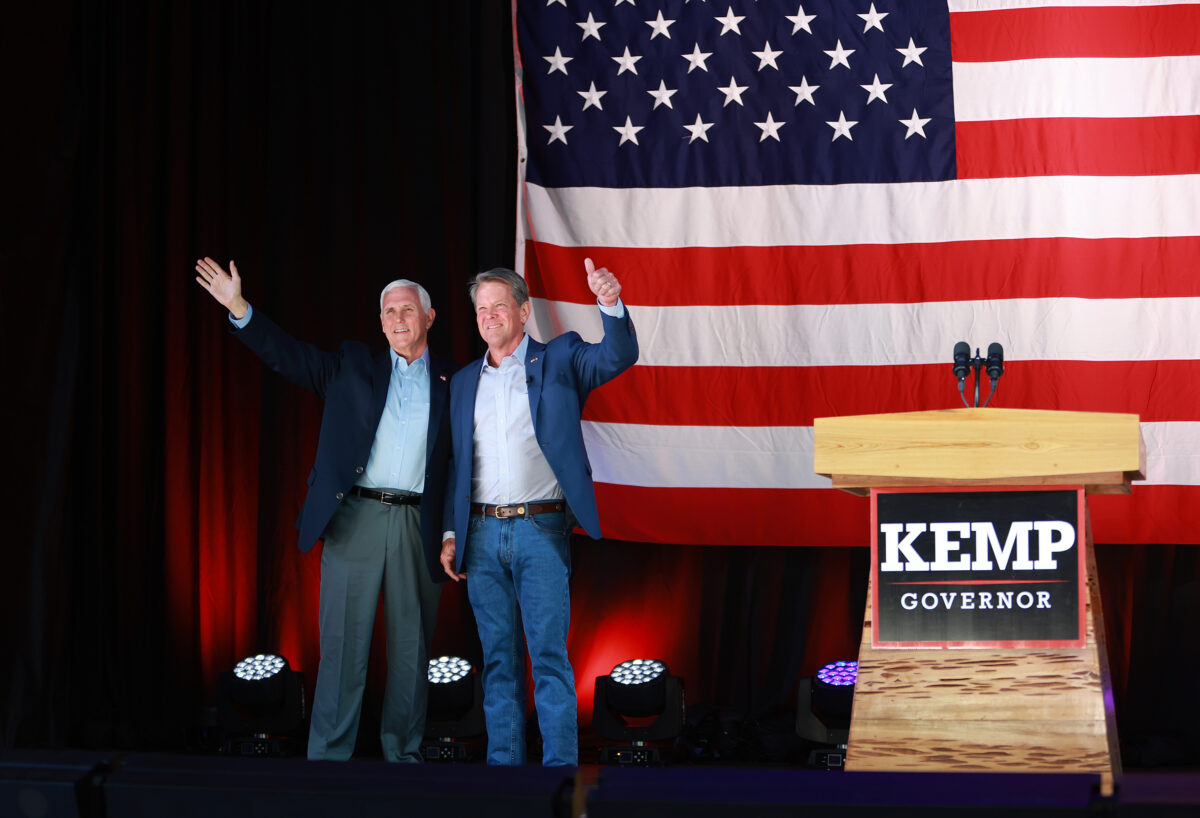 In recent months, Pence has aggressively challenged Trump, endorsing competing candidates and ramping up public appearances where he has repeatedly hinted that he would not be deterred from running for president in 2024 even if Trump enters the race.
Pence's events were scheduled amid the U.S. House Select Committee's Jan. 6 public hearings. Pence has drawn criticism from Trump and many of the former president's supporters about certifying the 2020 Electoral College results.
Trump is the overwhelming favorite to secure the Republican presidential nomination in 2024, if he chooses to run, according to a majority of polls.
Florida Gov. Ron DeSantis consistently finishes second in those surveys, while Pence is often a distant third.
On Aug. 8, the day before primaries in multiple states, Trump released a statement saying that "a large group of FBI agents" raided his home at Mar-a-Lago in Palm Beach, Fla. He called it a "weaponization of the justice system" and an "attack by the radical left Democrats who desperately don't want me to run for President in 2024."
In a press release, Trump added, "They even broke into my safe!"
Trump is under scrutiny for a variety of issues that range from the U.S. Capitol breach on Jan. 6, 2021, to his family's business dealings.
The FBI converged on Mar-a-Lago reportedly in pursuit of evidence on whether Trump mishandled classified information when he took White House documents with him upon leaving Washington on Jan. 20, 2021.
Some political pundits, as well as Republican elected officials and candidates, suggested that the raid would galvanize Trump supporters heading to the polls for Aug. 9 primaries.
Trump traveled to Wisconsin last weekend to campaign for Michels.
In response to the raid, Michels tweeted on Aug. 8," First 87,000 new IRS agents, now this? The FBI's raid this afternoon seems more like a political witch hunt than anything else. Republicans in Wisconsin are far too familiar with overzealous prosecutors. Elections have consequences. Vote."
After casting his ballot on the afternoon of Aug. 9, Michels posted another tweet: "We woke up this morning to stakes even higher than we ever thought. Do we want a government of the people or a government targeting the people? Your vote today is the first step in fighting back. That's what I just did."
Pence defended Trump regarding the FBI raid, writing on Twitter, "I share the deep concern of millions of Americans over the unprecedented search of the personal residence of President Trump.
"After years where FBI agents were found to be acting on political motivation during our administration, the appearance of continued partisanship by the Justice Department must be addressed."