The Senate impeachment trial against President Donald Trump resumed at 10 a.m. on Jan. 25.
The House impeachment managers presented the case for impeachment over the last several days. Trump's legal team is now taking their turn.
12:10 p.m. EST—Senate Adjourned Until Monday
Trump's defense team concluded today's opening arguments.
The Senate impeachment trial was adjourned until 1 p.m. Monday.
12 p.m. EST—House Subpoenas Were 'Invalid:' Lawyer
Subpoenas issued by the House of Representatives during the impeachment inquiry weren't legally valid because the full House didn't vote to approve the inquiry, a lawyer for President Donald Trump told senators on Jan. 25.
Patrick Philbin, deputy counsel, said that Supreme Court precedent explains that a congressional committee gets its authority by a resolution from its parent body.
"The Constitution assigns the sole power of impeachment to the House of Representatives—to the House, not to any member, not to a subcommittee. And that authority can be delegated to a committee to use only by a vote in the House," Philbin said.
"Here, there was no vote to authorize a committee to exercise the power of impeachment."
Because there was no standing authority giving the House Intelligence Committee authority, subpoenas issued by the committee were "invalid," Philbin said.
"And that is what the Trump administration pointed out specifically to the House. That was the reason for not responding to them."
There were full House votes in the previous presidential impeachment inquiries, Philbin said.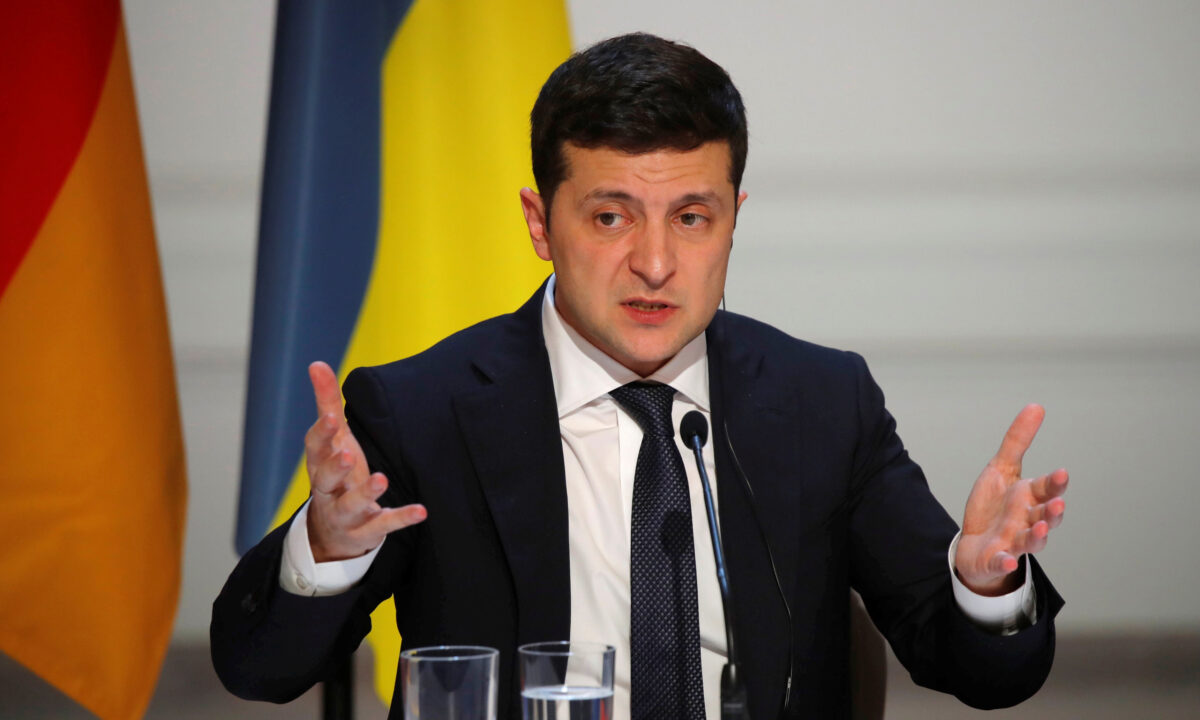 11:45 a.m. EST—Corruption Didn't Go Away With Zelensky's Election: Sekulow
Corruption in Ukraine didn't disappear with the election of President Volodymyr Zelensky, Trump attorney Jay Sekulow said on Saturday.
"We're acting as if there were a magic wand. That there was new elections, and everything was now fine," Sekulow said.
He quoted Tim Morrison, a National Security Council official who said he was "concerned about whether [Zelensky] would be a genuine reformer and whether he would genuinely try to root out corruption." He also quoted Dr. Fiona Hill, a former council official who said "eliminating corruption in Ukraine was one of the, if not the central goals, of a foreign policy."
"Does anybody think that one election of one president that ran on a reform platform, who finally gets a majority in their legislative body, that corruption in Ukraine just evaporates?" Sekulow wondered.
"You can't look at these issues in a vacuum." Nearly every witness in the House impeachment inquiry agreed that corruption in Ukraine was an issue, he said.
House impeachment managers this week focused on Ukraine in pushing for the removal of Trump from office.
House manager Jason Crow (D-Colo.) said that a Department of Defense review last year concluded Ukraine made sufficient progress in meeting anti-corruption goals in order to receive the congressionally approved funds that Trump put on hold to look into corruption in the country.

11:15 a.m. EST—Trump Lawyer: Zelensky Said There Was No Pressure
Top Ukrainian officials, including President Volodymyr Zelensky, disputed accounts that they felt pressured to open investigations into former U.S. Vice President Joe Biden and Biden's son, a lawyer for the president noted on Saturday.
Kurt Volker, former U.S. special envoy to Ukraine, met with Zelensky the day after the July 25, 2019, phone call. Ukraine never brought up a hold on military aid or a "quid pro quo," Volker testified to the House during the impeachment inquiry. Trump's team played the clip during the impeachment trial.
"The best evidence that there was no pressure or 'quid pro quo' is the statements of the Ukrainians themselves. The fact that President Zelensky himself felt no pressure on the call and did not perceive there to be any connection between security assistance and investigations would, in any ordinary case, in any court, be totally fatal to the prosecution," Mike Purpura, deputy counsel to Trump, told lawmakers.
He was referring to allegations that Trump pressed Ukraine to "look into" allegations of corruption surrounding Ukraine, as well as the location of a computer server, in exchange for releasing a hold on aid Congress approved for the country.
House impeachment managers know Ukrainian leaders said there wasn't any pressure but insist Zelensky and others actually did feel pressure, Purpura said.
"They tell you that the Ukrainians must have felt pressure, regardless of what they said. They try to overcome the devastating evidence against them by, apparently, claiming to be mind readers," Purpura said.
House impeachment managers had another interpretation of Trump's call with Zelensky. They say Trump's response when his counterpart brought up buying more Javelin missiles from the United States—Trump said "I would love you to do us a favor though" before asking Zelensky "to find out what happened" with CrowdStrike, a company hired to investigate a Democratic National Committee server breach—was evidence of the "quid pro quo" allegation.
Rep. Jason Crow (D-Colo.) brought up remarks by acting White House Chief of Staff Mick Mulvaney made during an October 2019 press conference. Asked if it was a "quid pro quo," Mulvaney responded, "We do that all the time with foreign policy."
"We were holding up money at the same time for the Northern Triangle countries so that they would change their policies on immigration," he added.
Mulvaney later issued a statement claiming media outlets misconstrued his remarks. "Let me be clear, there was absolutely no quid pro quo between Ukrainian military aid and any investigation into the 2016 election," he said.
Crow played Mulvaney making the comments at the press conference, telling lawmakers: "Now, remember, at the time he made these statements, Mulvaney was both head of OMB [Office of Management and Budget] and the acting chief of staff at the White House. He knew about all of the legal concerns. He also knew about the president's so-called drug deal, as Ambassador Bolton called it."
"He knew exactly what was going on in the oval office and how OMB implemented the president's illegal order to withhold the aid. Mulvaney confirmed why the president ordered the hold," Crow said. "It was not to develop further policy to counter Russian aggression, it was not to convince Ukrainians to implement additional anti-corruption reforms, and it was not to pressure our allies to give more to Ukraine."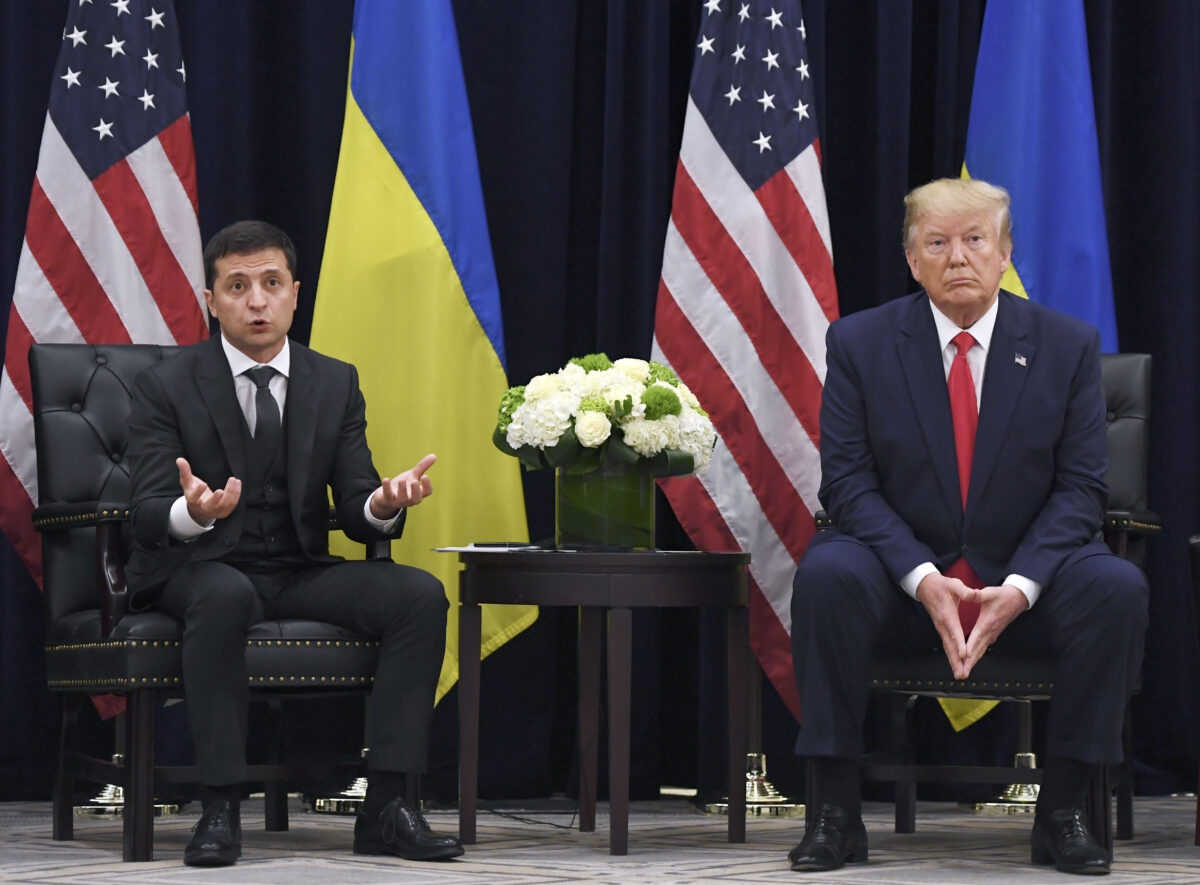 10:15 a.m. EST—Trump's Team Draws Attention to Schiff Fabrication
Trump's defense team played a clip showing House Intelligence Adam Schiff (D-Calif.) fabricating a portion of the transcript of the president's 2019 phone call with Ukraine's president.
Schiff made the fabrication during a House hearing last year.
"That's fake. That's not the real call. That's not the evidence here. That's not the transcript," Mike Purpura, a counsel to Trump, told lawmakers on the Senate floor.
"And we can shrug it off, and say we were making light, or a joke. But that was in a hearing in the United States House of Representatives discussing the removal of the president of the United States from office. There are very few things, if any, that can be as grave and as serious. Let's stick with the evidence."
10:15 a.m. EST—Cipollone Tells Senate to Let Voters Decide
White House counsel Pat Cipollone said Saturday morning that senators should let voters decide whether to remove Trump from office in the November election.
"They're asking you to something very, very consequential, and I would submit to you … very, very dangerous," he said on the Senate floor in Washington.
"They're asking you not only to overturn the results of the last election, but they're asking you to remove President Trump from the ballot in an election that's occurring in approximately nine months. They're asking you to tear up all of the ballots across this country, on your own initiative, take that decision away from the American people."
Removing Trump through impeachment "would violate the sacred trust that the American people have placed in you," he added.
"The American people decide elections. They have one coming up, in nine months."

9 a.m. EST—Manchin: 'Most Serious Thing' Done as Official
Sen. Joe Manchin (D-W.Va.), a moderate Democrat, said that the presentation by the legal team will anger Democrats.
"I'm sure there's things that will be said today that will upset Democrats," he told reporters at 9:30 a.m.
"This is the tough situation that we're in. It's the most serious thing that I've ever done as an elected official."
Manchin said that he would be listening to the defense counsel.
"I take my oath extremely seriously, my oath to the Constitution to protect and defend and my oath of impartiality. I want to see and hear from the defense counsel today and we'll see where we go from there," he added.
9 a.m. EST—What Trump's Team Will Say
Trump's team will make the argument that Democrats committed election interference by paying for the salacious dossier rife compiled by ex-British spy Christopher Steele, who had animus against Trump, the president's lawyer Jay Sekulow said late Friday.
Speaking to reporters in Washington, Sekulow said arguments claiming Trump attempted to interfere in the upcoming election by asking Ukrainian President Volodymyr Zelensky to "look into" corruption allegations against leading Democratic contender Joe Biden fell flat when taking into account how Clinton and the Democratic National Committee paid for the dossier.
"So you can get on your horse and act haughty and proud about it, but you know what, let's look at what the evidence says," he said. "Here's what the evidence says: There was foreign involvement. But let's not forget where it originated from."
Trump's team would "rebut and refute" arguments put forth by the House impeachment managers, Sekulow added. They would talk about how Biden was leading U.S. policy in Ukraine while in office in 2015 and 2016 at the same time his son, Hunter Biden, sat on the board of Ukrainian gas company Burisma Holdings.
Sekulow said the charge of obstruction of Congress is "absurd." He argued that Trump has been exercising executive privilege.


8 a.m. EST—Trump Wants Team to be 'Honest'
President Donald Trump wants his defense team to be honest when making arguments to lawmakers at the U.S. Capitol.
Trump told Fox News that what his team "have to do is just be honest, just tell the truth."
"They've been testifying, the Democrats, they've been telling so many lies, so many fabrications, so much exaggeration. And this is not impeachable," he added.
Trump has repeatedly insisted he did nothing wrong in his July 2019 phone call with Ukrainian President Volodymyr Zelensky. He's called it a "perfect call." The White House has also defended the hold Trump placed on military aid approved by Congress for Ukraine. Trump has said he ordered the hold because of concerns of corruption in the country.
Trump suggested Friday it would be hard to envision him being impeached for what he did.
"[Democrats] say, 'But it doesn't have to be a crime.' Well, maybe it doesn't have to be a crime, but can you imagine being impeached and you didn't commit a crime?" he said.
Trump also argued that Hunter Biden was corrupt.