Impeaching former President Donald Trump in 2019 was wrong and should be corrected, according to Rep. Markwayne Mullin (R-Okla.), who recently introduced a resolution to expunge Trump's first impeachment.
The House impeached Trump for the first time on Dec. 18, 2019, alleging that Trump abused the power of his office by pressuring Ukraine to investigate a political rival, and that the president obstructed justice when Democrats began to investigate the matter. Trump has vehemently denied both allegations.
On March 29, Mullin introduced a resolution (pdf), saying the impeachment was "an unimaginable abuse of our Constitution."
"So what we're doing with the resolution is just simply saying, 'Hey, listen, Congress made a mistake. We impeached a president under Article One, Section Two, that shouldn't have ever taken place,'" Mullin told NTD's "Capitol Report" program on April 1.
Article One, Section Two of the Constitution gives the House "the sole power of impeachment." Article Two, Section Four states that a president could be removed from office for "treason, bribery, or other high crimes and misdemeanors."
Mullin said neither high crimes nor misdemeanors took place in Trump's case.
"It was all about a phone call," Mullin said. "It was alleged that he had handled a situation wanting [Ukrainian] President [Volodymyr] Zelenskyy at the time to investigate the Bidens for what Hunter Biden was doing."
President Joe Biden's son Hunter Biden made $50,000 a month for being on the board of Burisma Holdings, one of the largest private natural gas producers in Ukraine, from 2014 to 2019.
"In 2018, you had Biden go out and brag that he told then the president of Ukraine that if he didn't fire the investigator, that he was going to withhold military aid," said Mullin. "Well, that was exactly what the Democrats were accusing Trump of doing in the phone call. But when the phone call transcript came out, that never happened. He just asked him to look into it."
Trump released the transcript of the phone call on Nov. 15, 2019.
The Senate later acquitted Trump of these charges on Feb. 5, 2020.
Mullin, who is running to replace retiring Sen. Jim Inhofe (R-Okla.), said the fact that Hunter Biden was getting roughly a million dollars a year from the Ukrainian oil company was concerning and a huge conflict of interest.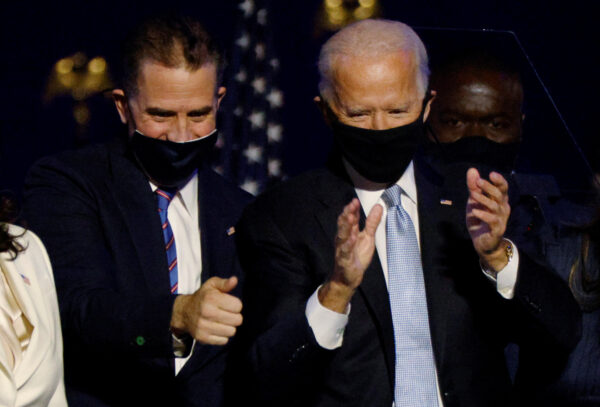 Hunter Biden is being investigated by the U.S. Attorney's office in Delaware, which he has described as exploring potential tax crimes and which includes looking into records of transactions with a bank in China, according to a grand jury subpoena obtained by The Epoch Times.
On March 28 and March 29, Sens. Chuck Grassley (R-Iowa) and Ron Johnson (R-Wis.) released bank records showing payments were made to Hunter Biden from a Chinese Communist Party-linked company.
Recently, The New York Times and The Washington Post, which vehemently denied the authenticity of Hunter's laptop over a year ago, now admit the laptop is real. The laptop contained thousands of emails related to the first son's foreign business dealings.
"We got it wrong," Mullin said. "The House messed up underneath the leadership of Speaker Pelosi and the Democrats who did this for political purposes. And we're going to correct that for history's sake."
The office of House Speaker Nancy Pelosi (D-Calif.) hasn't responded to a request for comment.
At the time of impeachment, Pelosi said Trump's action violated the Constitution and made impeachment necessary.
"It is a matter of fact that the president is an ongoing threat to our national security and the integrity of our elections—the basis of our democracy," said Pelosi.
On April 3, White House chief of staff Ron Klain said President Biden is confident his son Hunter didn't violate the law.
Zachary Stieber contributed to this report.