When President Donald Trump announced his skinny budget last week, Wall Street analysts and Washington insiders pronounced it "dead on arrival."
"The proposal should be seen as a starting point for congressional negotiations," Goldman Sachs wrote in a note to clients. Appropriations bills need a minimum of 60 votes, eight of which will need to be Democratic, to pass the Senate.
Since Democratic Senators have adopted a strategy of resisting Trump at every point, it would be even more remarkable if they endorsed his massive cuts to the Environmental Protection Agency (EPA), the Department of Agriculture, and the Department of Labor.


Nevertheless, this budget is an important political statement.
It is half the size of its predecessor—if not in dollar terms, at least in page numbers—and its core message is to deliver on campaign promises.
It boosts defense spending by $54 billion, reserves money for the border wall, and injects resources into the fight against terrorism, cybercrime, and enforcement of trade sanctions and immigration laws.
On the other hand, it will take away $2.6 billion, or 31 percent, of the EPA's budget and $10.9 billion, or 28 percent, from the State Department's. These cuts mainly defund commitments to foreign aid, multilateral agencies such as the World Bank, and climate change programs under the aegis of the United Nations.
Thus, when White House budget director Mick Mulvaney says this is "the 'America First' budget," he has a point. Trump's budget takes money away from globalist programs and puts it into the United States.
In terms of total numbers, the $1.15 trillion budget is roughly the same size as its predecessor, with only a $30 billion reduction in spending. If the budget were implemented as is, the deficit would come in at $487 billion.
However, some notable elements from Trump's campaign are also missing: no tax cuts, no infrastructure spending, and no Obamacare repeal calculations. The White House has indicated that it will release those figures as part of an updated plan around May, knowing full well that it has a more pressing issue to deal with: debt.
Debt Ceiling Crunch
If tax cuts and infrastructure spending are executed wisely, they will lead to more robust growth and fiscal revenue down the line—but not in the short term.
In the short term, these measures will boost deficits, which have to be financed by more debt. This will no longer be possible, however, since the 2015 temporary public debt extension expired on March 15.
If Trump wants to issue more debt, he will have to broker a deal with Congress to raise the debt ceiling to well beyond the $20 trillion we carry now.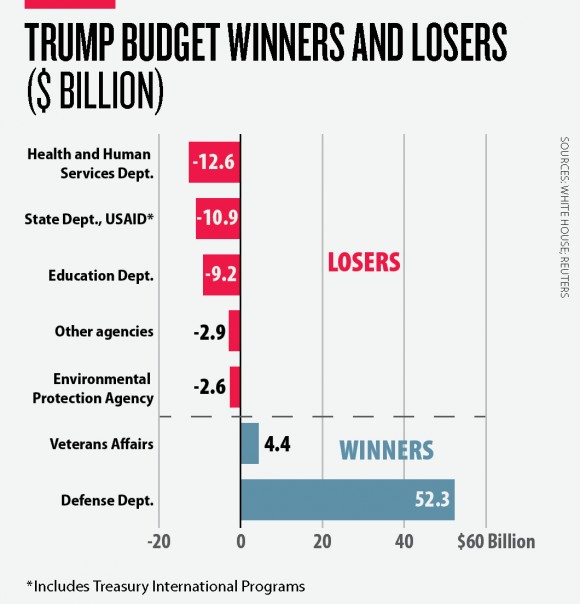 Until then, the Treasury is usually able to survive for a few months by scavenging from government social security funds, but that's no long-term strategy.
If Trump wants to push through infrastructure and tax cuts, he will have to get fiscally conservative Republicans behind him and make a deal.
"If they raise the debt ceiling and continue adding more than a trillion dollars a year to the national debt, they will lose all credibility with conservative voters on fiscal issues," wrote independent economist Michael Snyder in a blog post. "But if they try to force the federal government to start living within its means, that is going to severely harm the economy in the short term."
The budget shows that Trump wants to deliver on his campaign promises; at the same time, Congress and the debt ceiling will make that vision difficult.