President Donald Trump was projecting calm in February when speaking about the new virus from China in part because of concerns about a mass panic that could have left grocery store shelves bare and crash the economy, the White House said on Wednesday.
Trump told journalist Bob Woodward on Feb. 7 that the CCP (Chinese Communist Party) virus "is deadly stuff," according to Woodward's new book. He said the virus, which causes COVID-19, was "more deadly than even your strenuous flu."
That same month, Trump contrasted the new virus with influenza, telling reporters at the White House: "The flu, in our country, kills from 25,000 people to 69,000 people a year. That was shocking to me. And, so far, if you look at what we have with the 15 people and their recovery, one is pretty sick but hopefully will recover, but the others are in great shape. But think of that: 25,000 to 69,000."
Trump also said the number of COVID-19 cases would soon go "close to zero."
White House press secretary Kayleigh McEnany told reporters on Sept. 9 that Trump was expressing confidence and calm.
"This president does what leaders do, good leaders. It's: stay calm and resolute at a time when you face an insurmountable challenge," she said.
"The president has never lied to the American public on COVID. The president was expressing calm and his actions reflect that," she added, pointing to the Centers of Disease Control and Prevention issuing a travel notice for Wuhan on Jan. 6, before any confirmed CCP virus cases in the United States, and Trump banning non-Americans from traveling to the United States from China on Jan. 31.
The ban led to an 86 percent drop in travel from China to the United States.
Dr. Anthony Fauci, a top health expert in the Trump administration, said during a Fox News appearance on Wednesday: "I didn't get any sense that he was distorting anything."
"He really didn't say anything different then we discussed when we were with him," he said. "I may not be tuned into the right thing that they're talking about, but I didn't really see any discrepancies between what he told us and what we told him and what he ultimately came out publicly and said."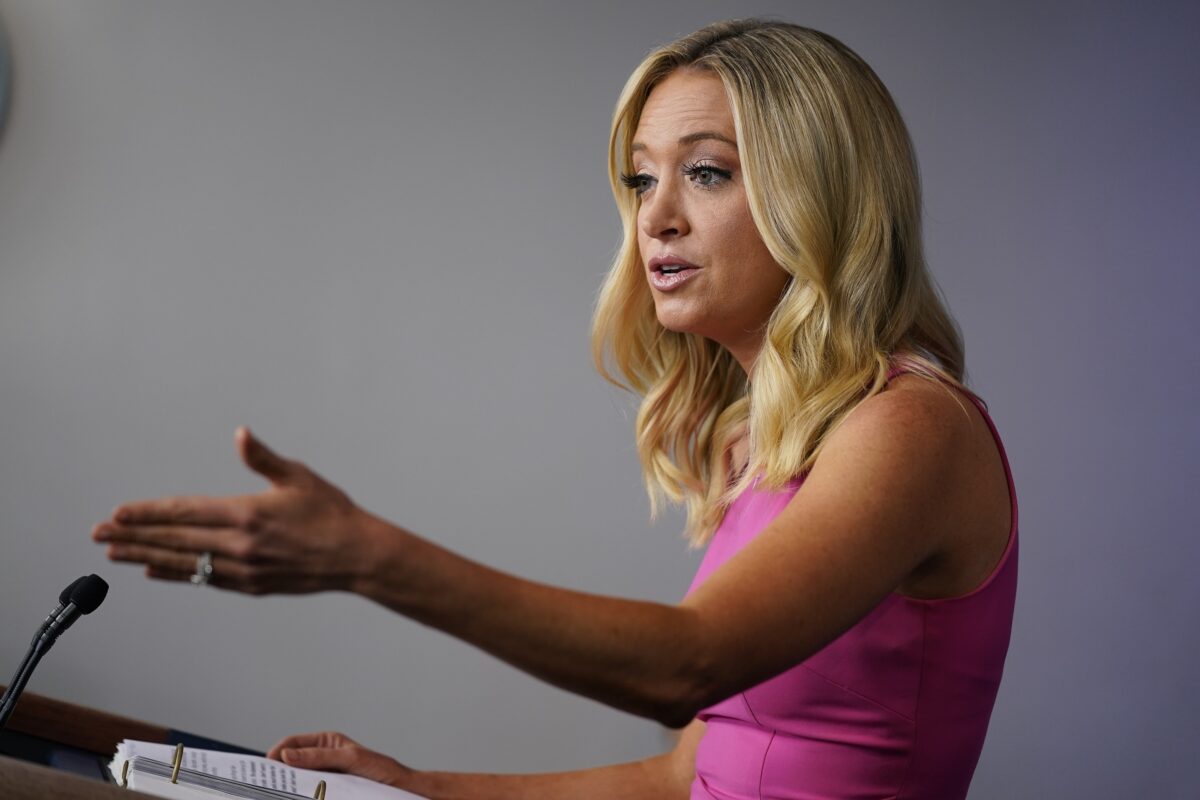 Four consecutive reporters pressed McEnany about the apparent differences between what he said in private and public in the early months of this year during her press conference at the White House.
"The president never downplayed the virus, once again. The president expressed calm. The president was serious about this while Democrats were pursuing their sham impeachment," she told one.
The House of Representatives impeached the president on Dec. 18, 2019. Democrats delivered the articles of impeachment to the Senate on Jan. 15. Trump was acquitted by the Senate on Feb. 5 following a weekslong trial.
"This president embodied the American spirit, that when we face a challenge, a crisis, a pandemic, we come together, we can be optimistic. We can be serious about it, we can take it seriously with our actions, which is what this president does, it's why we lead the world in testing, doing far more than number two, which is India. He took this seriously, but he still expressed calm," McEnany said.
"Our food supply chains were at risk, we could not have mass runs on grocery stores. The markets, also, the economy was in play here, we didn't want there to be a huge crash and panic."
Trump made a similar comment to Woodward in mid-March, telling the journalist: "I wanted to always play it down. I still like playing it down, because I don't want to create a panic."