U.S. President Donald Trump urged China on May 21 to maintain a secure border with North Korea, pressing Beijing ahead of his anticipated meeting with North Korean leader Kim Jong Un next month aimed at denuclearization.
"China must continue to be strong & tight on the Border of North Korea until a deal is made. The word is that recently the Border has become much more porous and more has been filtering in. I want this to happen, and North Korea to be VERY successful, but only after signing!" Trump tweeted early Monday morning.
He did not elaborate on the significance of the North Korea-China border issue in any deal that might be reached on denuclearization. Trump has said his meeting with Kim will take place on June 12 in Singapore.
China is North Korea's largest trading partner and an important communist ally, supplying it with food and energy resources. In recent weeks, the Chinese regime has tried to assert itself in denuclearization negotiations with North Korea.
North Korean leader Kim Jong Un visited Beijing twice within several weeks, where he met with Chinese leader Xi Jinping.
Last week, in a sudden change of tone, North Korea threatened to scrap the summit with Trump if Washington continued to press for unilateral denuclearization.
While Trump initially said the June meeting was still on track, on May 22 while South Korean President Moon Jae-in was visiting Washington, Trump said there was "a substantial chance" the meeting may not work out.
"That doesn't mean that it won't work out over a period of time, but it may not work out for June 12," Trump told reporters. "We'll see what happens."
China Steps In
Last week, after North Korea threatened to cancel the meeting, Trump told reporters at the White House that Kim was possibly being influenced by China after visiting Beijing.
Several media have since uncovered details of discussions between Kim and Xi. Japanese newspaper Yomiuri Shimbun reported on May 13 that during Kim's visit in early May, Kim asked Xi for some form of economic assistance during the intermediate phase of disarmament, should his regime and the United States come to an agreement.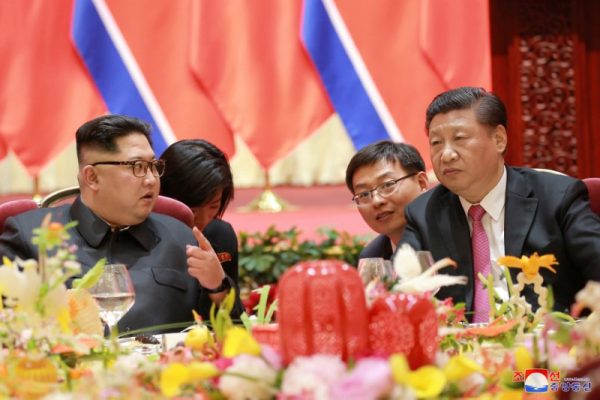 Then on May 18, South Korean newspaper JoongAng Daily, citing a government source in Seoul, revealed that Xi had promised to Kim that China would support North Korea even if the Trump-Kim summit were to fail.
The two leaders,"concentrated on the method of denuclearization of North Korea and the expected changes in the situation on the Korean Peninsula resulting from the North-U.S. summit," JoongAng Daily reported.
China has continuously lent its support to North Korea despite international sanctions. In November last year,  the United States detected a number of vessels, including ones linked to China, that engaged in illicit oil trade with North Korea.
In April, just after Kim made his first overseas trip to Beijing in late March, South Korean newspaper Dong-a Ilbo reported that busloads of North Korean laborers were traveling across the Chinese border—against United Nations sanctions stipulating that UN members are prohibited from issuing new labor permits to North Korean workers.
Reuters contributed to this report.