McALLEN, Texas—Taking a step to further deter several caravans of mostly Central American migrants who have stated an intent to cross into the United States from Mexico, the Trump administration has said it will not allow illegal border crossers to claim asylum.
Often, people will cross the southwest border illegally with the intent to evade law enforcement, and if they happen to get caught, they often will claim asylum, despite having no basis for the claim.
President Donald Trump issued a proclamation on Nov. 9 that renders those who cross the border illegally ineligible for asylum—an asylum-seeker must now enter through a port of entry, of which there are 26 dotted along the southwest border. A total of 328 official ports of entry exist in the United States, according to Customs and Border Protection (CBP).
"Illegal aliens will no longer get a free pass into our country by lodging meritless claims in seeking asylum," Trump said in a statement.
"The United States expects the arrival at the [southern] border between the United States and Mexico of a substantial number of aliens primarily from Central America who appear to have no lawful basis for admission into our country," the presidential proclamation said. "They are traveling in large, organized groups through Mexico and reportedly intend to enter the United States unlawfully or without proper documentation and to seek asylum, despite the fact that, based on past experience, a significant majority will not be eligible for or be granted that benefit."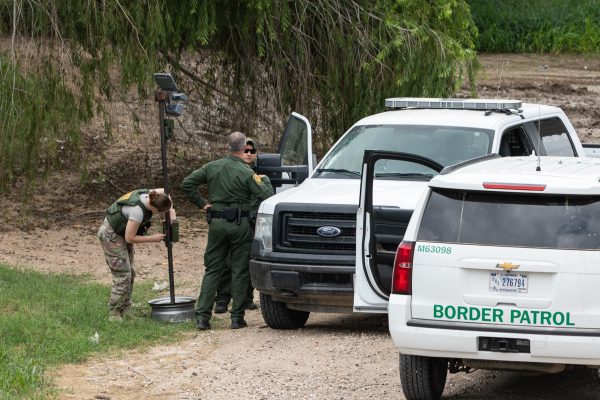 Only 9 percent of Central Americans who claim a credible fear of return to their home country after entering the United States are granted asylum, according to the Department of Justice (DOJ). Yet, 89 percent of aliens from Central America pass the initial credible fear interview at the border. Often, the migrants pay a smuggler up to $7,000 for passage to the U.S. border and are coached on how to pass the credible fear screening.
More than 70,000 aliens a year (as of fiscal 2018) are estimated to enter between the ports of entry and then assert a credible fear claim, according to the DOJ. Another 24,000 assert fear to return at ports of entry. Forty percent then fail to lodge an asylum application and 31 percent fail to show up for their immigration court hearing. Of those, most remain in the wind.
By forcing asylum-seekers to ports of entry, the Department of Homeland Security hopes to funnel the majority of illegal border crossers to ports of entry and keep Border Patrol agents out in the field along the border. Otherwise, agents get tied up in processing and transporting asylum-seekers, which the cartels take advantage of to move contraband into the United States.
The presidential proclamation must be renewed after 90 days and does not apply to unaccompanied minors, who make up approximately 9.7 percent of aliens who enter the United States illegally.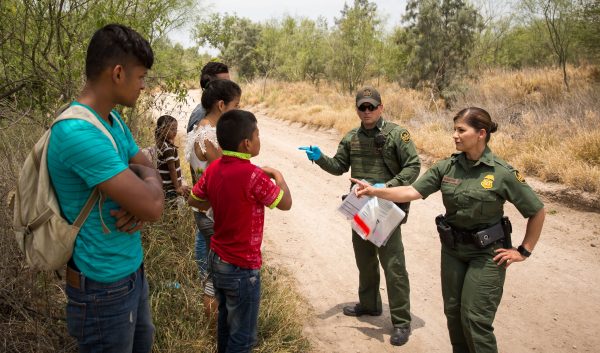 Trump has also sent military resources to the border to shore up the ports of entry and to help plug gaps in border security. More than 5,600 active-duty soldiers are already deployed, with a further 1,400 on standby, according to the Department of Defense. Aside from directly assisting CBP operations, the president wants the military to construct tent cities to house asylum-seekers so they are not released into the United States after initial processing—a practice known as catch-and-release.
Trump's proclamation is predicated on a clause in the Immigration Nationality Act that states: "Whenever the President finds that the entry of any aliens or of any class of aliens into the United States would be detrimental to the interests of the United States, he may by proclamation, and for such period as he shall deem necessary, suspend the entry of all aliens or any class of aliens as immigrants or nonimmigrants, or impose on the entry of aliens any restrictions he may deem to be appropriate."
The proclamation was predictably met with a lawsuit by the ACLU and other organizations.
"President Trump's new asylum ban is illegal," said Omar Jadwat, director of the ACLU's Immigrants' Rights Project, in a statement. "Neither the president nor his cabinet secretaries can override the clear commands of U.S. law, but that's exactly what they're trying to do. This action undermines the rule of law and is a great moral failure because it tries to take away protections from individuals facing persecution—it's the opposite of what America should stand for."
The lawsuit argues that the president's proclamation contravenes Section 1158 of U.S. Code, that states, in part: "Any alien who is physically present in the United States or who arrives in the United States (whether or not at a designated port of arrival …)" may apply for asylum.
The Caravans
Although the multiple caravans are eliciting a lot of attention due to their scale, it's not a new phenomenon. In October alone, more than 25,400 asylum-seekers were apprehended after illegally crossing the U.S.–Mexico border, according to CBP statistics.
Initially, caravan organizers stated an intent to cross the border into Texas; however, recent movements suggest they are instead heading toward California.
Military personnel are currently stationed on the border in Texas (2,800), Arizona (1,500), and California (1,300), but are highly mobile.
"What is new and challenging about this caravan phenomenon is the formation of multiple large groups, which present unique safety and border security threats," CBP Commissioner Kevin McAleenan told reporters on Oct. 29.
"For the two large groups that we're following—we've already seen the first one make unlawful entry across two international borders, and the second, still in Guatemala, has deployed violent and dangerous tactics against both Guatemalan and Mexican border security teams."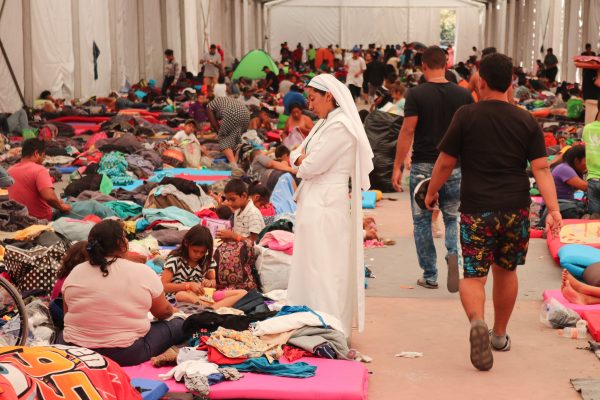 McAleenan said CBP is monitoring the caravans closely to determine the agency's response.
"We have, at the ready, 1,000 CBP officers, including 250 tactical enforcement officers and mobile response team professionals with training on managing contingencies, including riot control," he said. "Between ports of entry we have an additional 830 Border Patrol agents on standby, ready to deploy—to include 140 special operations agents, 385 mobile response team agents, and an additional 350 agents from unaffected sectors."
The Mexico government has offered caravan migrants asylum in Mexico, including work, shelter, and education for their children. Around 75 percent of the migrants, however, are adult males, many of whom are determined to get into the United States.
In July, the Department of Homeland Security issued new policy guidelines on asylum that reverts the criteria for a claim back to what it was before 2014, when the Obama administration opened it up to include private criminal cases, including domestic violence.
Now, individuals from foreign countries who are running from domestic abuse or local criminal activity are again no longer eligible for asylum in the United States.
The change is a consequence of a ruling, the Matter of A-B-, by Attorney General Jeff Sessions, published on June 11.
The definition has not changed, however. Asylum-seekers have always needed to prove that they have suffered past persecution or have a well-founded fear of future persecution in their home country because of their race, religion, nationality, political opinion, or membership in a particular social group.
But persecution is generally considered state-sanctioned or condoned, which means the government of the alien's home country is the sponsor of the persecution. For example, in North Korea, the regime itself persecutes Christians.
In the case of domestic violence, where the persecutor is a private actor, "applicants must show that their home government either condoned the private behavior or demonstrated a complete helplessness to protect them," according to the Department of Homeland Security.