Firetrucks, wheelbarrows, guitars, pianos, door hinges, candy, soda, beer, and cowboy hats are among the many products made in America that are on show at the White House today.
President Trump is set to inspect products from all 50 states as he proclaims the coming week as "Made in America Week."
The companies on hand at the White House include American manufacturing giant Caterpillar, iconic musical instrument makers Gibson Guitars and Steinway Pianos, and lesser known companies making bucket trucks, wine, yachts, wool blankets, and horseshoes.

"America is a nation that honors the work of gifted and skilled tradespeople, but for too long our government has forgotten the American workers," a statement from the White House reads. "Under the leadership of President Trump, not only will the American worker never be forgotten, but they will be championed."
Putting the interests of American workers first was one of the pillars of Trump's campaign for president. He has made significant progress delivering on his promise since taking office by taking steps to reduce regulation and empower American workers and companies:
On January 30, Trump signed the "Reducing Regulation and Controlling Regulatory Costs" executive order, requiring agencies to slash two existing regulations for each new regulation introduced;
On April 18, Trump signed the "Buy American, Hire American" executive order, which closed loopholes that circumvented existing "Buy American" laws for government agencies;
On June 15, Trump signed the "Expanding Apprenticeships in America" executive order, which funded the creation of new apprenticeship programs, called for expansion of existing programs, and for increased participation among students.
"President Trump has taken decisive action to free America's energy potential and create jobs in areas that need them the most. He has approved the construction of new energy pipelines, allowed for the exportation of coal, increased liquefied natural gas exports, and withdrew from the Paris Climate Accord," the White House said in a statement about "Made in America" week.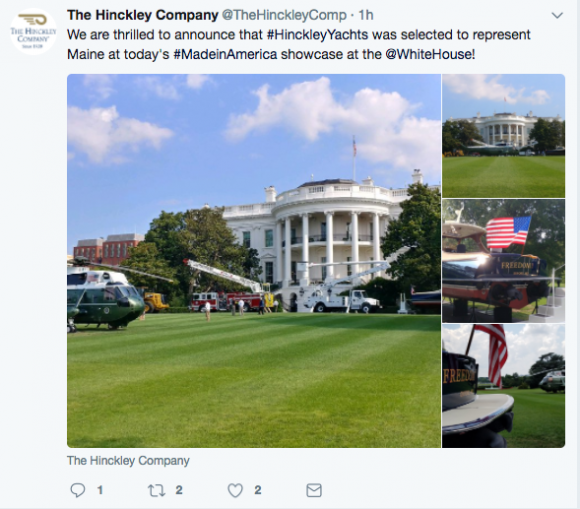 One example of the products on showcase is Cheerwine, a cherry flavored soda that was created by L.D. Peeler in 1917. Fast-forward 100 years and Peeler's great grandson is now at the helm of the company.
Faribault Mills, a wool blanket maker with a 150-year history, is another example. The mill was founded in 1865, the year former President Lincoln died and the Civil War ended. The mill supplied blankets to frontiersmen heading West and to American soldiers during the two World Wars. Today, Faribault's woolen goods can be found in fine retail stores across the country.