President Donald Trump called on people attempting to cross the U.S.–Mexico border illegally to turn around, saying our border security and immigration system is overwhelmed by an influx of migrants from Central American countries.
"It's a colossal surge and it's overwhelming our immigration system, and we can't let that happen," Trump told a roundtable on immigration and border security in Calexico, California, on April 5.
"So, as I say, and this is our new statement: The system is full. Can't take you anymore. Whether it's asylum, whether it's anything you want, it's illegal immigration. We can't take you anymore. We can't take you. Our country is full. Our area is full. The sector is full. Can't take you anymore, I'm sorry. Can't happen. So turn around. That's the way it is."
Trump visited the border city about 85 miles east of San Diego to inspect a new section of 30-foot-tall border fence, as well as to discuss with border and immigration authorities what needs to be done to counter the rising tide of illegal immigration.
Most of the migrants are coming from Guatemala, Honduras, and El Salvador, and the majority of them are families and children. They usually surrender to authorities and ask for asylum, although about 90 percent of them end up having their application denied.
Since 2017, the apprehensions of people crossing the border illegally has substantially increased—up to more than 521,000 last year from less than 416,000 in fiscal 2017. In fiscal 2019, the inflow is on pace to reach nearly a million illegal aliens, Homeland Security Secretary Kirstjen Nielsen said March 6.
Overcrowded
Both the Customs and Border Protection (CBP) and the Immigration and Customs Enforcement (ICE) officials said their detention facilities are so overcrowded, they have had to release the apprehended migrants into the interior of the country before their cases are resolved by the extremely overburdened immigration courts.
Since October, ICE had to release 126,000 people, Special Agent in Charge Dave Shaw said during the roundtable with Trump.
Ordinarily, illegal border crossers would be promptly returned to Mexico. But a Texas Border Patrol official said in March that the migrants are being coached by human smugglers on how to pass the "credible fear" test that allows them to stay in the United States while their asylum claim is pending.
Law Change Requested
CBP Commissioner Kevin McAleenan explained in some detail during a March 27 press conference how laws need to change to deal with the new form of migration.
"For unaccompanied children, we have government partners in the Northern Triangle—El Salvador, Guatemala, Honduras—who are ready to take children back and handle that humanely," he said. "Those are their citizens they believe they have a responsibility for and we're not allowed to do that under the law, under the Trafficking Victims Protection Reauthorization Act."
The government also needs to overcome a court decision that has blocked it from keeping families with children in detention.
"We need to be able to detain families together for a short period of time, four to eight weeks, to go through an immigration court proceeding. If they don't have a valid claim, we'll repatriate. If they do, they'll be released with certainty that they have asylum, with the ability [to] plan, to invest in a business, to make choices for schools," McAleenan said. "Right now, they don't have that. They live with uncertainty for years at a time because the system is broken and overwhelmed."
Trump and House Minority Leader Kevin McCarthy (R-Calif.), who also attended the roundtable, said they want to work out a bipartisan deal in Congress to close this and other loopholes in the system.

Such cooperation has in the past proven difficult.
When Trump declared the border situation a national emergency in February, prominent Democratic lawmakers denied there was a crisis at all, only to be rebuked by border security professionals, including some officials from the administration of Trump's predecessor Barack Obama.
"The crisis is a direct result of the obstruction by Democrats in Congress," Trump said. "And we have to do something about it. And we're going to. And I think a lot of the Democrats feel that way, too."
At the roundtable, McAleenan praised the new wall in the El Centro Sector, but again stressed the legislative issues.
"That wall is formidable. It's making an impact in the security of this sector, but we need to continue to work with Congress on improving the laws," he said.
The offices of Senate Minority Leader Chuck Schumer (D-N.Y.) and House Speaker Nancy Pelosi (D-Calif.) didn't respond to requests for comment.
Wall Construction
In 2018, more than two miles of old fence in the El Centro Sector was replaced with a 30-foot-high steel bollard wall. Then, in the first quarter of fiscal 2019, illegal entries in that area dropped by 75 percent. And incidents where border security agents needed to use force dropped by 65 percent, Gloria Chavez, Border Patrol chief for the sector, said at the roundtable.
"The border wall works for us," she said.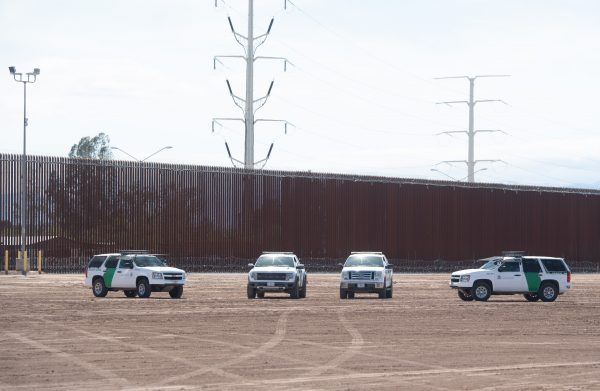 The sector covers a 71-mile stretch of the border where nearly 30,000 have been caught in fiscal 2018 trying to cross illegally.
According to Lt. Gen. Todd Semonite, commanding general of the Army Corps of Engineers, 82 miles of the border wall has been built or replaced, likely speaking of the projects since fiscal 2017.
By the end of the year another 97 miles will be built, he said.
For further wall construction, Trump secured nearly $1.4 billion from Congress in the 2019 budget and redirected another $3.1 billion from other departments. The emergency declaration allowed him to redirect another $3.6 billion.
With this money, another 277 miles will be built next year, for a total of about 450 miles by December 2020, Semonite said.