President Donald Trump is to hold a second summit with the leader of North Korea near the end of February to try to coax the North to give up its nuclear program.
The announcement came at the White House on Jan. 18, after Trump met with a North Korean envoy.
"President Donald J. Trump met with Kim Yong Chol for an hour and half, to discuss denuclearization and a second summit, which will take place near the end of February. The President looks forward to meeting with Chairman Kim at a place to be announced at a later date," White House spokesman Sarah Sanders said in a statement.

The former North Korea former spy chief met earlier with Secretary of State Mike Pompeo at a Washington hotel.
The State Department said that Pompeo had a "good discussion" with Kim Yong Chol "on efforts to make progress on commitments President Trump and Chairman Kim Jong Un made at their summit in Singapore."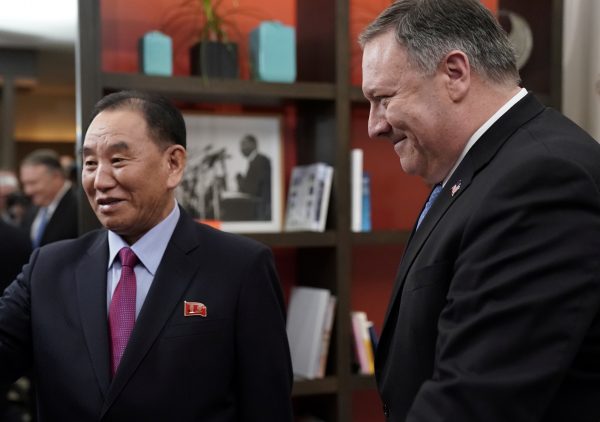 Trump has spoken several times of prospects for a second summit with North Korean leader Kim Jong Un early this year. He's also exchanged several letters with Kim.

President Donald Trump and North Korea's leader Kim Jong Un shake hands during the signing of a document after their summit at the Capella Hotel on Sentosa island in Singapore, on June 12, 2018. (Susan Walsh/Pool via Reuters/File Photo)Trump had his first, historic meeting with Kim Jong Un last June in Singapore and reached a denuclearization agreement.