President Donald Trump has announced that his administration plans to designate Iran's Islamic Revolutionary Guard Corps (IRGC) as a foreign terrorist organization. The move, first conveyed to media in an April 8 morning conference call, further escalates pressure on the Islamic regime in Tehran. Shortly after the call, Trump issued a statement with the announcement.
"This unprecedented step, led by the Department of State, recognizes the reality that Iran is not only a State Sponsor of Terrorism, but that the IRGC actively participates in, finances, and promotes terrorism as a tool of statecraft," the statement read. "The IRGC is the Iranian government's primary means of directing and implementing its global terrorist campaign."
Rumors of the move had garnered a response from Iran in advance. "We will answer any action taken against this force with a reciprocal action," said an April 5 statement issued by 255 of the 290 Iranian lawmakers, according to IRNA, the regime's news agency. Iranian Foreign Minister Javad Zarif suggested in an April 7 tweet that the terror designation will have "consequences for US forces in the region."
Unprecedented
The IRGC is a branch of the Iranian military controlled by the regime's Supreme Leader Ali Khamenei. This the first time the United States has announced an intent to designate part of a foreign government as a terror group. The United States has already blacklisted dozens of entities and people for affiliations with the IRGC, but not the organization as a whole.
"It underscores the fact that Iran's actions are fundamentally different from those of other governments," Trump said. "This action will significantly expand the scope and scale of our maximum pressure on the Iranian regime. It makes crystal clear the risks of conducting business with, or providing support to, the IRGC. If you are doing business with the IRGC, you will be bankrolling terrorism."
Indeed, the designation enables U.S. prosecutors to charge numerous individuals and companies that do a wide variety of business with the IRGC to be charged with providing material support to terrorists, an offense carrying a maximum penalty of 15 years in prison. Supporters of IRGC could also be denied entry to the United States.
"This action sends a clear message to Tehran that its support for terrorism has serious consequences," Trump said. "We will continue to increase financial pressure and raise the costs on the Iranian regime for its support of terrorist activity until it abandons its malign and outlaw behavior."
Pressure on Iran
Trump has been escalating pressure on Iran since taking office, especially in 2018, when he quit the Obama administration's Iran nuclear deal and reimposed sanctions on Tehran.
The Trump administration demands that Iran halts not only its nuclear ambitions, which the deal attempted to delay, but also its ballistic missile program, support for terrorists and militias in the region, and other destabilizing activities.
Iran says its missile program is defensive only, but has threatened to disrupt oil shipments through the Strait of Hormuz if the United States tries to throttle Iranian oil exports. The strait is a major choke point between the Persian Gulf and the Gulf of Oman through which about a fifth of the world's oil shipments pass. In November 2018, an IRGC commander threatened that U.S. bases in Afghanistan, the United Arab Emirates, and Qatar, and U.S. aircraft carriers in the Gulf were within range of Iranian missiles.
In July 2018, Saudi state oil company Aramco stated that two of its tankers had been attacked by Yemen-based Houthi militia, who are backed by Iran and suppressed by the Saudi military.
State Secretary Mike Pompeo said in July that the United States is willing to lift the sanctions, but listed 12 demands that the Iranian regime would have to meet first. Those include ending its ballistic missile program, releasing detained Americans, ending the support of terrorist groups and militias including Hezbollah, Hamas, and the Houthis, as well as withdrawing its forces from Syria.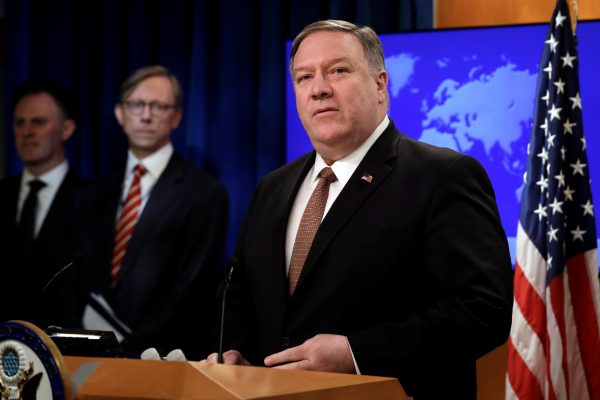 Though the Iranian economy has been choked by sanctions, the regime has refused to negotiate.
Still, Trump said last year he believes the regime will eventually come to the table.
"I do believe that they will probably end up wanting to meet. And I'm ready to meet any time they want to. And I don't do that from strength or from weakness. I think it's an appropriate thing to do," he said. "If we could work something out that's meaningful, not the waste of paper that the other deal was, I would certainly be willing to meet."
IRGC
Set up after the 1979 Islamic Revolution to protect the Shi'ite clerical ruling system, the IRGC is Iran's most powerful security organization. It has control over large sectors of the Iranian economy and has a huge influence in its political system. It's also in charge of Iran's ballistic missiles and nuclear programs.
In 2007, the U.S. Treasury designated the IRGC's Quds Force, its unit in charge of operations abroad, "for its support of terrorism," and has described it as Iran's "primary arm for executing its policy of supporting terrorist and insurgent groups."
The Iranian regime began with a combination of Soviet subversion and the influences of Sayyid Qutb—a founding father of the Muslim Brotherhood—who combined socialism with Islam to create an ideology at the core of totalitarian theocracies throughout the Muslim world, according to Zuhdi Jasser, president and founder of American Islamic Forum for Democracy.
Reuters contributed to this report.