President Donald Trump on Wednesday said he supports direct payments to Americans larger than $1,200 in the next piece of legislation, which lawmakers will debate in July.
"I support actually larger numbers than the Democrats, but it's got to be done properly," Trump said in an interview with Fox Business. "I want the money getting to people to be larger so they can spend it. I want the money to get there quickly and in a non-complicated fashion," he added.
House Democrats in their HEROES Act have said they want to distribute $1,200 payments to eligible Americans and children, although GOP leaders have said the bill contains too many unnecessary measures that are unrelated to economic recovery. The CARES Act, passed in March, included $1,200 payments and checks as well as $500 payments to children.
The $2.2 trillion CARES Act was passed to offset economic losses suffered during the CCP (Chinese Communist Party) virus pandemic, which prompted numerous states to issue stay-at-home orders.
Trump said in the interview that the last bill—and the HEROES Act—creates a "disincentive to work." He's most likely referring to the extra $600 per week in unemployment insurance that is slated to expire at the end of July.
"You'd make more money if you don't go to work," he said of the measure, "that's not what [this] country is all about."
Trump said that Americans "want to work," adding that he wants to "create a tremendous incentive" to return to the workplace.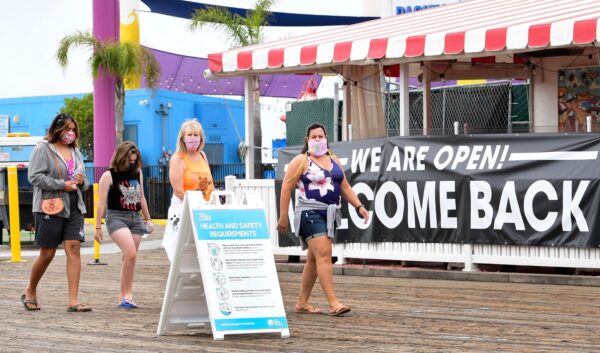 On Tuesday, Senate Majority Leader Mitch McConnell (R-Ky.) said that a potential stimulus bill will be approved later in July. The Senate will go on recess between July 4 and July 20.
"As you've heard suggested, I said back in March we would take another look at this… probably in July… take a snapshot of where we are, both on the healthy front and the economic recovery front, and decide at that point what needs to be done further," McConnell told reporters in a news conference on Tuesday.
"Any bill that passes the Senate will have liability protections in it," the Kentucky Republican said. "This is liability protections for everyone… everybody who interacted with this pandemic. Unless you're grossly negligent or intentionally engaged in misconduct, we're going to see to it that you don't get sued on top of everything else you've had to deal with in trying to get through this."
Other Republican leaders have become more willing to pass stimulus legislation that includes direct payments to Americans, while Treasury Secretary Steven Mnuchin told lawmakers in June that it's likely more stimulus checks and payments will be needed.
"I think we're going to seriously look at whether we want to do more direct money to stimulate the economy," Mnuchin said of direct payments. "But I think this is all going to be about getting people back to work, and we look forward to working with the entire Senate on this."
A previous version of this article incorrectly stated the extra $600 in unemployment insurance is per month, but it is actually per week. The Epoch Times regrets the error.