LEWIS CENTER, Ohio—Many conservatives believe that a recent tweet by Politico reporter Marc Caputo that refers to Trump supporters as "garbage people" is indicative of the left's portrayal of who Trump supporters are.
Caputo—who has since apologized—was tweeting about a crowd of people at a July 31 Trump rally in Tampa that he saw on a video, and about whom he also wrote, "If you put everyone's mouths together in this video, you'd get a full set of teeth."
The Epoch Times talked to Trump supporters at recent Make America Great Again rallies to find out what they think the mainstream media most gets wrong about them.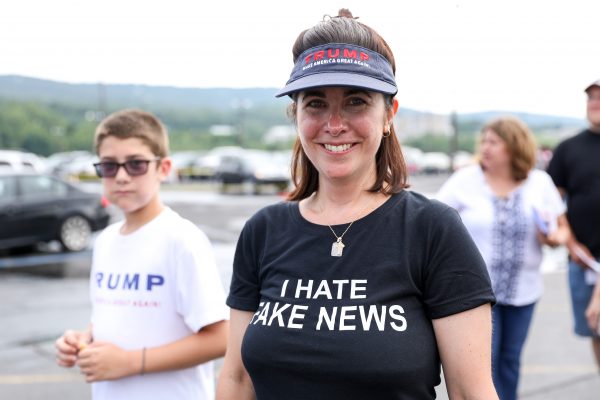 Catrina Albo, 47, a homemaker from New Jersey, wore a t-shirt to the Wilkes-Barre, Pennsylvania, rally on Aug. 2 that said "I Hate Fake News."
"I think the [media] believe that Trump supporters are racist … that we're closed-minded," Albo said. "And most of us are not."
She said Trump supporters tend to be strong in their beliefs and that threatens the media.
"We're not hateful people you know, and I think that's what the media thinks a lot of times—that we're trying to eliminate people being part of our society, and we're racist, and looking in one direction, and we don't see the other side. And that's not true," she said. "We're Americans, and this country is meant for diversity, it's meant for different opinions, it's meant for different religions and different backgrounds and different beliefs."
Albo said her sister, who is a Hillary Clinton supporter, gets angry with her for supporting Trump.
"And I just say, 'You know, that's what this country is about. You voted for who you wanted to vote for and that's the democratic process happening, and it's beautiful, in my opinion.'"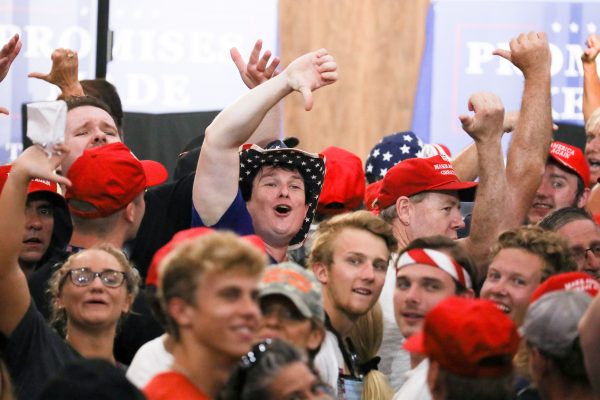 Many media outlets have painted Trump—and by association, his supporters—as racist.
On his June 22 morning show, MSNBC host Joe Scarborough called Trump and his supporters "openly racist."
The Washington Post ran a column in September 2016 by Dana Milbank titled "Clinton Wasn't Wrong About the Deplorables Among Trump Supporters."
The first paragraph states: "Hillary Clinton may have been unwise to say half of Donald Trump's supporters are racists and other 'deplorables.' But she wasn't wrong. If anything, when it comes to Trump's racist support, she might have low-balled the number."
CNN regularly hosts panelists to discuss whether Trump is racist. In a recent segment, on Aug. 7, a panelist said Trump was racist because he questioned the IQ of Rep. Maxine Waters (D-Calif.). The president's staunchest defender on the panel was an African-American man, Damani Bryant Felder, who said: "Based on my perception of him, he is not a racist. He has done so much for the black community."
'The Greater Good'
Mike Harris, a Desert Storm veteran and IT manager, attended the Aug. 4 Trump rally in Lewis Center, Ohio, with his son.
"I think the [media] is convinced that we're all racist bigots, and we're not," he said. "We're primarily for the greater good of America. I think the other side is more racist and more bigoted than we are. So I don't think they're giving us a fair shake."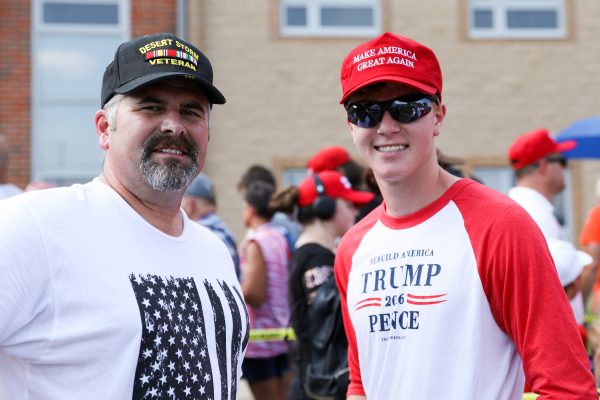 Julie Tripodi, 48, echoed Harris's sentiment.
Tripodi, a "repo woman" and the founder of a no-kill dog shelter, said the media thinks "we're uneducated, dumb rednecks."
She said she has wanted Trump to run for president since 1992, when she lived in New York and began following the trajectory of the country.
"Obama destroyed it—I mean, he tried to, it was intentional. And now, Trump is reversing everything Obama's done. That's why we love him so much," Tripodi said.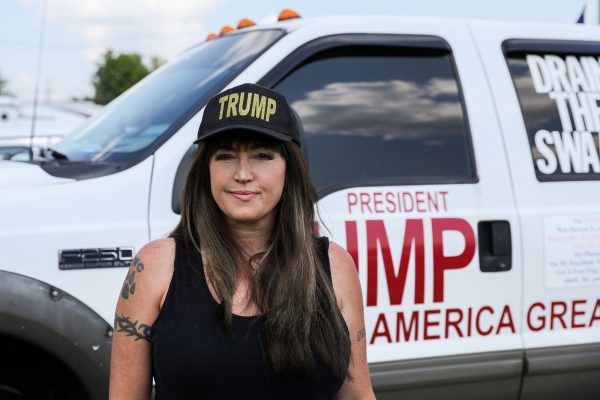 'Go to the Source'
Cassandra Affolter, 44, attended her first Trump rally to help form her own viewpoint about the then-presidential candidate.
"He never did say anything racist or misogynistic. If anything, he talked about improvement for minorities and women," said Affolter, an Army veteran and Lyft driver. "And the next thing I knew, I was watching CNN and they were taking a piece of what he said, instead of the whole sentence, and making it sound like some kind of bad comment. And it started from there.
"People are believing it, which is sad. I would say, go to the source if you're not sure. Go directly to the rallies and see what he has to say, because I wasn't sure, either—that's why I went to my first rally in Cleveland."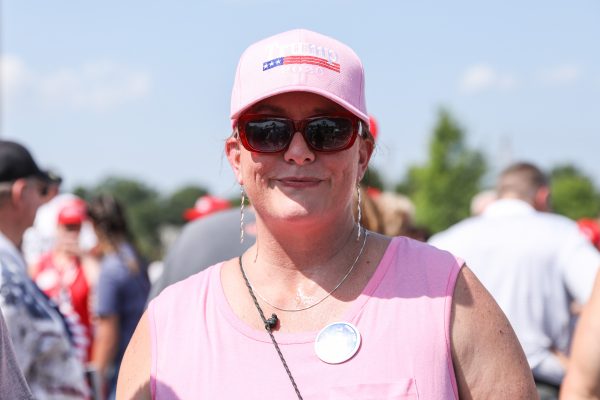 Almost all media coverage of Trump from the major organizations is negative. A study published by Media Research Center on May 8 showed that prime-time coverage on major networks ABC, CBS, and NBC was 90 percent negative during the first four months of 2018.
However, during a similar time period, Trump's overall job approval rating improved. According to a RealClearPolitics analysis of polls, Trump's rating rose from 37 percent in mid-December to roughly 43 percent at the end of April.
Fake News
The president has railed against the media for inaccurate and biased reporting, and has popularized the "fake news" label. He has mentioned "fake news" 258 times in tweets, often in all caps, since December 2016 (through Aug. 9).
On June 25, he wrote on Twitter: "Such a difference in the media coverage of the same immigration policies between the Obama Administration and ours. Actually, we have done a far better job in that our facilities are cleaner and better run than were the facilities under Obama. Fake News is working overtime!"
Trump's accusations aren't without merit.
Former FBI Director James Comey said at a Senate hearing on June 8, 2017, that a front page New York Times article was "almost entirely wrong." The article claimed that members of Trump's 2016 presidential campaign "had repeated contacts with senior Russian intelligence officials in the year before the election."
Comey went on to discredit other media reports, which have frequently cited unidentified intelligence and government sources to push a narrative that the Trump campaign colluded with Russia to influence the election.
"All of you know this. Maybe the American people don't," Comey said, addressing the Senate committee. He said when it comes to reporters writing stories about classified information, "people talking about it often don't really know what's going on."
He said there have been many stories about the Russia investigations "that are just dead wrong."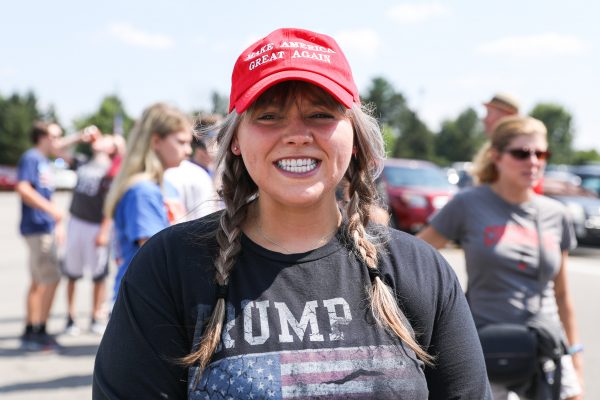 'We're Normal People'
Sabrina Corns, a homemaker who attended the Lewis Center rally, said the media gets "everything" wrong about Trump.
"I just think he's a good man, he's trying to do the best for this country, and he's getting bashed every which way," she said. "I mean, he's doing all he can for our veterans, the economy is just booming, everybody has the lowest unemployment rate. He's doing everything right and yet they will still find a way to get it wrong, and it's just very irritating."
Corns said it is frustrating that the media doesn't cover Trump's accomplishments and they "twist everything he says to make it fit their view."
"We have a view also, but we get bashed for ours and it's not fair," Corns said. "We get looked at like, oh, we're racist, we're bigots. No, we're not. We're normal people. We have an opinion for somebody who we think is really great and doing good for the country, and that's basically it."
'Totally Dishonest'
Mark Hoffman displays his support for Trump all over his massive Ford truck, which he takes to rallies and events. The 48-year-old from Newark, New Jersey, calls himself "Mark the Patriot" on his business card.
He said the media is wrong to say that "we're stupid, we're redneck, we're racist, we're uneducated."
"I get more black people thanking me for my truck than black people giving me negative comments about my truck," Hoffman said. "And it's funny because Trump was a Democrat and surrounded by black people all the time. Did [they] ever call him racist until he ran against Hillary? So it's all crap, it's all crap."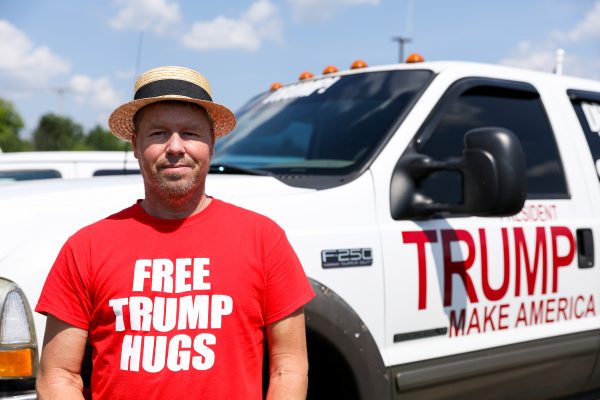 John Pultz, 62, said the only four-letter word he heard while waiting in line to enter the Trump rally came from the small group of protesters out on the street.
"We're ladies and gentlemen, basically," he said. "We're the hardworking people of this country."
He said it is "totally dishonest" of media to portray Trump supporters as racist and bigoted.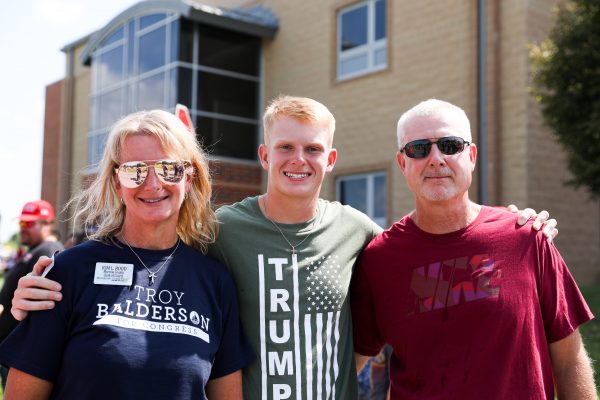 Kim Bood, clerk of courts for Morrow County, Ohio, said the media makes Trump supporters look negative.
"And we're not. I mean, just because we don't change our opinion—we should all be able to have different opinions and still get along, you know," she said. "You may not like what I like, but we respect that of each other, and we get along."