TULSA, Okla.—Andrea Garrett was among hundreds of Trump supporters who started gathering days before President Donald Trump's campaign rally in Tulsa, Oklahoma, on June 20.
Garrett, a retired nurse, had already spent one night sleeping on the sidewalk and was preparing for another. She came alone to snag a spot in line for herself and her husband, who planned to join her the next day after work.
"I feel very blessed that I've gotten to do this. We are both staunch Trump supporters, and to get to say I saw him in person at his very first rally, it just fills me with pride," she said on June 19. "I appreciate the fact that he truly loves America, and he truly loves the American people, and he wants what's best for us."
Trump relaunched his reelection campaign with a signature rally in Tulsa after a nearly four-month hiatus due to the COVID-19 shutdowns.
Garrett, who is from Arkansas, said she's been struggling with how the shutdown has infringed upon her constitutional rights.
"I don't believe that the numbers that they report about COVID are accurate," she said.
States such as Colorado adjusted their death toll numbers down by almost a quarter after deciding to include just the deaths of patients who died primarily from the disease. Other states are following Centers for Disease Control and Prevention guidelines, which say the toll should include patients who had COVID-19 at the time of death, though the cause of death may not have been COVID-19.
"I don't know if we'll ever be the same—our country. I really don't," Garrett said. "And I'm very sad because I've lived totally in freedom my whole life. And it's very dear to me."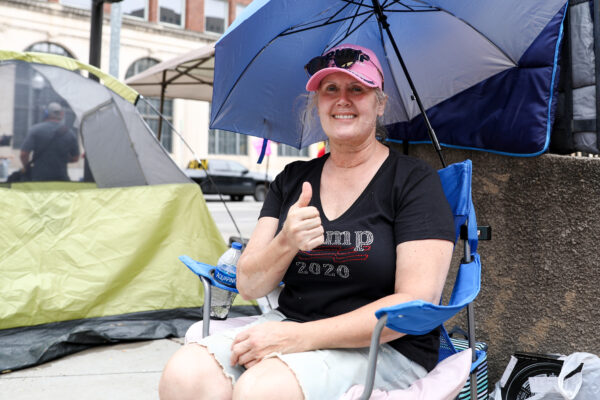 The Tulsa rally also came amid weeks of turmoil as protests and riots dominated cities such as Minneapolis, Atlanta, New York, Washington, and Seattle.
"The unhinged left-wing mob is trying to vandalize our history, desecrating our monuments, our beautiful monuments, tear down our statues and punish, cancel, and persecute anyone who does not conform to their demands for absolute and total control," Trump said during the rally. "We're not conforming. That's why we're here, actually.
"This cruel campaign of censorship and exclusion violates everything we hold dear as Americans. They want to demolish our heritage so they can impose their new oppressive regime in its place."
Garrett said she doesn't think Trump is losing voters, but the opposition is making it difficult for his reelection bid. "They're just throwing more and more at him. He's got a lot to have to wade through to get reelected," she said.
First-Time Voter
Seth and Fatima traveled from Oklahoma City to attend the rally. Originally from Kenya, Fatima became a U.S. citizen in February. The couple have been married for six years after meeting in Kenya, where Seth attended college.
"It will be my first time to vote, and I'll be voting for Trump," Fatima said. "I've always admired his policies. I've always admired his hard work and his business mindedness."
She said she has read Trump's books and admires his leadership. She has also lost friends over her support for the president and her conservative views.
"A lot of racism towards me doesn't come from white people. It comes from my friends who do not believe in my ideas. It comes from my own race," Fatima said. "I thought we live in a free world where you can think whatever you want, but it's not like that. Just me having a husband who's conservative, they think he is racist. They think he is brainwashing me.
"You know, he [Seth] is the most amazing person I've ever seen, so that is not true. I know myself better than they know me, so I'm just going to go ahead and do what I think and believe is right."
Fatima supports peaceful protests and the right to be heard, but she said the vandalism and rioting has gone too far.
"That is just taking America a step back."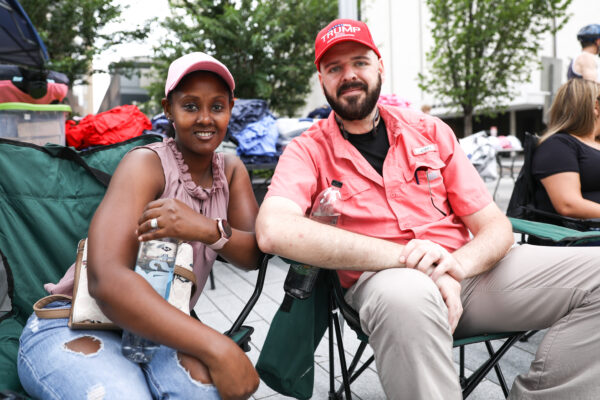 'Unprecedented Times'
Pharmacist Jessica Easterwood, 35, hired a babysitter and traveled with her mother and sisters to attend the rally. The group slept that night on blankets on the sidewalk.
"We came just to be a part of the experience. No matter who the president is, I just want to support the office of the president," Easterwood said.
"But Trump is someone that I strongly support because I feel like he really puts Americans first. And we are living in unprecedented times right now."
Easterwood said life in America is currently "a little unsettling" with protests and riots on top of lockdowns.
"I pray that things settle down, but I have a gut feeling that if they keep pushing and pushing and the media keeps speaking these things, it may get worse before it gets better," she said.
She believes the "silent majority" of Trump voters has grown larger and more energized since the 2016 election. More than 10 million people watched the rally online, according to Gary Coby, the campaign's digital director. The total doesn't include television viewers.
"I think we will show up in November and just prove that this is what we want—for Trump to be reelected. Because we're not going to be told what to do, and we're not going to believe everything the media says," Easterwood said.
She said she fully supports Trump's agenda and sees him working on all the issues he said he'd address.
"I kind of feel like it's reenergized us as Americans to see someone that you know, that really speaks his mind," she said. "I think he is a good person. I think he's a Christian. And I feel like he really has America first in his heart."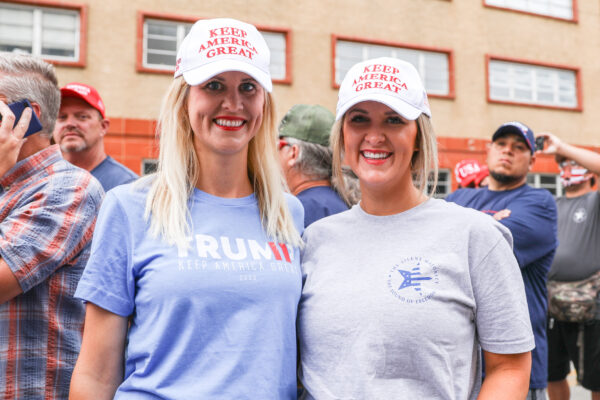 Divisions Are Being Amplified
Tulsa-based siblings Cody and Terra Stansell joined the line early on June 20.
Cody, a small-business owner, said his business was flourishing under the Trump administration until the virus hit. He builds on-street car parking facilities in small cities. "It was completely horrible in the previous [Obama] administration. I can't lie. It was pretty decent before that, with [George W.] Bush," he said.
Cody predicts the next five months before the election are going to be turbulent for the country.
"Democrats are going to get nastier and nastier and nastier," he said.
He believes divisions do exist in America, but that they're being amplified.
"The people that are fueling it are the ones that are paying for the hate and discontent," he said. "They want to get rid of Trump. They want the Republican Party to fall. They want socialism. They want a burning agenda. They want free, free, free. Nothing's free. You got to work for it."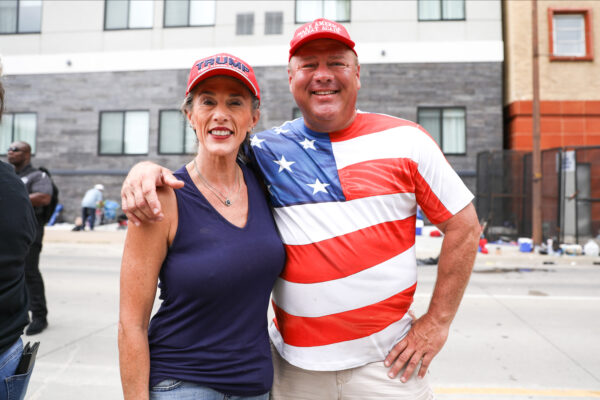 'We're Ready to Move On'
On June 19, Stacy Lopez and her husband had joined a group of people who traveled to the rally from Texas. The couple drove from Lubbock, while others in the group were from San Antonio, Dallas, and Broken Arrow.
Lopez said she came to express support and appreciation for everything Trump is doing.
"The last four months have been hell, pure hell for everybody," she said. "But I really do believe with my whole heart that Trump has our best interests at heart. I really feel like he cares about all lives. And as much hate and division they think there is, there's really not. It's not as divided as the media lets on."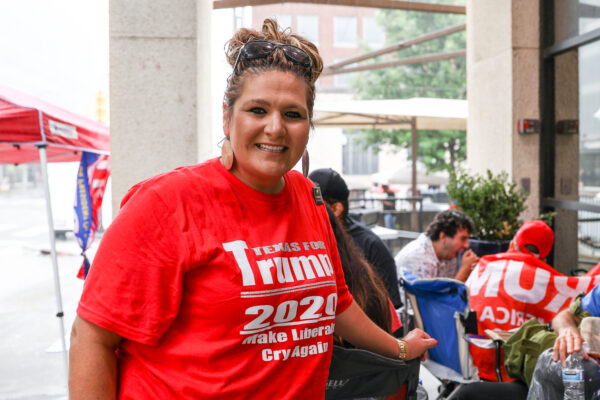 Lopez is confident Trump will revive the economy again and win in November. And she is ready to put the COVID-19 restrictions behind her.
"We went and we hid for three months. We shut the world down. And we're ready to move on, and if we get it, so be it," she said. "We respect the families and we hate that people are dying from it, but at the same time, you can't just hide in your house."
She said the biggest threat to America right now is not knowing what to believe.
"As Americans, you just want to take care of your family."