President Donald Trump said that support for the impeachment efforts against him were dropping quickly, referring to recent polls that saw most respondents opposing the inquiry.
"Support for Impeachment is dropping like a rock, down into the 20's in some Polls," Trump wrote on Twitter on Nov. 25. He appeared to be referring to an Emerson University poll that showed just 23.6 percent of independent respondents supporting the impeachment of Trump.
Surveys indicate that most Democrats support impeaching Trump, versus stark opposition by Republicans and increasing opposition from independents.
Another recent poll showed that 49 percent of independent respondents now oppose impeachment, versus 34 percent who support it, a flip from October when 48 percent supported impeachment and 39 percent opposed it.
Support for Impeachment is dropping like a rock, down into the 20's in some Polls. Dems should now get down to work and finally approve USMCA, and much more!

— Donald J. Trump (@realDonaldTrump) November 25, 2019
The flip among independents was seen in multiple other polls.
On Nov. 24, Trump said Democrat representatives will have a tough time defending the inquiry during the Thanksgiving holiday.
"Democrats going back to their Districts for Thanksgiving are getting absolutely hammered by their constituents over the phony Impeachment Scam. Republicans will have a great #2020 Election!" he said.
"The Impeachment Scam is driving Republican Poll Numbers UP, UP, UP! Thank you Shifty," he said in another tweet, using a nickname for House Intelligence Chairman Adam Schiff (D-Calif.).
Trump also said Democrats should focus on legislative work instead of the impeachment inquiry.
"Dems should now get down to work and finally approve USMCA, and much more!" he said on Nov. 25, referring to the U.S.–Mexico–Canada trade deal that still hasn't been brought to a vote by House Speaker Nancy Pelosi (D-Calif.).
Pelosi told reporters on Nov. 21 that the trade deal, which was agreed upon in late 2018, probably won't pass this year.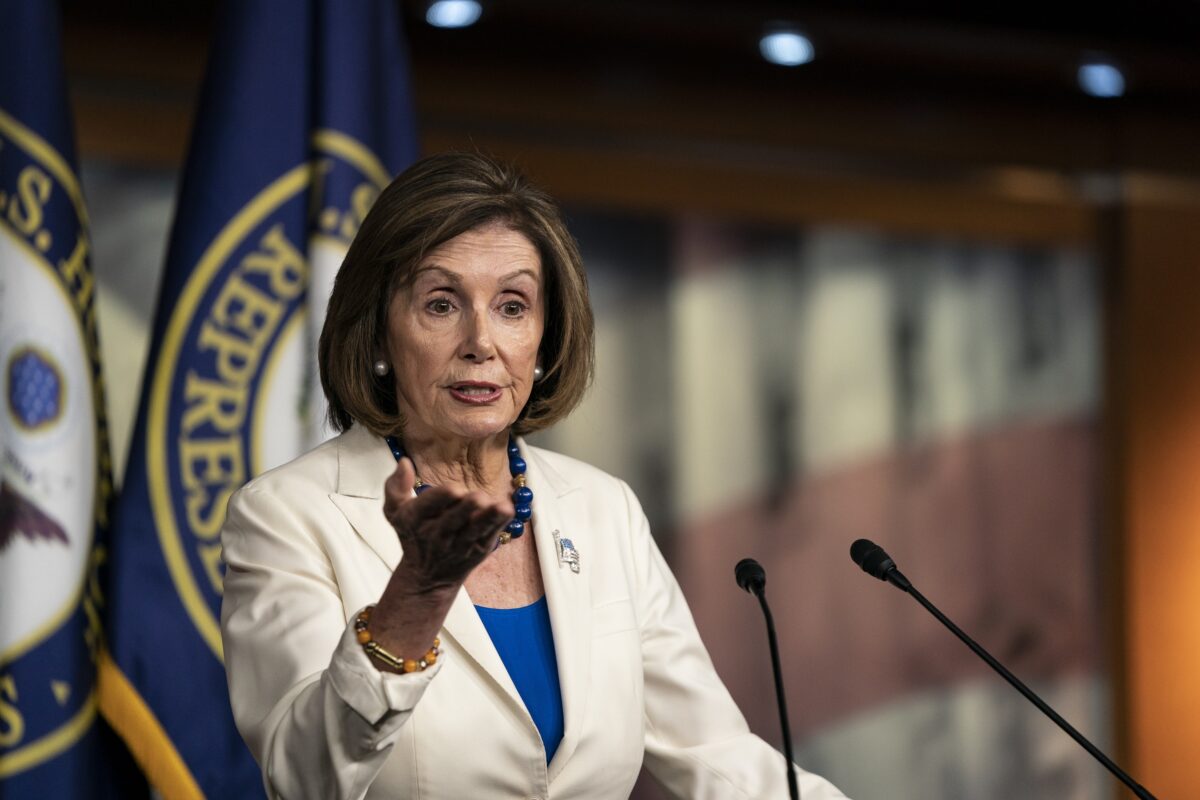 "I'm not even sure, if we came to an agreement today, that it would be enough time to finish, but it just depends on how much agreement we come to," Pelosi said. She said the focus on impeachment efforts hasn't hindered work on the trade deal, a replacement for President Bill Clinton's North American Free Trade Agreement (NAFTA).
Schiff, meanwhile, said that the House will move forward with the inquiry, even after little new information was revealed in the public impeachment hearings.
Democrats "view this as urgent; we have another election where the president is threatening more foreign interference," he said on Nov. 24 on NBC's "Meet the Press."
"But at the same time, there are still other witnesses, other documents that we would like to obtain. But we're not willing to go the months and months and months of rope-a-dope in the courts, which the administration would more than love for us to do."
Democrats claim Trump's request to Ukrainian President Volodymyr Zelensky to "look into" the actions by former U.S. Vice President Joe Biden and Biden's son Hunter Biden amounts to attempting to interfere in the 2020 election, since Biden is running for the Democratic presidential nomination.
They've also tried to link Trump's review of congressionally approved military aid for Ukraine to the request. U.S. and Ukrainian officials have said there was no link.