WASHINGTON—President Donald Trump is set to excoriate Democratic presidential nominee Joe Biden in his speech on the final night of the Republican National Convention.
Tim Murtaugh, the Trump campaign's communications director, said the media has generally "ignored or glossed over" many of the criticisms of Joe Biden's record, whom he called an "empty shell" of a candidate.
"So we've determined that the only way, the best way to really punch through is if the president delivers this message himself," Murtaugh told media on an Aug. 27 call.
"Tonight, the president will deliver a tough speech because Americans have tough choices in front of them. And we really feel that unless the president does it, the media will be tempted not to cover it."
Murtaugh said Trump will deliver two distinct visions of the United States—his and Biden's.
"The president will go after Joe Biden for his radical left-wing agenda on a variety of topics—our borders, our nation's borders, taxes, energy policy, trade, China, of course, and areas involving crime," Murtaugh said.
"This will be the unvarnished Joe Biden record and the unvarnished Joe Biden agenda—not the cleansed and scrubbed version that we saw during the Democratic National Convention last week."
Murtaugh confirmed that Trump is expected to say the following: "At no time before have voters faced a clearer choice between two parties, two visions, two philosophies, or two agendas.
"We have spent the last four years reversing the damage Joe Biden inflicted over the last 47 years. At the Democrat convention, you barely heard a word about their agenda. But that's not because they don't have one. It's because their agenda is the most extreme set of proposals ever put forward by a major party nominee."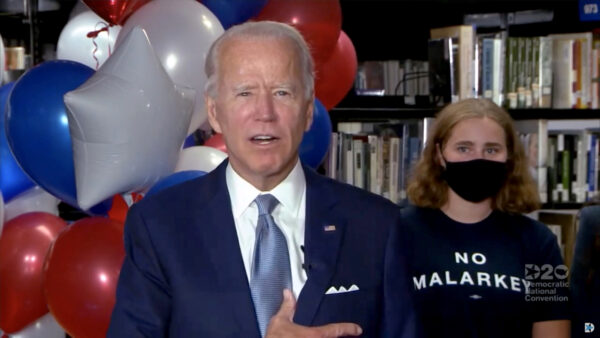 Trump will lay out his key accomplishments as well as his vision for the next four years, Murtaugh said.
He will contrast the Biden platform with his own, with such excerpts as: "The Republican Party goes forward united, determined, and ready to welcome millions of Democrats, independents, and anyone who believes in the Greatness of America and the righteous heart of the American people."
"This towering American spirit has prevailed over every challenge, and lifted us to the summit of human endeavor."
Politico was the first to obtain the excerpts of Trump's speech and the Trump campaign later confirmed their authenticity.
Again criticizing the media, Murtaugh said an overarching goal of the convention was to show "who a Trump supporter is, what a Trump supporter believes, where they come from, and how they are hopeful about the future of this country if Donald Trump is elected to a second term."
Other speakers during the final night of the convention include Anne Dorn, whose husband, retired police officer David Dorn, was killed in the St. Louis riots; Alice Johnson, whose prison sentence was commuted by Trump last year; Carl and Marsha Mueller, whose daughter Kayla was captured and killed by ISIS; Pat Lynch, president of New York's Police Benevolent Association; Wade Mayfield, a Nebraska business owner who was able to keep paying his employees through a Paycheck Protection Program loan.
Sen. Tom Cotton, Housing and Urban Development Secretary Ben Carson, and former New York City Mayor Rudi Guiliani are also slated to speak.
Trump is expected to kick off his speech at around 10:30 p.m. from the White House South Lawn. He will be introduced by his daughter Ivanka Trump, who is a senior advisor in the administration.
Biden's running mate Sen. Kamala Harris (D-Calif.) is slated to deliver the rebuttal speech tonight. By the time of publishing, the Biden campaign hadn't responded to a question as to why Harris, and not Biden, is handling the rebuttal.
The Nov. 3 election is in 67 days.