President Donald Trump said he believes the historic "potentially $6.2 trillion" emergency relief bill he signed into law March 27 will spur the economy into a quick rebound.
"It's a wonderful thing we've done for the workers and for the citizens. It's really, potentially, $6.2 trillion. And a lot of people are going to work, and it'll bring back the economy, I think, very fast," Trump told reporters March 28 before leaving Joint Base Andrews in Maryland.

Trump signed the massive COVID-19 relief bill in a ceremony at the Oval Office on March 27, calling the legislation "unprecedented support to small businesses."
"We're going to keep our small businesses strong and our big businesses strong," Trump said. "And that's keeping our country strong and our jobs strong."
Asked by reporters at the base in Maryland what he thought about Democrat criticism about his insistence of a stronger executive role in oversight of the massive relief scheme, the president said, "They couldn't be criticizing me, because we got a unanimous vote."

In a signing statement released after Trump signed the bill in the Oval Office, the president suggested that he has oversight power over what information a newly created "special inspector general" who is to oversee the fund can share with Congress.
"I do not understand, and my Administration will not treat, this provision as permitting the [inspector general] to issue reports to the Congress without the presidential supervision required" by Article II of the Constitution, Trump said in the signing statement.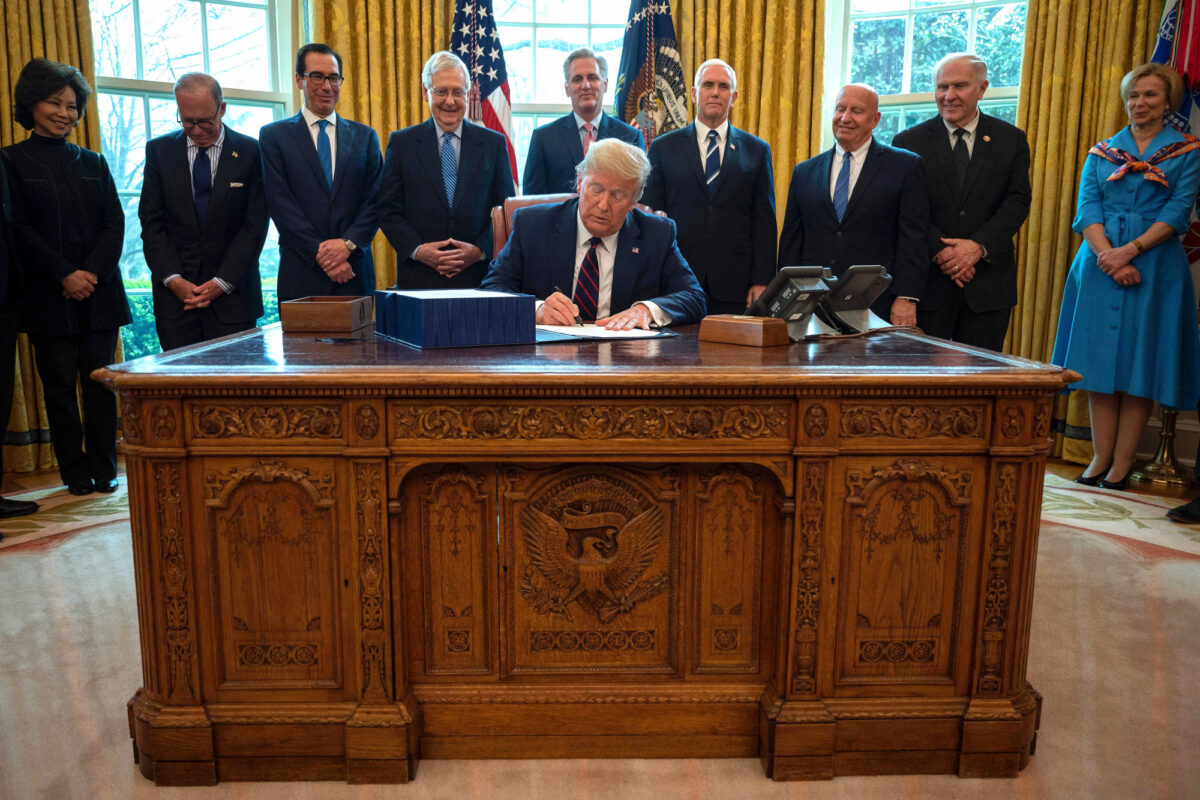 Speaking ahead of his trip to Naval Station Norfolk in Virginia, where Trump took part in a send-off for a hospital ship departing for New York, the epicenter of the CCP virus outbreak in the United States, the president said, "We want to get our country back to work."
Trump's hopeful remarks about a dynamic economic rebound follow statements by Treasury Secretary Steven Mnuchin, who said March 27 that he expects a strong bounce after lockdowns are lifted.
Asked by reporters if Mnuchin thought U.S. economic output could expand by 5 percent in the fourth quarter, as some investors expect, he said, "Absolutely."
Federal Reserve Chairman Jerome Powell said this week that the economy may already be in a recession, but that the Fed would deploy its suite of financial crisis management tools as needed to support what he called a "vigorous" economic rebound.
"If we get the virus spread under control fairly quickly," Powell told NBC's "Today" on March 26, "then economic activity can resume, and we want to make that rebound as vigorous as possible."
The Epoch Times refers to the novel coronavirus as the CCP virus because the Chinese Communist Party's coverup and mismanagement allowed the virus to spread throughout China and create a global pandemic.
Reuters contributed to this report.