President Donald Trump on Friday said he would accept a $25 billion deal to fund the U.S. Postal Service as part of a COVID-19 relief package if Democrats make concessions.
"Sure, if they give us what we want," the president said on Friday at a news conference. "And it's not what I want, it's what the American people want."
It came about 24 hours after he said he wouldn't be releasing funds for the USPS as part of a deal with Congress. Negotiations for the package stalled last week, while Trump has criticized a Democratic proposal for mail-in voting in November for months, saying it could lead to election rigging. Some experts have said that cases of election fraud are rare.
"They want $3.5 billion for something that's fraudulent … for the mail-in votes, universal mail-in ballots," Trump said on Fox News Thursday. "They want $25 billion for the post office. They need that money so it can work and they can take these millions and millions of ballots."
Trump, meanwhile, said that ballots have been sent to "dead people" and "dogs," adding that states like Virginia have experienced problems. More than "500,000 phony ballot applications were sent to voters," he said, adding that in New York, mail-in voting caused a several-week-long delay in announcing the results.
House Speaker Nancy Pelosi (D-Calif.) on Thursday said at a news conference that the $25 billion for the USPS was recommended by the agency's board of governors. Democrats have sought to add $3.5 billion in additional funding for election resources in the midst of the CCP (Chinese Communist Party) virus pandemic.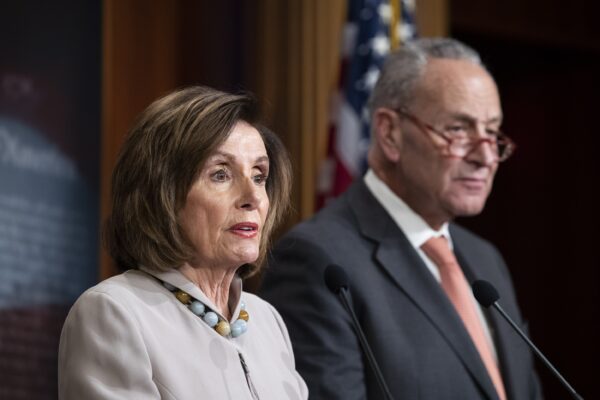 "House and Senate Democrats call on the President to immediately cease his assault on the Postal Service, make clear that he will allow the 2020 election to proceed without his sabotage tactics and enable the American people the same opportunity he and the First Lady requested this week to vote by absentee ballot," Speaker Nancy Pelosi (D-Calif.) and Senate Minority Leader Charles Schumer (D-N.Y.) said in a joint statement on Friday.
The two top Democrats then accused Trump of "abuse of power," adding that he is the one engaging in election-rigging by not agreeing to their funding requests.
Meanwhile, negotiations on the CCP virus relief bill are likely to remain at a standstill in the near future. The Senate adjourned on Thursday, and neither it nor the House of Representatives will return to Capitol Hill until September.
In his Friday briefing, Trump said he directed Treasury Secretary Steven Mnuchin to send out direct payments to Americans, although he added the caveat that he wouldn't do it without congressional approval first. He accused Democrats of holding up the negotiations.
The president, however, said he won't negotiate with Pelosi and other top Democrats because they want $1 trillion in state and local funding.
"They want $1 trillion to go to their friends doing a bad job running certain cities and states," he alleged.