President Donald Trump said he has a "solid chance" of defeating Democratic rival Joe Biden on Nov. 3, and that he will not declare victory early.
"Well, we feel very good," Trump told Fox News on Tuesday morning, noting the large crowds at recent events in Michigan and other states as a positive trend.
Over the past several weeks, Trump has been holding numerous rallies—sometimes up to five per day—in key battleground states such as Pennsylvania, Michigan, Ohio, Wisconsin, Florida, North Carolina, and others. Biden, meanwhile, is making an Election Day appearance in Scranton, Pennsylvania.
Trump concluded his final rally early on Tuesday morning in Grand Rapids, Michigan.
In his interview, the president rejected the idea of prematurely declaring victory and said he would make the announcement "only when there's victory," adding there is "no reason to play games."
Fox News host Brian Kilmeade had asked Trump about remarks made by Jen O'Malley Dillon, Biden's campaign manager, who asserted that "under no scenario will Donald Trump be declared a victor on election night," which raised eyebrows among conservatives and Republicans. She was responding to a report that cited anonymous sources—that Trump later refuted—claiming the president would declare victory early.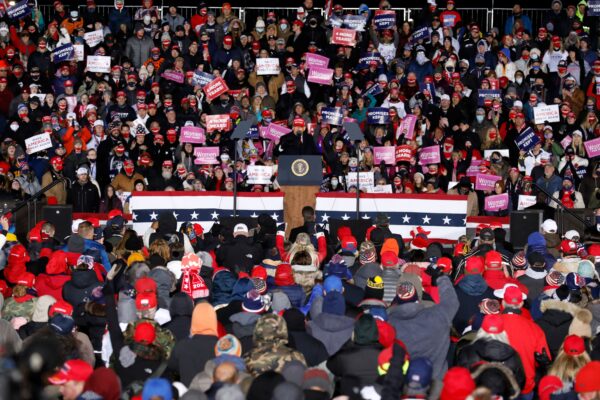 "I think we will have victory. You know, I look at it as being a very, you know, a very solid chance at winning," Trump said on Tuesday morning.
Trump previously has expressed frustration over not being able to declare victory on Nov. 3, saying Americans should know the result of their election on Election Day.
Some state officials have said that it may be days before the result is known, especially if legal challenges focused on postal ballots are accepted in the event of a tight race. There are also fears of civil unrest. Several cities are boarding up buildings in anticipation of possible protests, including around the White House and in New York City.
Polls opened in some Eastern states at 6 a.m. EST. The most closely watched results will start to trickle in after 7 p.m. EST when polls close in states such as Georgia.
On Monday, a federal judge in Texas rejected a Republican bid to throw out about 127,000 votes already cast at drive-through voting sites in the Democratic-leaning Houston area.
Reuters contributed to this report.