President Donald Trump told reporters Friday that he will keep Mick Mulvaney as his acting chief of staff, pushing back against reports that Mulvaney is leaving the White House and will be replaced by outgoing Rep. Mark Meadows (R-N.C.), while saying that a military aide who testified against him during the impeachment proceedings may be ousted.
"That was a false report. I have a great relationship with Mick. I have a great relationship with Mark, and it's false," Trump told reporters outside the White House.
A White House spokesman, Judd Deere, also said media reports saying Mulvaney would leave are false.
"It's unfortunate but not surprising that at the end of a week when the President was totally acquitted, CNN is turning to palace intrigue stories. As he indicated in his State of the Union address this week, President Trump is focused on delivering results for the American people. We have no personnel announcements at this time," his statement read, reported CNN.
Mulvaney is accompanying the president on a trip to North Carolina on Friday.
But the job security of Alexander Vindman, the national security council official who testified against Trump during the impeachment inquiry last year, isn't certain at this point.
When he was asked about whether Vindman would be leaving, Trump told reporters: "Well, I'm not happy with him."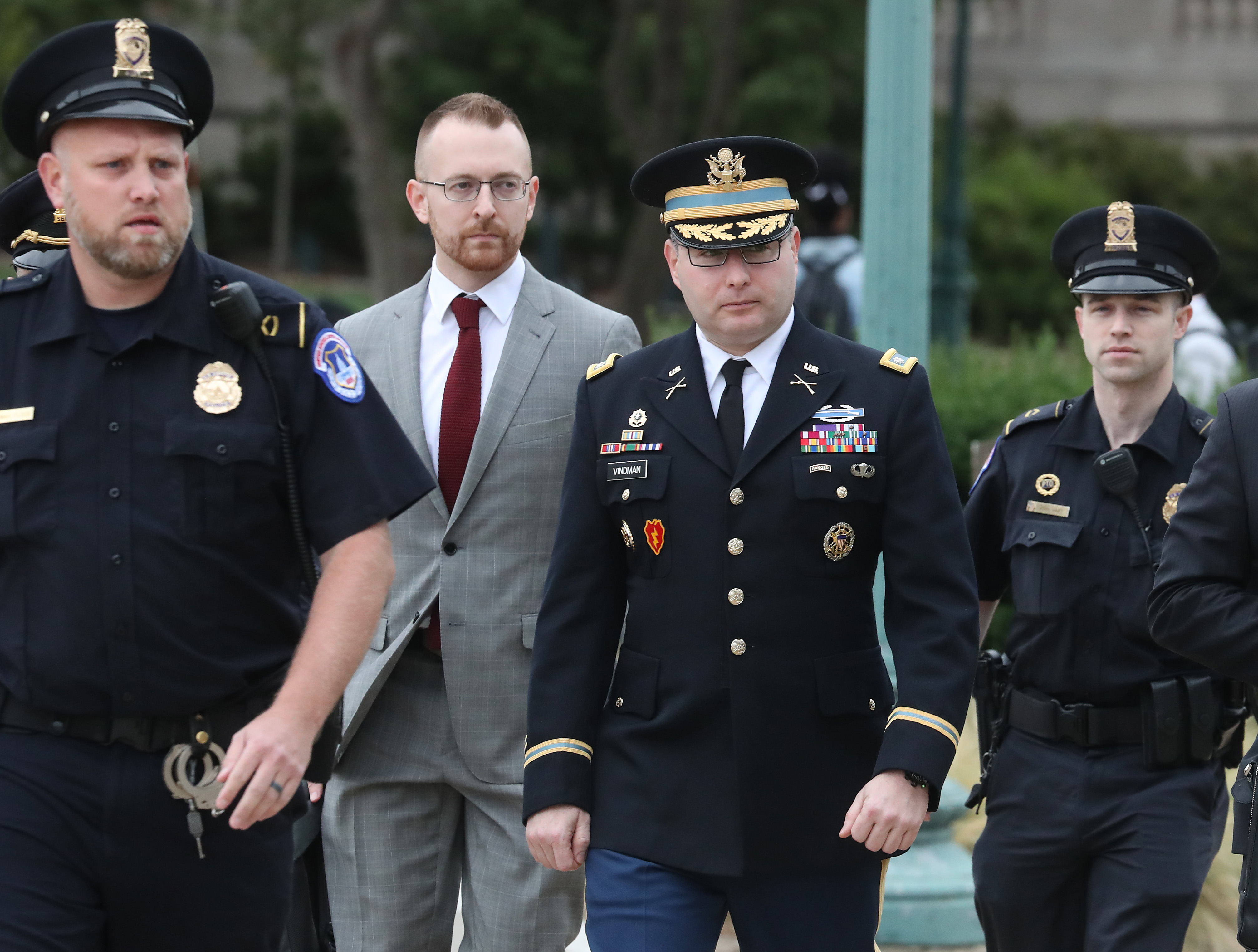 "You think I'm supposed to be happy with him? I'm not," the president added. He said White House officials will "make a decision" soon, without elaborating.
Vindman testified during the House of Representative's impeachment inquiry in November and claimed Trump made an improper demand of Ukrainian President Volodymyr Zelensky in a July 25 phone call that became a central part of the impeachment inquiry. Trump and Zelensky have denied the allegations foisted by Vindman and House Democrats.
Vindman had told a Democratic-led House panel that "I couldn't believe what I was hearing" when he listened to the call, where Trump asked Zelensky to "look into" Hunter and Joe Biden. Hunter Biden had sat on the board of Ukrainian energy firm Burisma Holdings, whose founder Mykola Zlochevsky—a former Ukrainian minister of natural resources—has been investigated for corruption and whose whereabouts are currently not known.
Both Bidens have denied any wrongdoing, while the younger Biden told ABC News in October that he now realizes that his role on the board of Burisma created the perception of a conflict of interest.
In the aftermath of impeachment, Sens. Chuck Grassley (R-Iowa) and Ron Johnson (R-Wis.) have asked for the younger Biden's travel records as he was under Secret Service protection, as well as other official documents.
Regarding Vindman's career, Defense Secretary Mark Esper told reporters that the Pentagon protects all service members from retribution. "We welcome back all of our service members wherever they served, to any assignment they are given," Esper said. "As I said, we protect all of our persons, service members from retribution or anything like that," he added, according to Reuters.
Trump emerged victorious this week after the Senate voted to acquit him on articles of abuse of power and obstruction of Congress.