President Donald Trump praised Rep. Tulsi Gabbard (D-Hawaii), a Democrat presidential candidate, after she broke with House Democrats on articles of impeachment accusing Trump of abuse of power and obstruction of Congress and instead voted "present."
Trump also criticized his 2016 presidential rival, former Secretary of State Hillary Clinton, for alleging that Gabbard is a Russian asset.
Trump told reporters on Friday: "Then she said Tulsi Gabbard is a 'weapon of Russia.' And they lost all credibility because we know Tulsi Gabbard—and I give her respect—she didn't vote the other day. I give her a lot of respect because she knew it was wrong. She took a pass. But I don't know. I do know one thing: she's not an agent of Russia."
In October, Clinton seemingly suggested that that Gabbard is a "favorite of the Russians" to win the 2020 election. Also in the interview, Clinton said that Republicans had their "eye on somebody who's currently in the Democratic primary and are grooming her to be the third-party candidate," appearing to refer to Gabbard.
"She's the favorite of the Russians. They have a bunch of sites and bots and other ways of supporting her, so far," Clinton claimed, without offering any evidence.
Instead of impeachment, Gabbard introduced a measure in the House to censure Trump. In the aftermath of her impeachment vote, Gabbard has received criticism from some members of her party.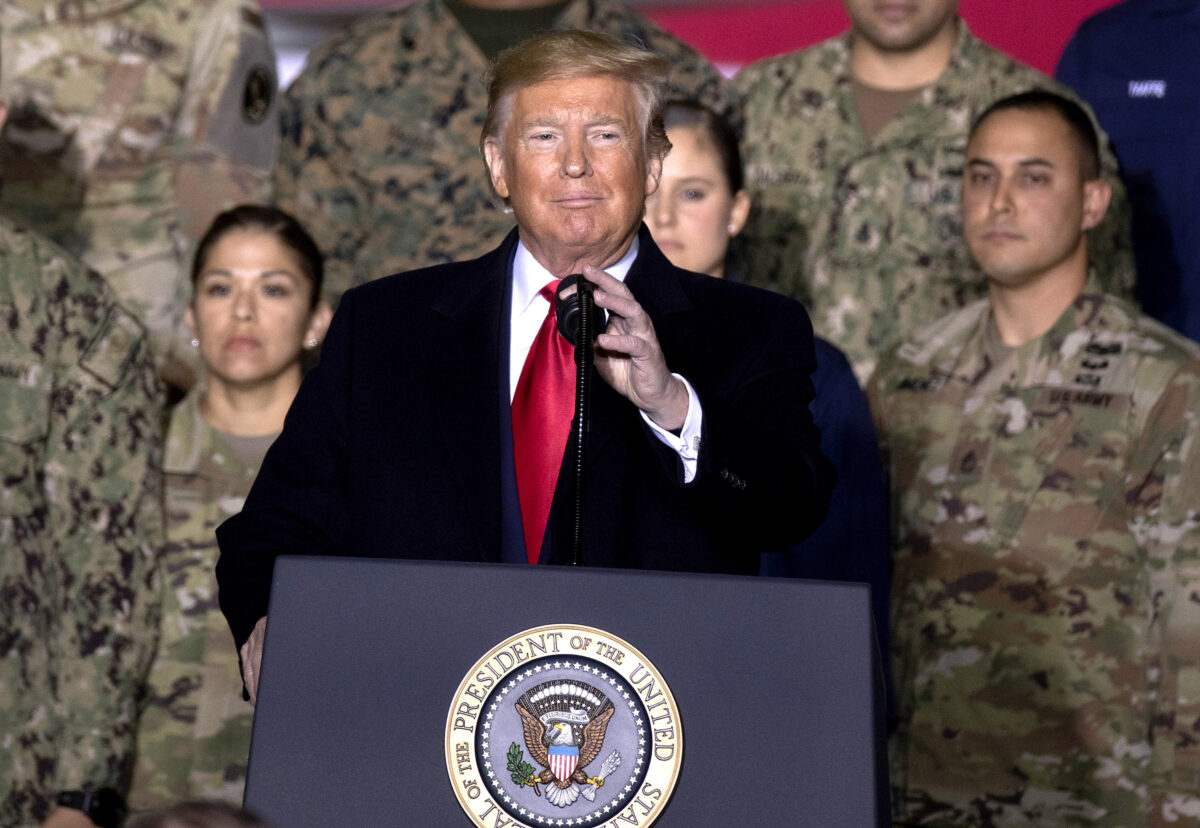 Gabbard told her supporters she is trying to put the country first, saying she believes "Trump is guilty of wrongdoing" but "could not in good conscience" vote "yes" or "no" because the process is "fueled by tribal animosities that have so gravely divided our country," Politico reported.
Two other Democrats voted against both articles of impeachment while one voted against one article.
Gabbard also responded to the backlash following her vote.
"My stance yesterday, my vote, was opting out of this zero-sum game mindset and back into one of negotiation and compromise," she said. "We're stuck right now in this terrible scenario where everyone is trying to exact maximum hurt from their opponent for a 'win.' My present vote was not passive. It was an active protest against the terrible fallout of this zero-sum mindset that the two opposing political parties have trapped America in."
Gabbard, in October, said she would not run for reelection for Congress as she seeks the Democratic presidential nomination.
"Throughout my life, the thought of a 'political career' never crossed my mind. I've always done my best to serve where I felt I could make the most impact," Gabbard said in a video. "It's this principle of service above self that has motivated the decisions I've made throughout my life."