President Donald Trump said Friday that he will "most likely" be tested for the coronavirus, coming days after a Brazilian official that he had met over the weekend in Florida tested positive for the disease that emerged in mainland China last year.
Trump, speaking at the White House after declaring the epidemic a national emergency, told reporters that he has exhibited no signs of COVID-19, the disease caused by the virus, and wasn't told to undergo testing by White House medical staff.
When he was asked by a reporter about not being tested, the president responded: "I didn't say I wasn't going to be tested." Pressed further, Trump said that he will "most likely" be tested but "not for that reason, but because I think I will do it anyway."
Trump told reporters that he would do it "fairly soon," adding that "we're working on that, we're working out a schedule."
Earlier in the week, after Brazilian Presidential spokesman Fabio Wajngarten tested positive for COVID-19 after meeting with Trump at Mar-a-Lago, Trump said he wasn't concerned about potentially contracting the illness. Brazilian President Jair Bolsonaro, meanwhile, has undergone testing, writing on Twitter Friday that the results came back negative.
"No symptoms whatsoever," Trump told reporters about his meeting with the Brazilian delegation. "We had a great meeting with the president of Brazil, Bolsonaro."
The president highlighted Bolsonaro's negative test result.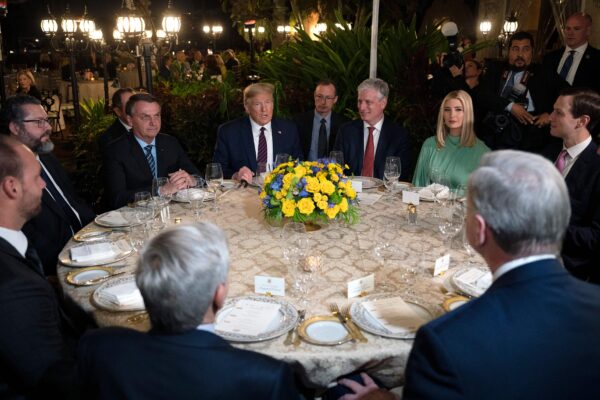 "We did have dinner with him, we were sitting next to each other for a long period of time," Trump said.
Other reporters noted that some politicians, including Canadian Prime Minister Justin Trudeau after his wife tested positive, have undergone self-quarantine.
"I don't know that I had exposure," Trump responded. "But I don't have any of the symptoms." He said that he asked the White House doctors and asked them about getting tested, but they told him that he has no symptoms.
A report from a Brazilian news outlet claimed Friday that Bolsonaro tested positive for the virus, which was swiftly disputed by his son.
"Too much lies and little information," Eduardo Bolsonaro wrote on Twitter on Friday morning. "Coronavirus exam done with the team that were with JB in USA have not yet been completed There are always those people who tell lies in the media and if the story is confirmed they say 'I told you!' if not will be just 1 more fake news."
Earlier in the press conference, Trump declared the COVID-19 outbreak a national emergency to mobilize more funding and resources.
Trump also waived interest on all student loans held by federal government agencies and ordered the Energy Department to purchase large quantities of crude oil for storage. He also called on states to set up emergency centers, hospitals to activate emergency preparedness plans, and provided new powers to the Department of Health and Human Services.
After the declaration, the Dow Jones shot up over 1,000 points, closing nearly 2,000 points up for the day.