President Donald Trump on Friday said that he directed Treasury Secretary Steven Mnuchin to prepare to send out $1,200 stimulus checks to Americans, but he insisted that Democrats are responsible for the hold-up.
"I have directed @stevenmnuchin1 to get ready to send direct payments ($3,400 for family of four) to all Americans," Trump wrote at around noon. "DEMOCRATS ARE HOLDING THIS UP!"
Trump later said in a news conference at the White House that he is "waiting for the Democrats" in Congress and won't act independently to issue an executive order.
Both Republicans and Democrats support sending $1,200 stimulus checks in the next relief package, which means that a family of four could get $3,400.
However, the White House and top Democratic negotiators, such as House Speaker Nancy Pelosi (D-Calif.) and Sen. Chuck Schumer (D-N.Y.), have not met on pandemic relief talks since last week. This week, there was little sign that either side would offer any concessions.
It means that the high-stakes impasse might spill over into September, putting at risk the stimulus checks, expanded unemployment payments, small business loans, funding to state and city governments, and more. Meanwhile, Senate Majority Leader Mitch McConnell (R-Ky.) confirmed that senators have left Washington until September but will be called to return to the Capitol if there is a change of a relief deal.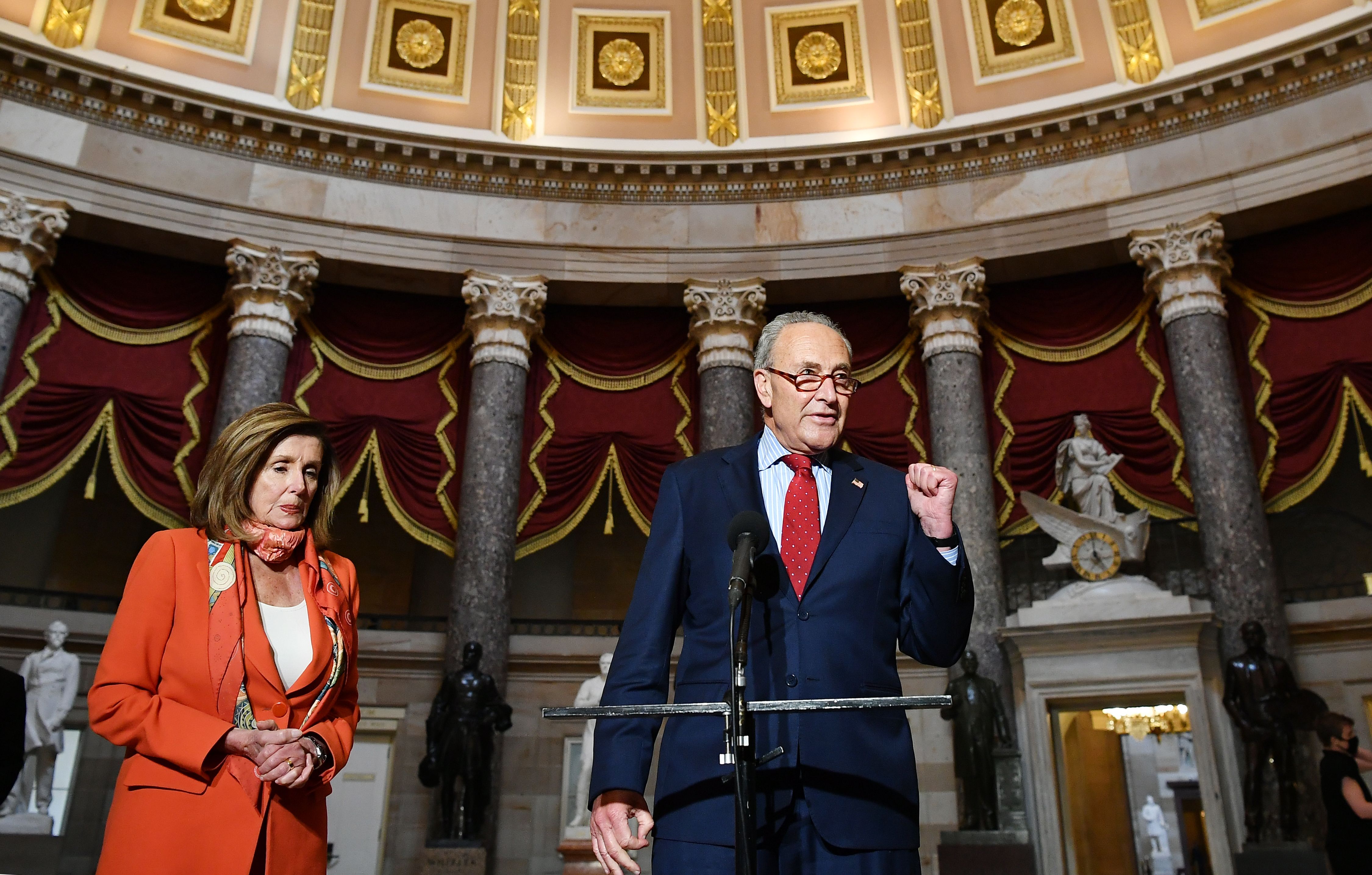 "We will have our regular pro forma meetings through the end of the state work period. If the speaker of the House and the Minority Leader of the Senate decide to finally let another package move forward for workers and for families, it would take bipartisan consent to meet for legislative business sooner than scheduled," McConnell stated on the floor.
On Thursday, Pelosi suggested that an agreement is still out of reach and said the GOP needs to approve a $2 trillion deal at the least. In their HEALS Act, Senate Republicans proposed a $1 trillion deal that notably omitted funding for city and state municipalities, while Democrats had sought $1 trillion in their $3.4 trillion HEROES Act.
The packages are intended to offset an economic downturn that was caused by the CCP (Chinese Communist Party) virus, a novel coronavirus that originated in mainland China last year and has caused a worldwide pandemic.
Earlier this week, Mnuchin said in an interview that "the president is determined to spend what we need to spend. … We're prepared to put more money on the table."
Trump on Friday also wrote that he is prepared to direct Mnuchin and the Small Business Association to "send additional PPP payments to small businesses that have been hurt by the ChinaVirus," adding, "Democrats are holding this up." He is referring to the Paycheck Protection Program that was created under the CARES Act in March, designed to keep small businesses afloat and avert layoffs.
It's not clear when Republican and Democratic negotiators will meet again on a possible stimulus package.
Over the past weekend, Trump took executive action to distribute expanded unemployment payments of $400 per week, with $100 of that coming from states, as well as moves to defer student loan payments, authorize moratorium on evictions, and temporarily suspend payroll taxes.