Former President Donald Trump on Wednesday said that he "did declassify" documents at the center of the FBI raid targeting Mar-a-Lago last month.
In an interview with Fox News, the former president said, "Different people say different things but as I understand it, if you're the president of the United States, you can declassify just by saying it's declassified, even by thinking about it."
"Because you're sending it to Mar-a-Lago or wherever you're sending it. There doesn't have to be a process. There can be a process, but there doesn't have to be," Trump said. "You're the president … you make that decision" on whether to declassify, he said.
Prosecutors have said in court filings that some 100 documents that were found at Trump's Florida home and resort were marked as classified or top secret. The FBI searched his Mar-a-Lago estate after a search earlier this year uncovered the documents.
The former president, meanwhile, said that FBI agents took a number of personal documents such as tax records, his medical file, old passports, and his will.
'They Were Declassified'
Since the raid, Trump has often said that he declassified the materials, pointing to a memorandum that he issued on his final day in office. That memo called for the declassification of documents pertaining to the FBI Crossfire Hurricane investigation, while a former aide, Kash Patel, said in an interview last month that the FBI likely seized Trump-Russia materials.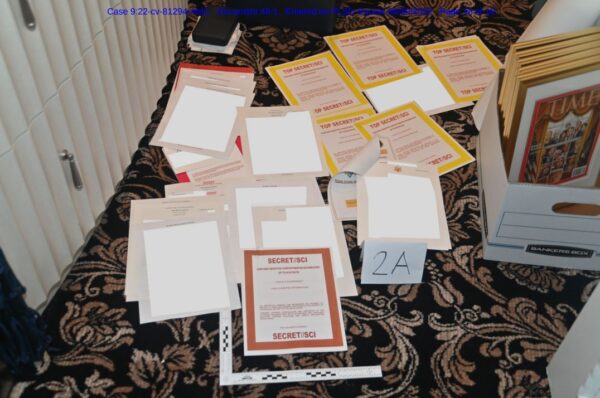 "In other words, when I left the White House, they were declassified," Trump told Fox News on Wednesday, adding that he did not pack any of the boxes himself.
Toward the end of his presidential term, the General Services Administration and other White House staff were involved in packing up the boxes, he said. That included newspaper articles, pictures, and other materials.
"The GSA also works with the National Archives and Records Administration (NARA), as necessary, to provide support to the former Presidents in the establishment and maintenance of their libraries," GSA says on its website. "These services are only provided in the event of a change of Administration."
The comment to Fox comes as a federal appeals court ruled earlier Wednesday that the Department of Justice (DOJ) could resume its review of the classified documents. A federal judge in Florida had previously ordered the DOJ to halt the review as a special master was being considered.
In a ruling, the U.S. Court of Appeals for the 11th Circuit wrote (pdf) that Trump's lawyers have not "attempted to show that he has a need to know the information contained in the classified documents."
"Nor has he established that the current administration has waived that requirement for these documents," wrote the judges. They said that there is a possibility that he declassified the documents but there is no record of him doing so.