President Donald Trump said that reports claiming North Korean dictator Kim Jong Un is near death are likely incorrect.
That view was also expressed by South Korea's presidential office earlier in the week after reports said that Kim, 36, is "gravely ill" after undergoing surgery earlier this month.
"I'm hearing they used old documents," Trump said Thursday when asked about Kim during the White House briefing on the CCP (Chinese Communist Party) virus. "I hear the report was an incorrect report. I hope it was an incorrect report."
At an earlier briefing this week, Trump said he may contact North Korean officials about Kim.
"We have a good relationship with North Korea, I have a good relationship with Kim Jong Un and I hope he's OK," Trump said at the time.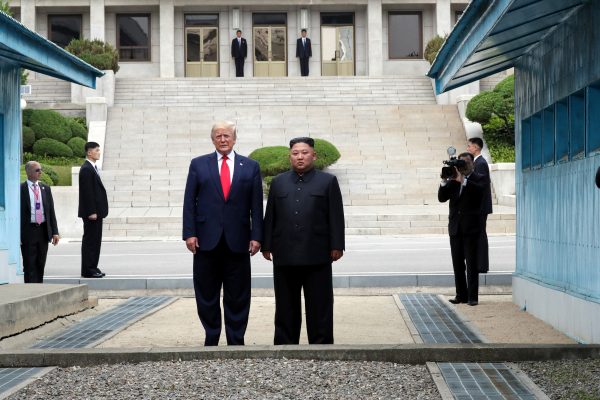 The Daily NK, which is an online news website based in Seoul and published mostly by North Korean defectors, reported that Kim is recovering at a local villa, adding that he has been in bad health due to smoking, overwork, and obesity. CNN also made a similar claim in a report.
But concerns have been made about Kim after he missed the April 15 celebration of the birthday of North Korea's communist founder, Kim Il Sung, who is also Kim's grandfather. North Korean media has not confirmed his whereabouts, although some state-run news outlets said he sent greetings to several officials, including Syrian President Bashar al-Assad, earlier this week.
Trump and Kim held several historic summits in 2018 and 2019 in an attempt to get North Korea to get rid of its weapons of mass destruction.
A spokesperson for South Korea's president, Kang Min-seok, told Yonhap this week that there is nothing unusual going on inside North Korea.
"No unusual signs have been identified inside North Korea," Kang said. "There is nothing we can confirm with regard to Chairman Kim's alleged health problem."
Other officials directly refuted the reports claiming Kim's health is grave.
"We confirm that Chairman Kim Jong Un is currently touring provincial areas with his close aides and we do not detect evidences to support speculation about his ill health," South Korea's presidential office told news outlets on Tuesday.
"Even North Korea's Worker's Party, military or cabinet aren't showing any special movements such as emergency decree. We believe that Chairman Kim is active as normal as he has been," the office said.