Former President Donald Trump said on Aug. 15 that the FBI seized three of his passports in its raid of his Mar-a-Lago home last week.
"Wow! In the raid by the FBI of Mar-a-Lago, they stole my three Passports (one expired), along with everything else," Trump wrote in a post on Truth Social, his social media platform. "This is an assault on a political opponent at a level never seen before in our Country. Third World."
The FBI and Department of Justice haven't issued a public comment in response to Trump's claim.
It's not clear why the FBI would seize his passports, which may have included the diplomatic passport he was given after winning the presidency in 2016. Without a legal passport, Trump wouldn't be able to travel outside the United States.
Three days ago, a U.S. magistrate judge ordered the FBI warrant and property receipt unsealed, showing that FBI agents recovered allegedly classified and top secret material from Mar-a-Lago. The warrant said Trump may be under investigation for possible Espionage Act and obstruction of justice violations.
Attorney General Merrick Garland said during an Aug. 11 press conference that he "personally approved" the FBI's warrant to search Mar-a-Lago. The White House and Biden administration officials have insisted that President Joe Biden wasn't aware of the search until Trump announced it.
Republicans have called on the federal government to release its affidavit in the case, which would show the justification used for the search. Trump and Republican supporters have accused the FBI and Justice Department of a politically motivated attack on Trump, a likely 2024 presidential candidate who has endorsed dozens of GOP congressional and gubernatorial candidates ahead of the 2022 midterm elections.
Declassification
Lawyers for Trump have said that while he was president, he had the power to declassify the documents before he departed the White House. Other legal experts have said that any documents a president takes from the White House upon leaving are automatically declassified. On Aug. 14, Trump also accused the agents of taking materials that would fall under attorney-client privilege.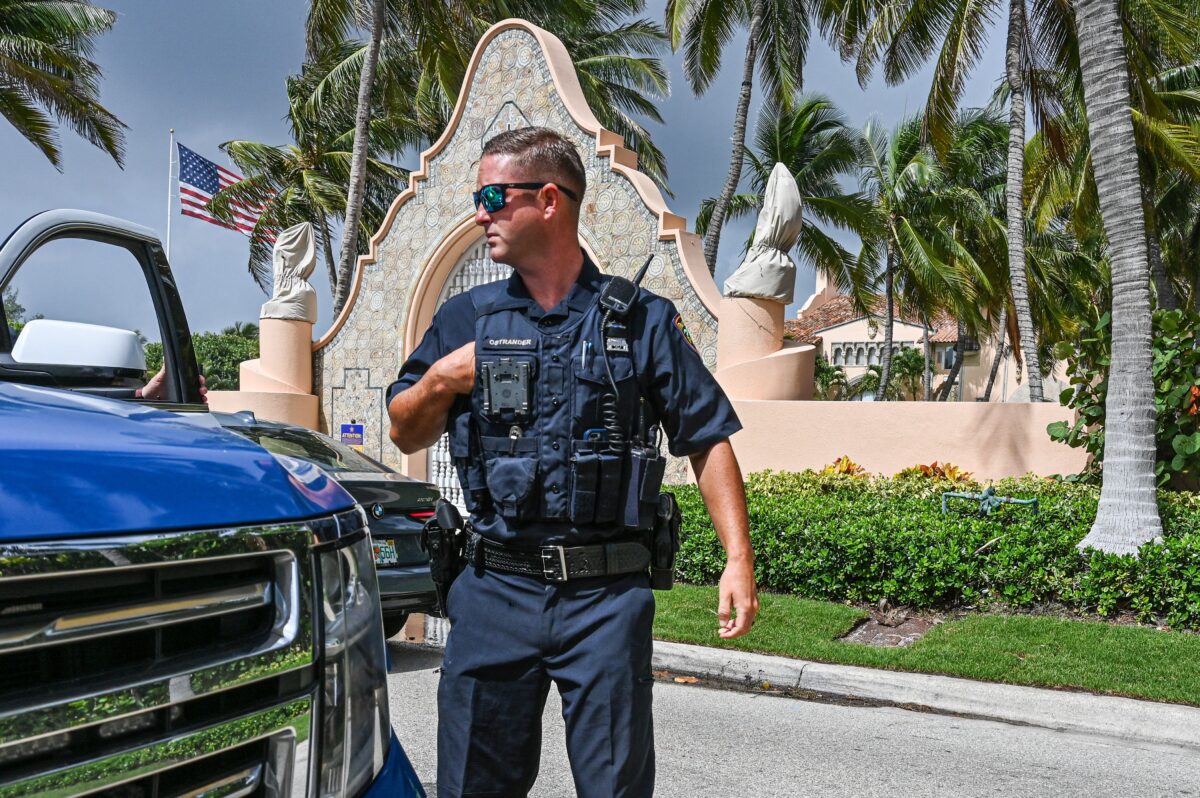 "Oh great! It has just been learned that the FBI, in its now famous raid of Mar-a-Lago, took boxes of privileged 'attorney-client' material, and also 'executive' privileged material, which they knowingly should not have taken," the former commander-in-chief said.
Trump then requested they return those documents.
"By copy of this TRUTH, I respectfully request that these documents be immediately returned to the location from which they were taken. Thank you!" Trump wrote on Aug. 14.
Earlier on Aug. 15, Trump told Fox News in an interview that he wants to bring down the "temperature" in the country following the FBI raid, noting the incident has incensed many Americans.
"The country is in a very dangerous position. There is tremendous anger, like I've never seen before, over all of the scams, and this new one—years of scams and witch hunts, and now this," he told Fox. "If there is anything we can do to help, I, and my people, would certainly be willing to do that."
The Department of Justice didn't respond by press time to a request for comment.